Finding the perfect lingerie gift isn't always easy, but it can be fun and rewarding. If you're looking for a lingerie gift for your sweetie I have some recommendations for you! We've chosen 10 top picks available in a range of colors, fabrics and sizes. There's something for everyone!
We know you want to get the perfect gift the first time, but don't worry, if your sweetheart doesn't love it you can always take advantage of our no questions asked 100 - day returns policy. Shop with confidence and enjoy our top picks: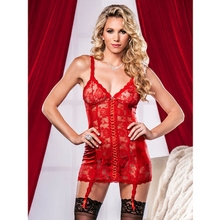 This lovely iCollection Open-Back Satin and Lace Chemise Set is available in five colors and four sizes, which means no matter what your sweetie's favorite color is, there's an option for them.
Versatile and super sexy style is also available in plus size options in every color for a flattering and seductive look in your size for comfort and a super sexy fit!
"It's so comfortable to wear, the lace is lovely and soft, the satin fabric is silky smooth, and it's incredibly flattering over the tummy area." - jass, Lovehoney customer
See all Sexy Lingerie Gifts.