Top 4 Best Chastity Cages
To help you fulfil your chastity fantasies, we give you the lowdown on four of our top chastity cages.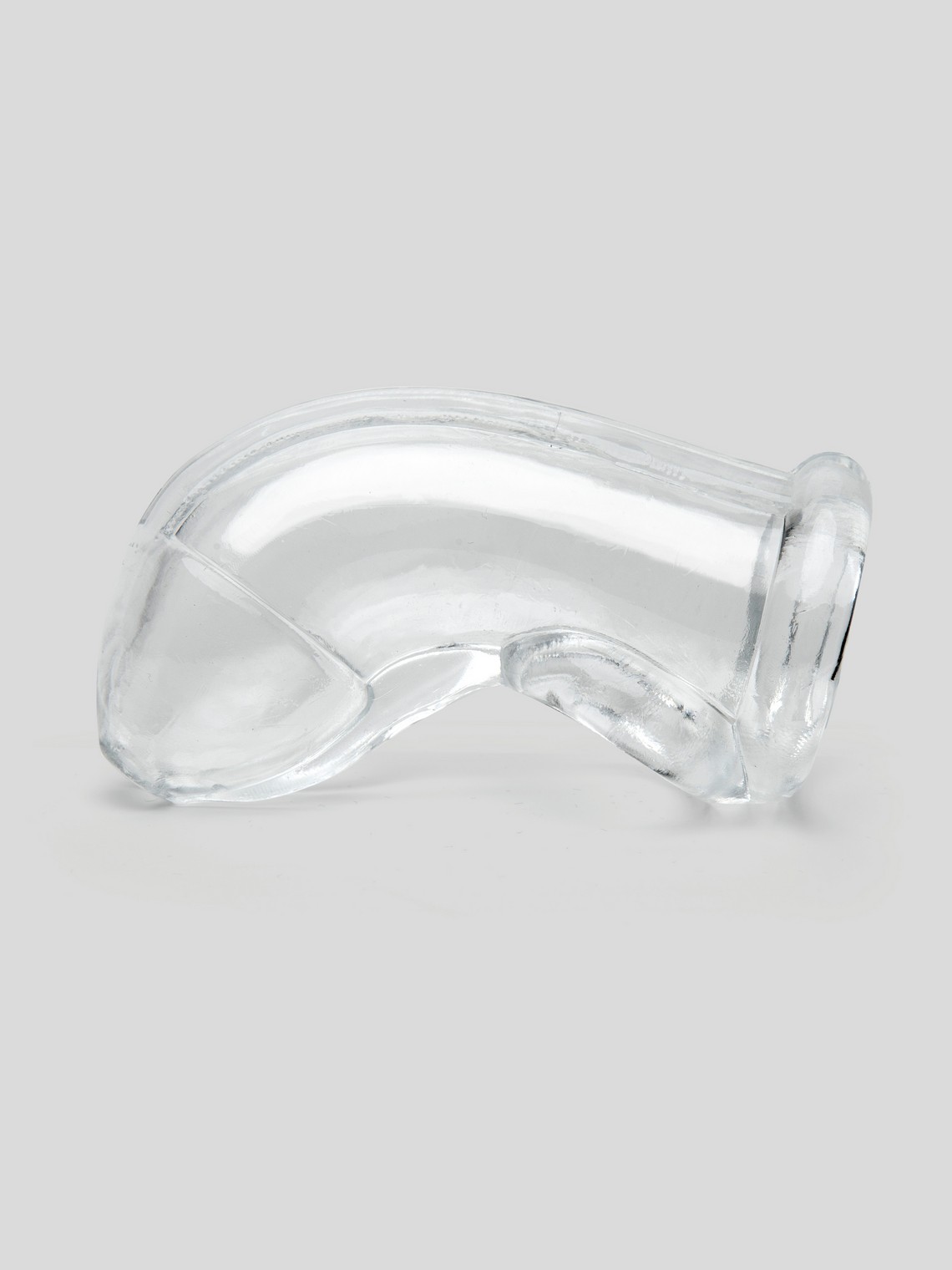 What is a Chastity Cage?
Locking up the family jewels takes on new meaning when we talk about chastity cages. A chastity cage is a male chastity device designed to lock up the penis to prevent the wearer from achieving an erection, masturbating, or having sex. The term "chastity cage" often elicits images of metal contraptions that look like prison cells for the cock, and though this is one popular type of penis cage, there are many different styles of chastity devices with different functions and aesthetics. If you're interested in locking up someone's penis or handing over control and the keys to your chastity device, check out Lovehoney's Guide to Chastity Cages!
What are Chastity Cages used for?
The primary function of a chastity cage is to lock a flaccid penis up so the wearer can't comfortably become erect or fully erect. With the penis locked up, it becomes nearly impossible to masturbate or have sex. These cock cages can be worn to symbolize submission, devotion, romance, orgasm denial, and/or self-control. Some men lock up their own penises in chastity devices as a practice in discipline and self-restriction, while others concede control of their cock, chastity device, and the lock and key to a partner, Dominant, or lover.
The act of handing over control can have strong ties to power exchange. The wearer shows their submission to their Dom(me) by conceding the power to touch themselves or have orgasms, and by having a constant reminder of their submission while wearing their penis cage. Cock cages can be worn during short scenes or for long periods of time, depending on the device. For some folks who are incorporating chastity play into their BDSM play, chastity devices also offer a way to incorporate gender play and sissy play, humiliation, and masochism.
For others, wearing a dick cage is a symbol of devotion and romance. Chock full of symbolism, in this situation a cock cage is an offering of fidelity, exclusivity, closeness, and trust with a partner. It's like a promise ring you wear on your dick.
The keyholder becomes responsible for the duration of wear, situational interactions that might happen when someone is wearing a cock cage, and, of course, when the next orgasm is allowed to happen.
A lot of people consider wearing a cock cage an extended form of orgasm denial and edge play, wherein finally getting the release of masturbation or sex once the chastity device is removed feels much more intense and magnified.
How do Chastity Cages work?
There are a few different types of chastity cages, and they tend to work similarly, though materials, sizing, and other functions vary. Most cock cages have the same basic structure. There is a "sheath" part that holds the shaft of the penis, generally with a little extra room at the tip to fit the head of the penis. They also have a ring that is worn around the shaft and balls to hold the cage in place. Once the flaccid shaft is inserted into the cage or sheath and the ring is securely positioned around the whole package, the cage is locked in place with a padlock. Because they tend to be small enough to hold the penis while it is flaccid, they don't have a lot of space to house an erection. This means that even if the wearer manages to become semi-erect, the chastity device will feel very tight, making the experience of getting hard extra uncomfortable.
Most chastity cages have a slit at the tip that lines up with the urethral opening so that the wearer can urinate while wearing the cage. You'll also notice that most chastity devices have slits throughout the shaft to allow for ventilation. These features are built in to make long-term wear more sustainable. Use some lube to prevent chafing. Make sure you choose a lube that's compatible with the material your dick cage is made of. Remember that silicone toys are not compatible with silicone lube.
Types of Chastity Cage
Though the basic structure of a cock cage tends to be similar, chastity cages can vary greatly in form and function. Learn more about the different types of cock cages below.
Plastic Cock Cages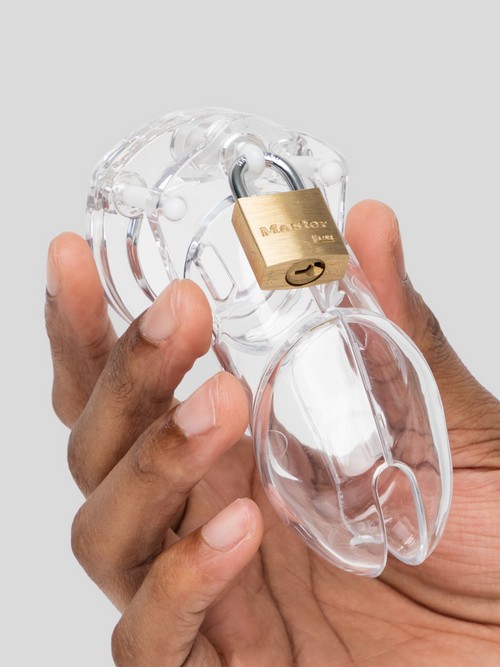 Hard plastic chastity cages are among the most secure and adjustable male chastity devices. These cock cages are very sturdy and, because they're rigid, they don't have a lot of give and create excellent constriction.
Some models, like the CB-X 6000, come with several different size rings and spacers to help you achieve the best fit so the male chastity device is snug enough to stay in place but not so tight that it cuts off circulation. This model also comes with uniquely numbered plastic locks that work alongside a small padlock so the keyholder can keep track of whether or not the wearer has tampered with or removed their cock cage.
Though these chastity devices are among the most popular and the most effective, wearing a rigid cock cage is not very discreet. They can create a bulge that is visibly larger than the flaccid package normally is, and they can't be tucked away easily for discretion.
Metal Chastity Cages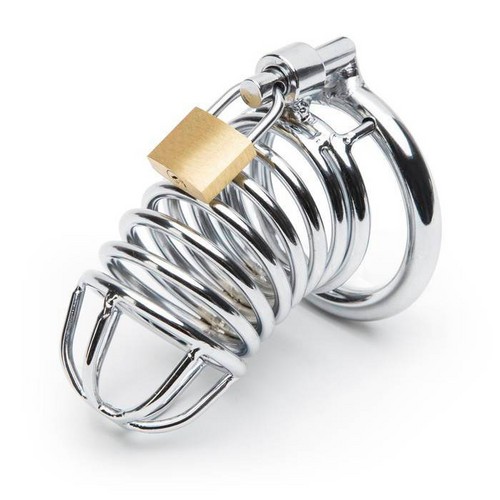 Metal chastity cages are rigid and create a tight fit that makes it hard for the wearer to tamper with the cage or accidentally slip out of it. These chastity devices have a very cage-like appearance, with thin rigid bars like a series of cock rings that surround the shaft and head of the penis.
Some metal chastity cages, like the Dominix Deluxe Chastity Cock Cage, come in specific sizes and are not very adjustable. Discomfort from wearing a single-sized chastity device can also be part of the experience of submission and power exchange.
It's easy to keep metal cock cages clean when you wash in the shower, and they are compatible with all kinds of lube. Silicone lube in particular works great for long-term wear because it's long-lasting and doesn't need to be reapplied as often as water-based lube.
Similar to how a hard plastic chastity device is bulky, a metal cock cage is also not very discreet. These dick cages are also not ideal for wearing while traveling because they can set off metal detectors.
Silicone Chastity Devices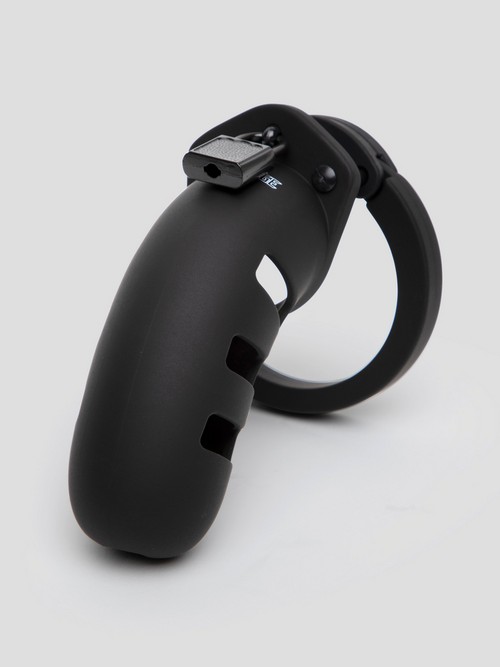 Chastity devices made from soft materials like silicone tend to be more comfortable for long-term wear. Because they are flexible, they can also be worn somewhat more discreetly under clothes and can be more appropriate for wearing to work, on errands, or even while traveling.
Some silicone chastity cages, like the Man Cage Medium Silicone Chastity Cage, can be locked. Other soft chastity cages, like the Oxballs Full Cover Chastity Cage, which is made of a blend of silicone and TPR, do not use a lock and instead are worn sort of like a glove that covers both the balls and the shaft for a unique sense of all-over constriction.
Silicone chastity devices have some amount of stretch and give, so while they prevent the wearer from getting fully erect, they are not quite as restrictive as chastity devices made from rigid materials.
Remember to use water-based lube with your silicone chastity device and reapply as needed. Do not use silicone lube on your silicone or silicone blend chastity cage.
Penis Plug Cages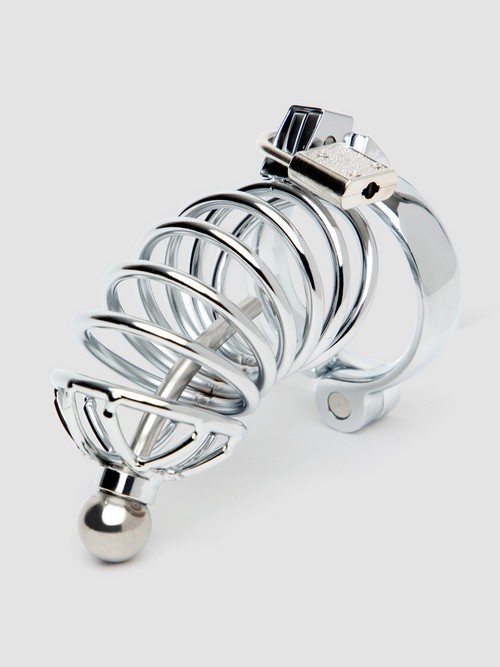 Penis plug chastity cages combine the intensity of both urethral sounding and chastity play. These combination sex toys usually consist of a chastity cage with a removable metal or silicone penis plug that can be inserted through the opening used for urination.
Some penis plug cages, like the Dominix Deluxe Corkscrew Male Chastity Cage with Urethral Sound, include a urethral sound that has an opening to allow the wearer to pee while wearing both the chastity cage and the penis plug.
Penis plug chastity devices are advanced toys for advanced players. Remember that with any type of urethral sounding play it's important to keep your tools sterile and to use a sterile lube for insertion to prevent UTIs and other infections.
Electrostim Chastity Cages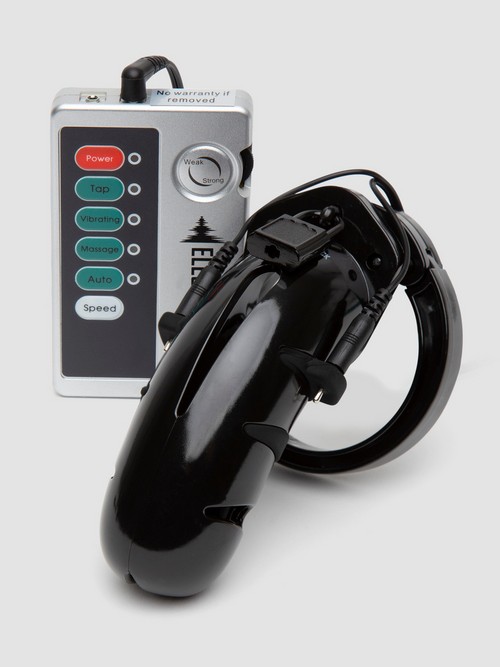 Combining chastity play with electrostim allows the wearer to add some fun torture into their chastity experience. Some male chastity devices attach to electrostim devices like TENS units, which send either pulsing or zapping electrical stimulation to the area.
The ElectroShock Electrostim Chastity Cage is a popular electrostim device that has contacts that connect to the sides of the cock cage. This device sends electric impulses through the shaft of the penis, creating a very intense sensation that is heightened by the constriction of the hard plastic dick cage.
This electrostim device should only be used below the belt. If you disconnect the electrostim device from the chastity cage, it can be used like any regular chastity cage.
How to choose a Chastity Cage
Follow these pointers on how to choose a chastity cage to narrow down the best male chastity device for your needs.
Sizing: All penises are shaped differently and come in different sizes. Measure the length of the shaft and diameter of the package while flaccid so you can find the right fit. Remember that your chastity device should be snug so it doesn't come off easily, but it shouldn't be so tight that it hurts or cuts off circulation.
Materials: As we discussed earlier, chastity devices can be made of hard materials or flexible ones. Remember that rigid cock cages are less discreet, but they provide more constriction - so it's harder to get an erection while wearing a hard plastic or metal cock cage. Soft chastity cages like ones made of silicone are more discreet and can be very comfortable for daily or long-term wear. However, they are sometimes easier to slip out of and don't offer as much constriction as their rigid counterparts.
Adjustability: If you're not certain about what cock cage to get based on sizing, it helps to choose a chastity device that has interchangeable rings and posts or spacers.
Function: What are you trying to achieve with your cock cage? If you're looking for something to wear every day, consider getting a silicone cock cage. If you're an advanced player looking to experience more extreme sensations, consider getting a cock cage with a penis plug or electrostim.
4 best Chastity Cages for men
Best for beginners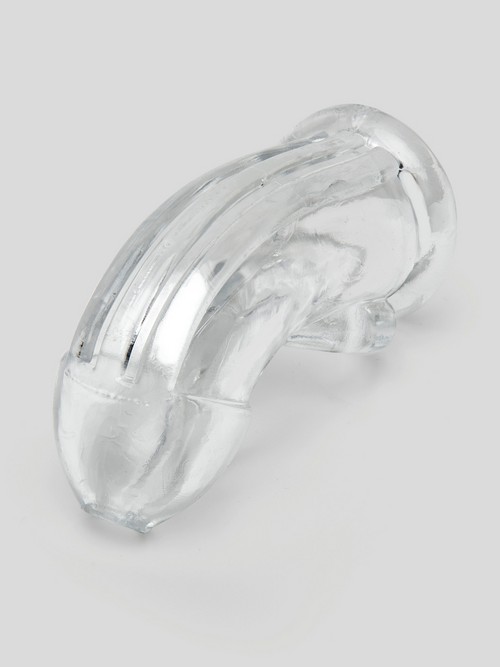 The Dominix Deluxe Soft Cock Cage is an excellent way to ease into the world of chastity play. This flexible cock cage offers a combination of flexibility for comfort and restriction from enveloping the entire shaft.
Though it does not have a locking mechanism, it is held in place by a cock and ball separator at the base of the chastity device. This is a great tool for getting used to the sensations of wearing a cock cage while still having the freedom to easily remove it.
Best Metal Cages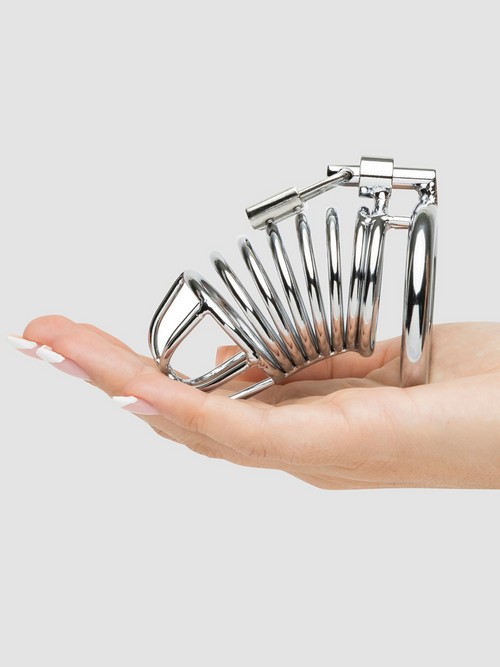 The Dominix Deluxe Chasity Cock Cage comes out on top when it comes to metal chastity cages.
With a curved shaft design for comfort, sturdy metal rings and bars for constriction, and a locking ring for security, this dick cage has all the features of a great classic chastity device. The airy design allows for great airflow, and the urethral opening makes it easy for the wearer to use the bathroom, which makes it sustainable for long-term wear.
Best Plug Cages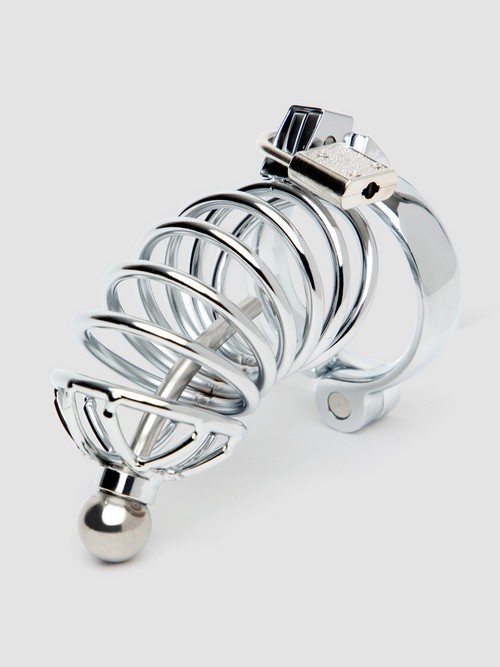 If you're looking for the best penis plug cage to combine sounding and chastity, look no further than the Dominix Deluxe Corkscrew Male Chastity Cage with Urethral Sound.
This chastity device includes all the features of a classic metal cock cage with a removable hollow penis plug that's easy to sanitize and remove.
Best for long-term wear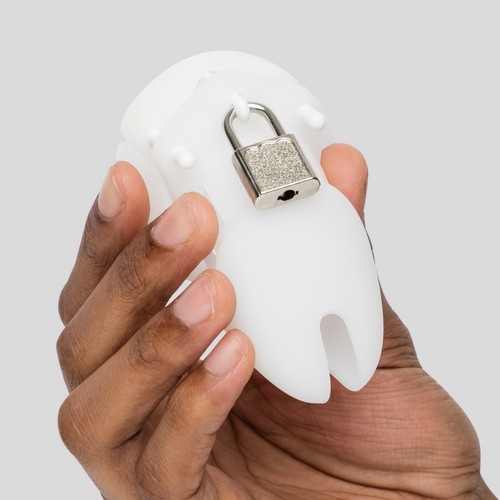 If you're going to wear your cock cage for long periods of time. Consider getting something that is a bit flexible and soft that will remain comfortable as long as you wear it.
The Dominix Deluxe Silicone Short Cock Cage is a comfortable chastity device that doesn't compromise security. This silicone cock cage also has a locking device that holds a small padlock, so slipping out of this chastity cage is more challenging than some other silicone penis cages.
Chastity Cage FAQs
Are Chastity Devices safe to use?
Chastity devices are safe to use, especially if you follow some basic safety guidelines.
Remember to choose the right size cock cage. Getting a cage that is tight might seem appealing so it doesn't come off, but getting a penis cage that is too tight can go past discomfort and actually cause pain or other injuries from too much constriction.

Use plenty of lube. Lube prevents chafing, pinching, and tugging on hair.

Make sure your key is in trusted hands. Communication, boundaries, and responsibility are central to safe chastity play.

Take your cock cage off when you go to sleep.

Know your limits. If you're feeling pain or seeing any bruising or chafing, remove the cock cage.

Start slow and slowly increase how long you wear your chastity cage over time.

Remember to sterilize anything that is going into the urethra if you choose to use a plug cage.

Don't be afraid to use your safe word. If for any reason you want the chastity device to come off, ask the keyholder to unlock you.
Is it painful to have an erection whilst wearing a cage?
Wearing a chastity cage is supposed to make it hard and uncomfortable to get an erection. Everyone's tolerance for pain is different, and the amount of extra constriction you will feel will depend on what material your cock cage is made of, the size of the cock cage, the firmness of your erection, and your own relationship to pain and pain tolerance.
Explore Lovehoney's selection of chastity cages to find the chastity device that's right for you regardless of whether you're exploring chastity play as a sign of submission, extreme sensations, or as an expression of devotion.
More Recommended Chastity Cages
Other Bondage guides you may like
More Sexual Happiness Advice
You can never know enough about sex, right? Why not join us on our sexploration journey? Stay up to date with the latest advice on our blog, the Lovehoney forum and the weekly Sexual Happiness podcast.