A lot of the stigma about bondage has evaporated in recent years and there are many curious lovers looking for new ways to enjoy sexual experiences with their partners.
Bondage can be soft, sensual and romantic - as well as kinky and intensely thrilling. The simple act of restraining your lover offers new physical experiences and an intensified feeling of trust and closeness.
Bondage comes in many forms, from the elaborate, artful masterpieces of Shibari through to more simple but equally effective forms of blindfolding your boo and restraining their ankles and wrists.
Bring up the subject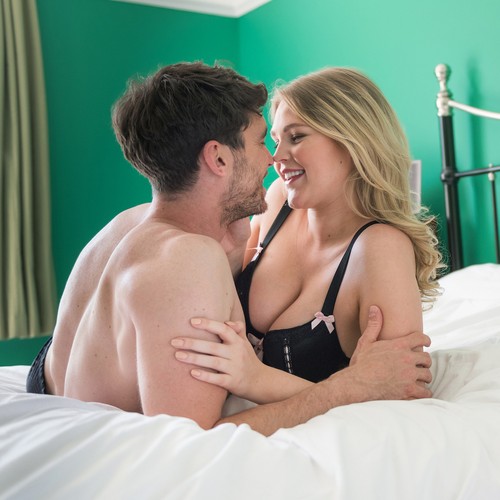 Sure, surprises are fun and all, but just not when it comes to bondage… Being restrained can be triggering for some people, so it's important to chat to your flame about both of your desires and limits first.
Discussing new ideas for the bedroom can be daunting and many people treat themselves to a bit of liquid courage before drunkenly making suggestions. While this approach may work for other sexual adventures, we suggest you steer clear of the booze when it comes to bondage as the two don't mix. When restraints are involved, you're not only responsible for your beau's pleasure but their safety too.
Conversation starters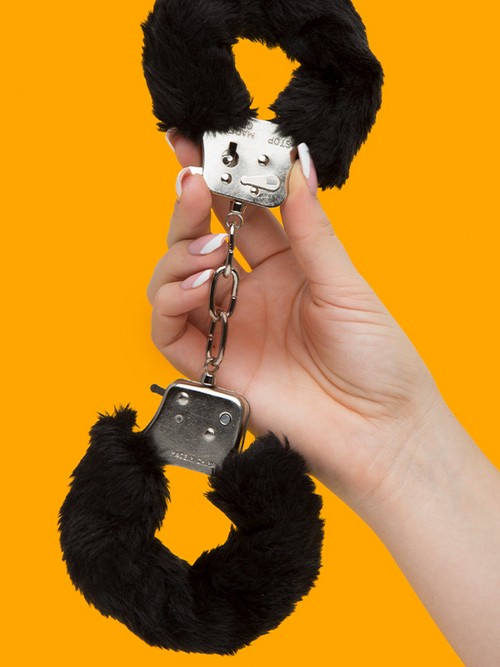 When speaking to your partner, be sure to ask open questions to gain insight into their point-of-view and their feelings about trying couples bondage for the first time:
I've got a fantasy where one of us is in charge during sex. What do you think?
How would you feel about playing with a blindfold when we go to bed?
How would you feel if we looked on Lovehoney for some handcuffs and things for the bedroom?
Talking through this kind of fantasy helps you to relate better as a couple and can also expand your own thoughts on the subject, explain your feelings, which allows them to empathize and even elaborate on your fantasy.
Keeping it real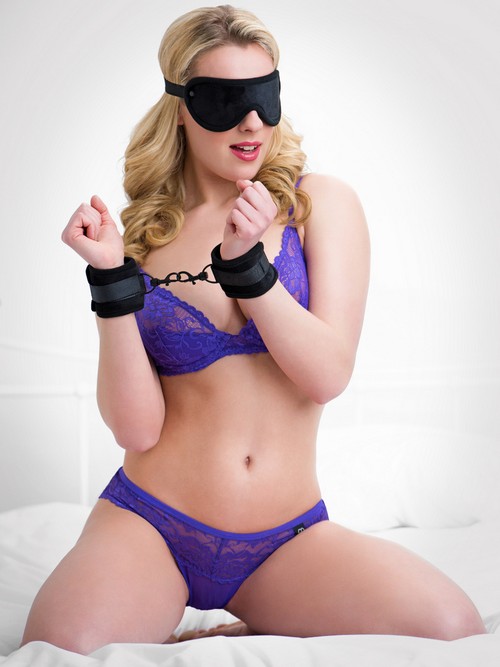 If either of you are worried about the idea of incorporating bondage in your sex life, you shouldn't be afraid to say so and explain why. Consider your reasons and openly discuss them with your partner.
You may find that, during discussion, you too become curious. But as with anything in a partnership, bondage is not for everyone.
"Bought this Bondage Boutique Temptation Soft Bondage Kit (2 Piece)as a first real buy for dom and sub play! We were not disappointed. My partner saw I'd got this and it was a turn-on before I'd even got it on!" - Missy28
You shouldn't feel bad if you are not interested in bondage when your partner is, but equally understand that your partner's desires are valid.
The right tools for the job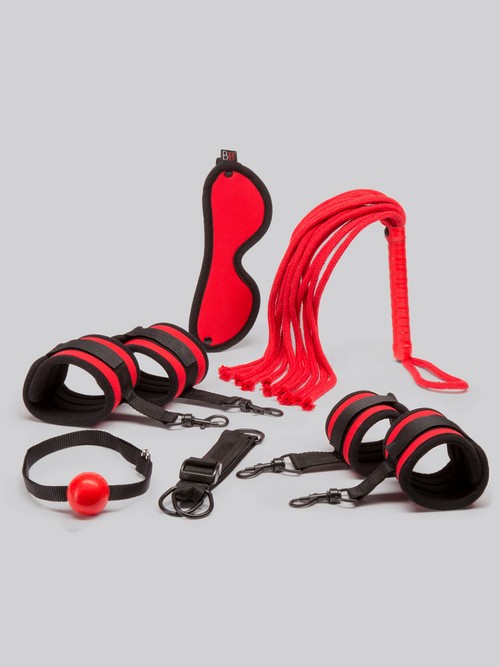 If you decide you might like to give bondage a go, it's worth thinking about what exactly you would like to try before you invest in any bondage equipment, to make sure your purchases are matched to your needs.
Are you looking to enhance foreplay and sensory play?
Do you or your partner have a preference as to who should be tied up or do you want to take it in turns?
Are you happy being locked into restraints or do you want to be able to escape if you want to?
These are all questions that you should ask and consider before you go ahead with making any purchase choices.
First-time thrills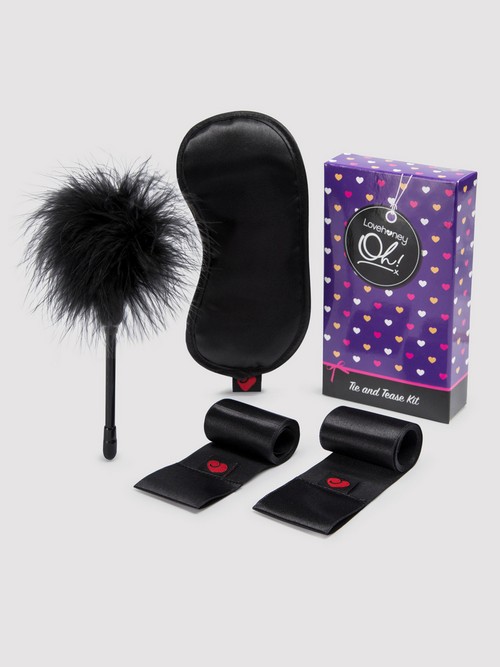 Once you're fired-up, you'll be ready to invest in your first bondage equipment.
Beginner-friendly wrist cuffs and a blindfold are ideal for your first time. Cuffs will allow you to experiment with restraint, and the blindfold will not only bring in an element of sensory play - it will also alleviate any butterflies you have about trying bondage for the first time.
''Me and my partner really enjoyed the surprise, and it was the best sex we had in a while. Has opened the door for us to talk more about bondage and fantasies we've had but been too afraid to bring up." - Sthom
The great news is that bedroom bondage kits usually contain these staple items and are great value-for-money, allowing you to experiment with different toys without investing in a vast array of equipment.
Visit our Bondage for Beginners category to discover the best toys for first-time bondage.
Leather or lace?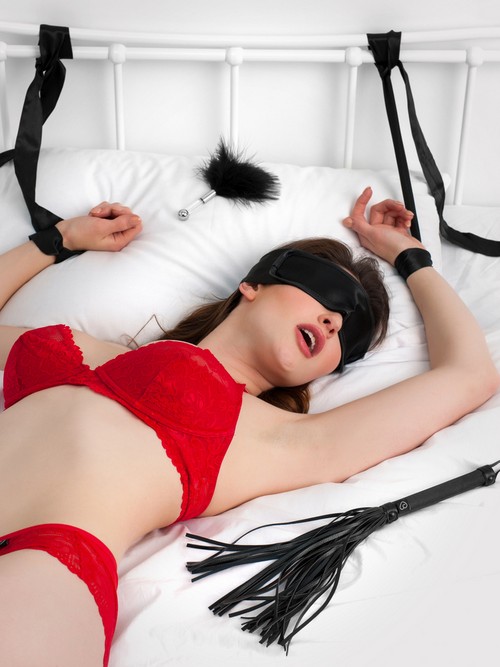 If the look of bondage gear is a little heavy for your tastes, there are plenty of alternatives to the traditional leather and buckles championed by hardcore enthusiasts. The Lovehoney Luxury Bondage Kit is soft but strong and a great starting point for your romantic bondage adventure.
"The soft texture feels nice on the wrists and ankles, and it felt very strong. They didn't cut in but tied tightly around the wrists, allowing for a good level of restraint. Overall, a stable for anyone looking to have some fun in the bedroom with a more romantic aesthetic to it.'' - Amy T.
If you do want something more heavy duty, Bondage Boutique have a great Under the Bed Restraint System which sits under the mattress of your bed and allows you to bind both wrists and legs if desired. This system allows easy release, but at the same time they're sturdy enough to survive being pulled on.
Play safe & avoid knots!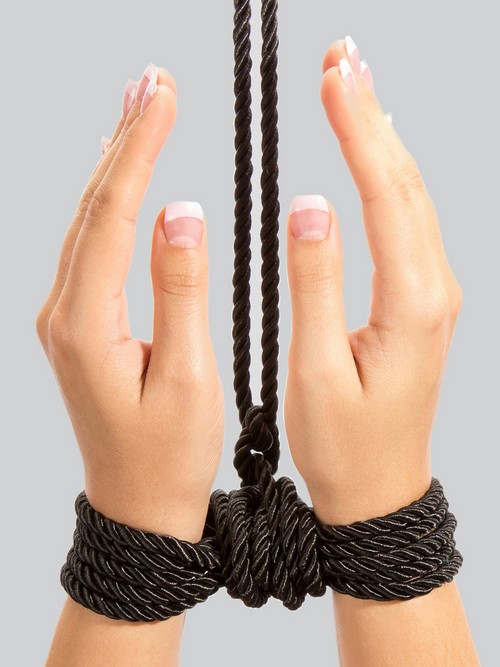 For first-time bondage, it's best to avoid anything which ties in a knot, like rope. A pesky knot you can't untie is a nightmare at the best of times but is certainly not something you want to happen in the bedroom. We recommend avoiding rope until you're ready to do the research needed to play safely.
In the meantime, a great alternative is Tease by Lovehoney Bondage Tape: it sticks to itself so you can bind wrists, ankles and just about any body part any way you like without the worry of knots.
"I was surprised how soft the tape was as well as the strength. A few wraps around the wrist and you're well secured whilst remaining comfortable." - KinksandKooks
The only rule to remember is to play safe. Ensure that the safety of you and your partner is top of your agenda before you reach for the handcuffs. Ensure that you are both able to communicate, that you have set up a safe word and that you're both familiar with the restraints and how to unfasten them before you put them to full use. Read more about bondage safety techniques.
Interested in this topic?
Sign up now for our newsletter to receive expert advice, sale alerts, and exclusive offers. Plus, receive a special subscriber discount on your first order!
Recommended Bondage Toys & Gear
Explore Lovehoney best-sellers
Other Bondage guides you may like