How to Choose a Basque, Bustier, or Corset
Basques, bustiers, and corsets are great for creating an hourglass shape - but what's the difference?
This guide will tell you everything you need to know, from how to measure yourself to what to wear with a corset, what is a basque and everything in between. Definitions for basques, corsets and bustiers vary between companies so we wanted to give you the deets on Lovehoney's bustier vs corset vs basque breakdown.
Anything with lacing down the back or an hourglass shape can be referred to as a corset and this can cause a lot of confusion when you're trying to decide what to buy and how to measure yourself.
So what is the difference between these garments and how does that change how you wear them?
Video: What's the Difference Between a Basque and a Corset?
Find out how to choose the right fitted lingerie for you with the help of Lovehoney's experts.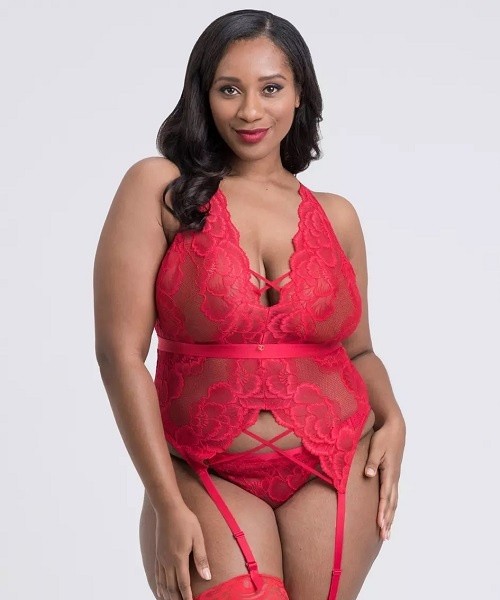 What is a basque?
A basque is an undergarment that looks like a corset with cups for the breasts. The difference between a basque and a corset though is that the former may have plastic boning, but this will not reduce your waist like the latter does.
How is a basque measured?
Basques are measured in clothing sizes or bra sizes. Think of it like a longer version of a bra or a more supportive camisole.
To measure for a basque, you should measure your bust or underbust accurately. If it is measured in inches, then you will need your underbust measurement. This is the same as measuring your underbust for a bra.
You can also check this measurement against S/M/L etc. charts to make sure you've got the right size.
How to wear basques for larger busts
Basques work wonders for those with a larger bust as they offer a great amount of support for your breasts. Padded underwire cups push up your tatas while the longline material around the waist creates a to-die-for hourglass shape.
A lot of Lovehoney's basques for the fuller figure also come with flexible plastic boning and soft material panels which add structure to the set and creates a gorgeous silhouette for the wearer.
Lovehoney has a huge range of basques for plus size bodies like this gorgeous red number.
What is a bustier?
(Pronounced boo-stee-ay)
A shorter garment that looks like a corset but can be worn as a top, over a dress or as an undergarment. It may have plastic boning or a steel front busk, but bustiers will not reduce your waist or change your shape.
The difference between a corset and a bustier is usually a bit easier to spot than with a basque. Bustiers are much like a longline bra in shape, and they smooth the shape of the upper part of your torso without restriction unlike a corset.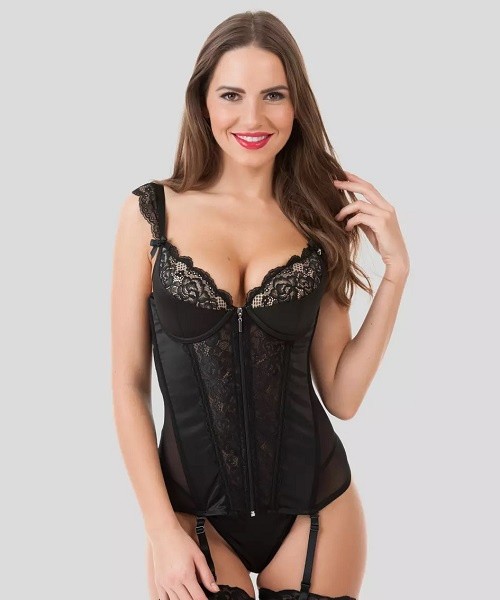 How is a bustier measured?
Bustiers are usually measured in clothing sizes, but you will still need to refer to the size chart for measurements as what one company will call a size 6 another will call a size 10. Outside of the catwalk, there is no such thing as a standard clothing size chart.
To measure yourself for a bustier, you need to measure your bust, waist and hip and compare them against the size chart for your desired garment. Remember that bustiers are not designed to reduce your waist and you'll therefore have to think sensibly about whether the bustier will fit. If it is too small, it is likely to rip if you try to squeeze into it.
If a bustier measures 34" 26" 34" and you measure 36" 27" 36", you will be able to wear the bustier provided that it has back lacing and you are willing to leave a 2-inch gap at the top and the bottom of the lace-up panel and a 1-inch gap at the waist. If your bustier has hooks and eyes at the back, you will want to check with Customer Care to see if the hooks and eyes will provide enough extra width for the bustier to fit you. Remember to provide your own measurements to be sure that they can help you.
Remember that a bustier will break or become damaged if you try to force it closed over measurements that are larger than it. The materials and construction of bustiers are not as strong as a corset and you should treat these as garments with no stretch.
How to wear a bustier
A bustier can be worn as underwear or outerwear and can add seductive class to any outfit whether you pair it with some matching panties or denim jeans. Bustiers have a tendency to push up the bust so embrace the lift with your bosoms on display or layer with a dress shirt to add more coverage.
What is a Corset?
A form-shaping garment that incorporates metal bones (and sometimes plastic like in the corset below). It can be worn as a top or an undergarment. Corsets are measured in inches and this dictates how many inches the corset measures around the waist when it is closed. Corsets are designed to improve posture, reduce your waist and sometimes boost your bust.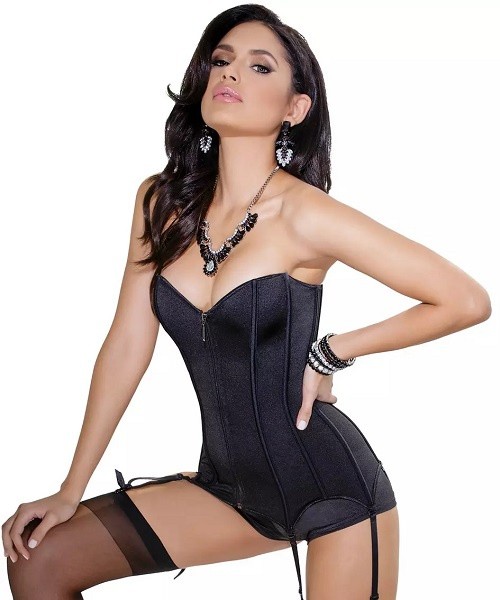 How is a corset measured?
A corset is measured in inches relating to the waist measurement.
If a corset is a size 26, the waist of the corset will measure 26 inches when the back is fully closed. As corsets are designed to reduce the waist, you will want to purchase a corset that is smaller in the waist than you are.
How to buy a corset
Corsets are measured in inches, and the sizes shown (e.g. 28, 30) are what the corset measures in inches around the waist when the back is fully closed and no skin or modesty panel can be seen below.
Because corsets are designed to reduce the waist, you will want to purchase a corset that is smaller in the waist than you are. Start by measuring around your natural waist (the smallest section of your torso, directly under the ribs where you are naturally your thinnest).
If you are buying your first corset, your body will not be used to being squeezed into a body-modifying garment, it is therefore sensible not to try and squeeze too much in.
What your body can handle will depend heavily on what we call your 'squish factor' - how easily you can squeeze your waist smaller.
As a first-time corset buyer, you may find it easier to judge how squishable you are using the tape measure. Standing straight, place the tape measure around your natural waist and then gently tighten it, squeezing the measurement smaller. You may find that you can 'disappear' the inches easily, whereas for others it can be harder.
As a general rule, your first waist-reducing corset should be between 4 and 6 inches smaller than your own waist and the easier you are to squeeze, the easier your waist will reduce in size.
Example: Say you have a waist size of 28 inches.
If you could easily reduce your waist by 4 inches or more with a tape measure, it would be sensible to choose a corset that is more than 4 inches smaller than your own waist as you are likely to be able to reduce your waist quickly with practice. You should therefore go for a 22-inch corset.
If it was difficult, or you reduced by less than 4 inches in total, you should buy a 24-inch corset as your body may take longer to adjust to wearing a waist-reducing garment and the 4-inch difference may be a challenge.
How to wear a corset
One of the biggest mistakes people make when trying on a corset for the first time is trying to do it all yourself. If you are not used to lacing yourself into things, you're likely to get into a tangled mess and could even warp the corset.
If you have never worn a corset before, watch the video carefully to ensure you know what you're doing before you start.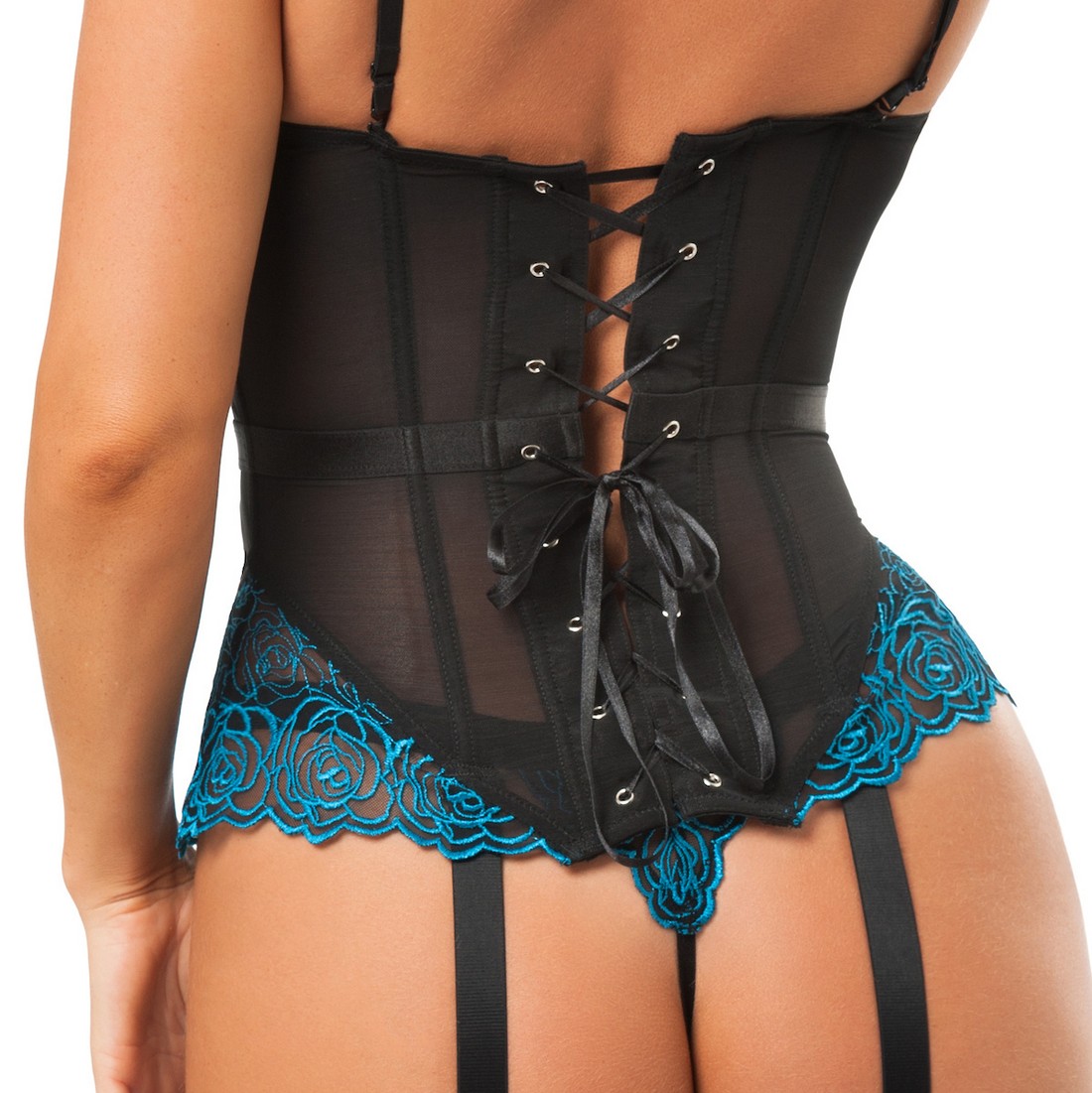 What to wear with a corset
Corsets are at the forefront of the underwear as outerwear trend so knowing how to style them is a fabulous way to inject a hearty dose of cool into your wardrobe.
You can layer a corset with just about any kind of clothing you like to cinch your waist. Dress up with a slinky slip dress and heels or dress down with a plain white tee and some jeans.
A-Z of Corsets
When buying a corset these terms will be used a lot so get familiar with them and you'll end up with a corset you love.
Busk: The fastening on the front of a corset with what look like big hook and eye fastenings. It is usually made of metal and in good quality corsets, will stay firmly closed and reveal no flesh underneath.
Steel Boning: Thin strips of metal that are sewn into vertical pockets in the corset. Steel boning shapes the body and is responsible for the waist-reducing effect you get from wearing a corset.
Plastic Boning: Strips of plastic that are sewn into vertical pockets in basques, bustiers, most corset dresses and some suspender belts and cinchers. It can twist, bend and flex more than steel corset boning and won't create an hourglass figure, but provides a firm shape to the garment so it looks the same on you as it does when it's on a hanger.
Modesty Panel: A piece of material that is sewn into the inside of the corset near the lace-up back section. A modesty panel lies flat against the body and stops skin from showing but can be folded over if you want to flaunt some flesh!
Eyelets: The metal rings through which lacing is threaded.
Our top Sexy Lingerie recommendations
More Sexy Lingerie advice
More Sexual Happiness Advice
You can never know enough about sex, right? Why not join us on our sexploration journey? Stay up to date with the latest advice on our blog, the Lovehoney forum and the weekly Sexual Happiness podcast.