Are Glass Dildos Safe? What You Need To Know
Many enjoy the glorious glide of glass but others avoid it for fear of injury. What's the truth?
By their very nature, sex toys make acquaintance with some of our most precious body parts, so it's only natural to wonder how safe they are.
Glass as a material has the reputation of being sharp or breakable, and could conjure up memories of dropped wine glasses or broken windows. These images don't inspire confidence when you then consider putting glass inside your body.
Good thing they're not particularly accurate! Glass dildos are beloved by many and if they were dangerous, they wouldn't be anywhere near as popular. Allow us to clear up all the questions you may have.
Our top fave glass dildo
Lovehoney Beaded Sensual Glass Dildo 7 Inch
Featuring a bulbous end for complete control, our number one recommended unisex glass dildo is a fantastic accessory for orgasmic vaginal or anal stimulation, and can also be used for a spine-tingling sensual massage. As versatile as they come, this toy works with all your favorite lubricants and can be warmed or cooled - it even makes a great ornament for your mantelpiece. Is there anything this stellar dildo can't do?
What customers say: "So speaking of glorious, this glass dildo is awesome. I enjoy the full feeling, weight, and temperature control options. I personally like this better than silicone."
Why Do People Like Glass Dildos?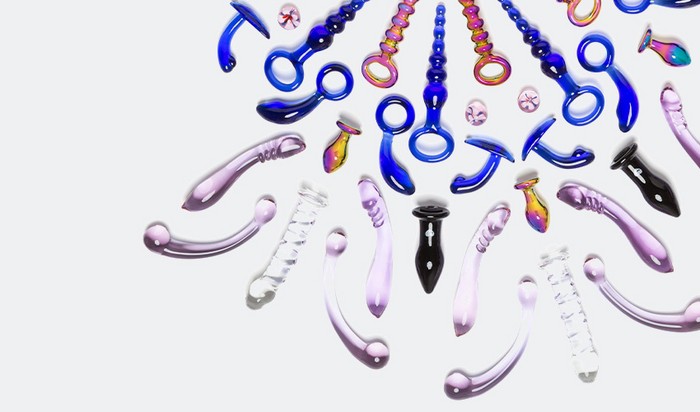 People love glass dildos because of their firm, rigid shapes that are great for internal stimulation. In particular, G-spots and P-spots usually respond well to concentrated, firm stimulation that glass dildos are only too happy to provide.
Glass dildos are also great for sharing, because they're easy to keep clean, and can even look beautiful enough to leave out and about in your home.
Plus, glass dildos are compatible with all kinds of lubricant, meaning you can bust out that super slick silicone lube you don't get to enjoy with your silicone toys.
Are Glass Sex Toys Safe to Use?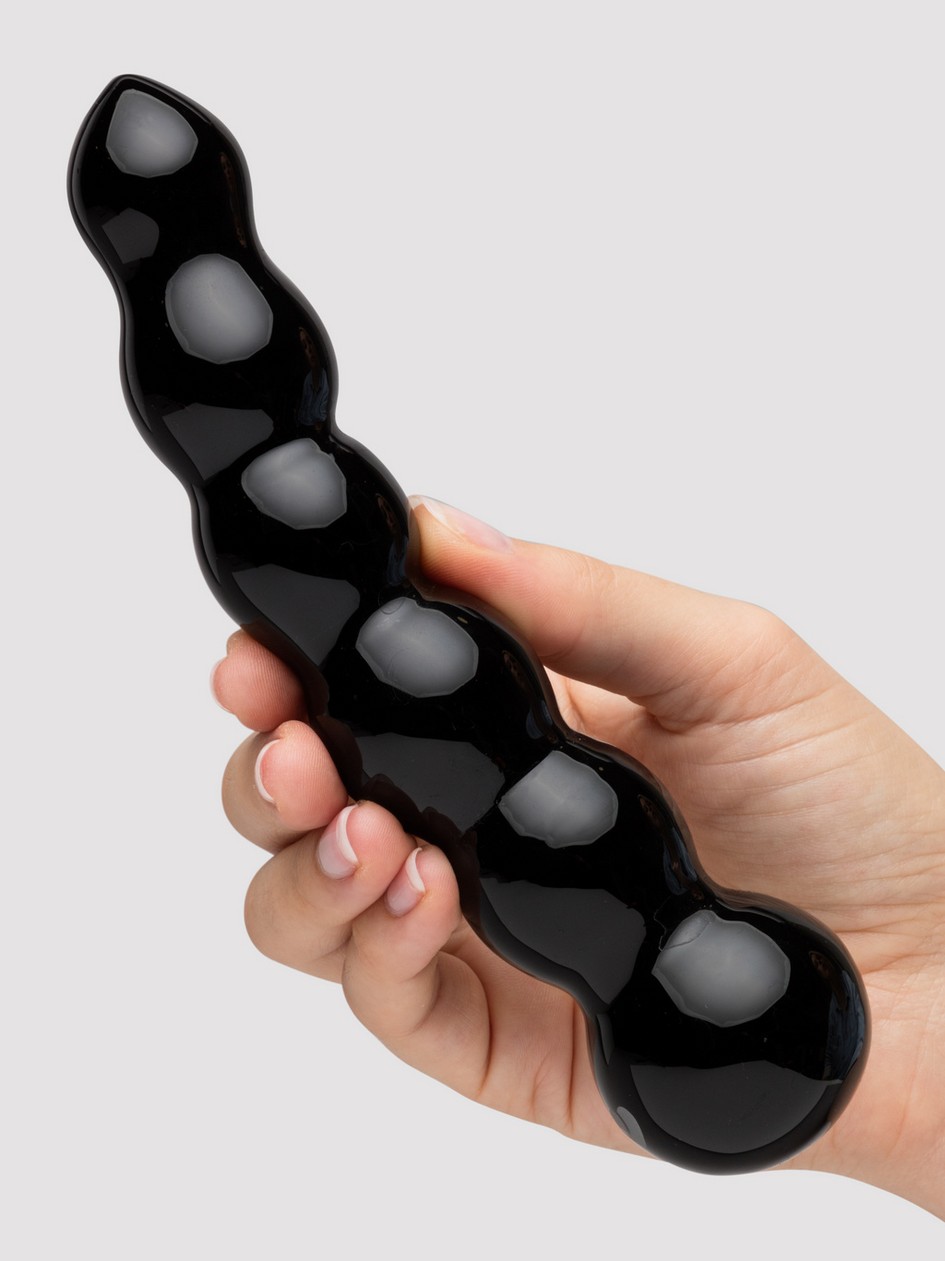 You're not the only one wondering, and the answer is generally, yes. Glass is non-porous, hypoallergenic and phthalate-free, which is a fancy way of saying that glass can be sterilized and isn't likely to have a negative reaction with your body. That's a major bonus on the safety front!
One thing to look out for is glass that's coated with color or has pieces stuck on rather than formed as part of the mold. The coating could negatively interact with lube or, at worst, come off inside your body, so it's best to stick to glass that's clear or colored during the molding process, not coated afterwards.
Similarly, glass with attached parts always runs the risk of those parts breaking off. Aim for glass dildos with curves and bumps built into their very design, like the Lovehoney Beaded Sensual Glass Dildo.
Can Glass Dildos Break During Use?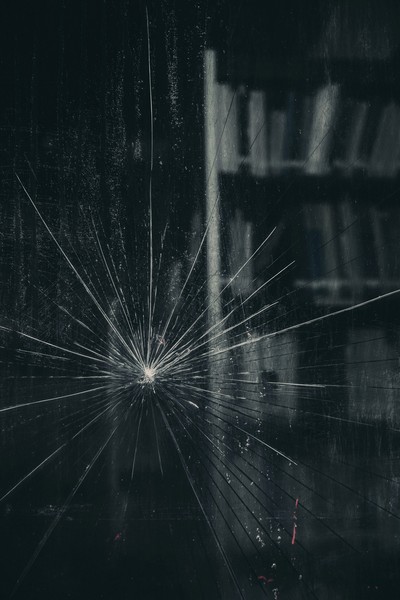 What you're really asking with this question is if it's possible to break glass with your body, by squeezing it with either your vaginal or anal muscles. This is super duper unlikely to happen unless what you're playing with is not a dildo. (And here's a reminder: don't put anything inside your body that wasn't designed to go there.)
No glass is 100% unbreakable, but you can keep yourself safe and on the road to good times by following these tips:
Buy reputable brands from reputable retailers.
Buying tried and true brands from businesses that want you to come back for more helps make sure you get a genuine glass dildo or glass butt plug. Reputable retailers stock toys designed with body safety in mind, so you can be confident the glass is tough and resilient.
Don't drop it!
Even if your glass toy is chip or crack-resistant, there's still a chance that dropping your toy could result in hairline cracks that make it less stable. Always store glass toys in a storage case, storage bag or wrapped in a cloth to keep them nice and safe.
Fan Favorite Glass Dildos
Importance of Knowing Your Glass
Not all glass is created equal, and not all glass is sex toy-suitable. Here are the deets about the sorts of glass you should be discovering in your toy box.
Types of Glass Used In Sex Toys
Annealed Glass
Annealed glass is normally heated high in a kiln and then slowly cooled down over time. The slow heating/cooling process helps reduce stress points within the glass itself and results in an extremely strong, durable toy. Some of the best sex toy brands use annealed glass in their toys.
Tempered Glass
Tempered glass is extra-durable and shatterproof, so that it's unlikely to break, even under immense pressure. If it does end up breaking, it turns into small, pebbly pieces that aren't likely to cut you. Tempered glass is put through extreme heating and rapid cooling, so it's more temperature-resistant than annealed glass.
Soda Lime Glass
Your basic, go-to type of glass, used in practically everything! In fact, up to 90% of the world's glass is soda lime glass. Soda lime glass gets its name from its chemical composition SiO2, sodium oxide (soda) and calcium oxide (lime). Lots of sex toys are made of soda lime glass that's been annealed so it's strong enough to play with safely.
Borosilicate Glass
Borosilicate glass is best described in the ways it's different to soda lime glass. Borosilicate glass is more temperature resistant than soda lime glass, and annealed borosilicate glass is some of the best kind for heating or cooling to enjoy a bit of temperature play.
What is the difference between Annealed and Tempered Glass?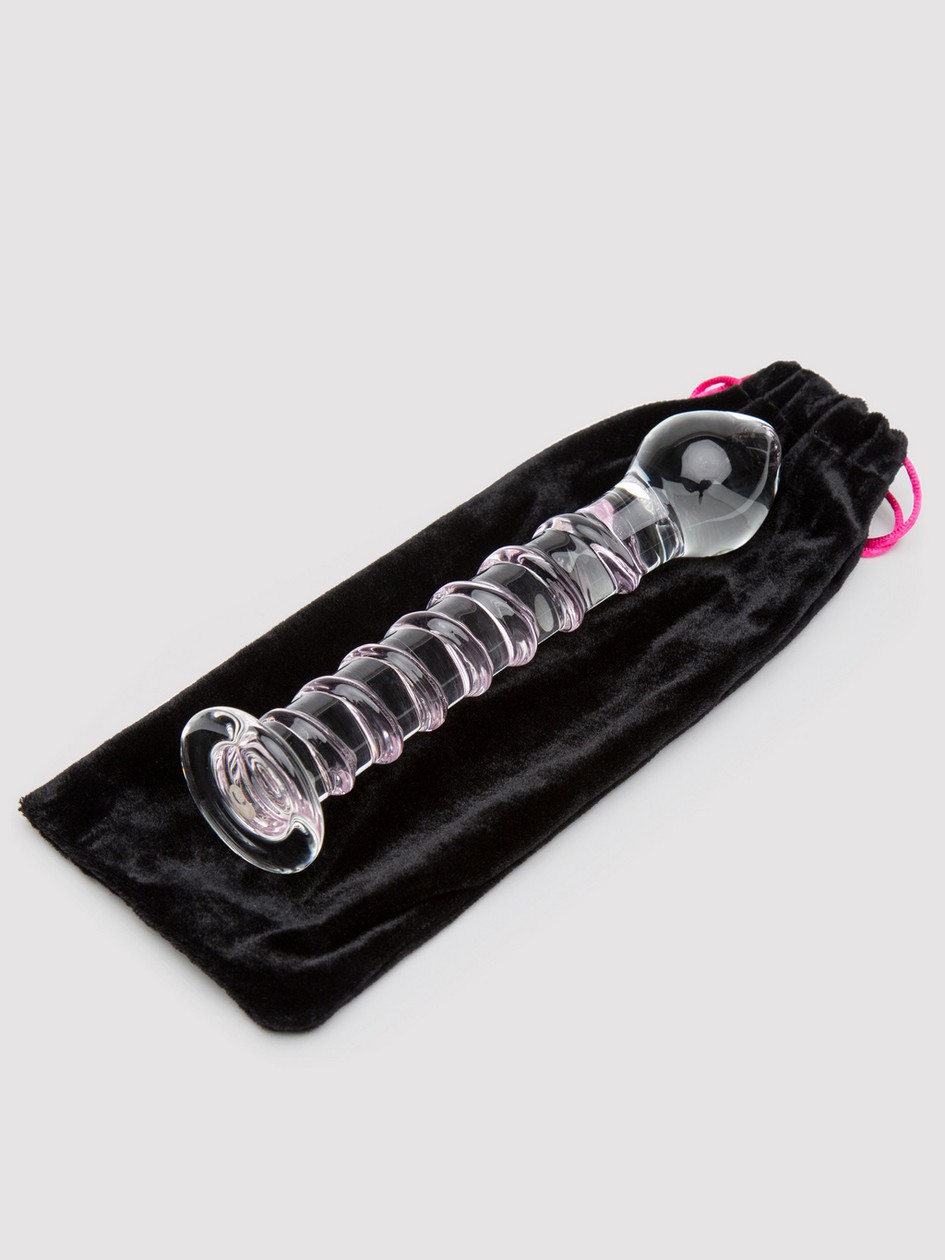 Now that you've learned about the types of glass used in sex toys, you know the answer to this. Annealed glass and tempered glass are both strong, tough and perfect for pleasure. Annealed glass is more common and less expensive, though still pricy enough to inspire confidence!
Tempered glass is the most temperature resistant kind of glass you can get, so if warming and cooling is your jam, aim to take home a tempered glass toy.
Tips for Using Glass Sex Toys
If you drop your toy, it's important to check it over for any cracks, nicks, chips or other signs of wear. If it's not longer smooth, it's no longer safe and it's time to replace your glass dildo with a new toy.
Enjoy temperature play in moderation.
Moderation, in this case, means not boiling or freezing your glass toy. Instead, warm or cool them by submerging them in water – this will help make the temperature change happen smoothly without adding any stress to your glass toy.
Avoid glass toys with very thin design elements.
Aim for glass sex toys that are solidly shaped without parts that look like they could easily snap off and you'll be just fine. A good rule of thumb is that the thinnest part of your glass dildo should be no thinner than your pinky finger.
How to Choose a Glass Dildo
When choosing a glass dildo, remember that they have no flexibility whatsoever. Glass dildos are completely, 100% rigid, and so you need to get your sizes right! Choose a size that's similar to that of your favorite non-rigid dildo and make sure to use lots of lubricant.
Our top recommended glass dildo for beginners
Lovehoney Beaded Sensual Glass Dildo 7 Inch
One of our most popular glass dildos is the Beaded Sensual Glass Dildo. This dildo gives you 7 insertable inches of beaded delight, and the graduated beading means it's perfect for working up. It's a unisex dildo, perfect for both vaginal and anal penetration, although you do need to keep the last couple of beads outside the body when enjoying anally.
What customers say: "This toy looks amazing, could almost be an ornament (as long as you have open minded friends). It's bumpy texture thrills as it goes in, and the coldness of glass gives a little extra spice. Works great in both of my holes and oh loves it up his bum too. Great to play on/in each other with making something very sexy into something very sensual."
In Conclusion
Glass dildos are a durable, beautiful and welcome addition to any toy box. They are safe to use as long as you buy from reputable sources and take good care of them.
Learn more about sex toys
More Sexual Happiness Advice
You can never know enough about sex, right? Why not join us on our sexploration journey? Stay up to date with the latest advice on our blog, the Lovehoney forum and the weekly Sexual Happiness podcast.