How To Clean A Fleshlight The Right Way
Keep your Fleshlight fresh right with our pocket pussy proper care and cleaning guide!
Responsible sex toy ownership means keeping your pleasure products clean, and Fleshlights are no exception. Caring for a stroker is not as straightforward as some other types of toys, however, leaving many Fleshlight owners wondering, "how the heck do I clean this thing?" No worries, boo, we got you! From the how to the why, Lovehoney is here to teach you the best way to clean a Fleshlight.
Prefer another pocket pussy brand (or perhaps a pocket mouth or booty)? This guide can still help you out! Most Fleshlight-style strokers operate and can be cleansed similarly. So when you're finished getting your stroke on, whether that be with a Fleshlight or not, the straightforward Fleshlight cleaning steps in this guide will help keep your male masturbator spick and span.
Why It's Important to Clean Your Male Masturbator
Part of looking after your sexual health is looking after your sex toys. From bodily fluids to regular dirt and debris, sex toys can become a breeding ground for bacteria if you don't cleanse them regularly and after each use. Using dirty sex toys can lead to health problems like yeast infections and skin rashes in places you really don't want a rash (read: your penis), to name a few possible complications.
Pocket pussies, in particular, are prone to bacteria buildup due to the nooks and crannies in the sleeves' textured interiors. Failure to rid your stroker of harmful bacteria can result in mold and mildew, which, needless to say, is not an ideal condition for something you're screwing.
Another motivator for cleaning your Fleshlight? Improper care and cleaning is the quickest way to render your fav stroker unusable. Once you notice all the grime building up from failure to clean a Fleshlight properly, it's unlikely you'll be keen on sticking your peen back in there. More than just keeping your stroker hygienic, correct washing and maintenance will also prevent your Fleshlight from deteriorating in quality. Sex toys are an investment in pleasure, so it only makes sense to take care of those investments to increase their lifespan and keep them (and your sexual health) in the best shape possible.
How to Properly Clean a Fleshlight: A Step-by-Step Guide
Now that we have covered the "why," let's get to the "how!" Follow the below six steps to keep your Fleshlight squeaky clean. And once you've read the details, feel free to scroll down to the end of the blog to see the cleaning process in action with our Fleshlight cleaning video tutorial!
1. Remove the sleeve from its case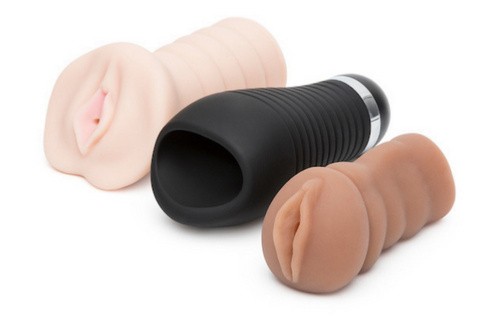 You should separate your case and sleeve before starting the cleaning process to ensure both components get a thorough wash. The best way to clean a Fleshlight is to clean ALL of it, not just the sleeve.
2. Wash the case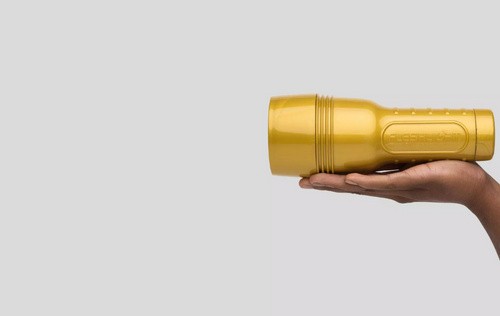 It doesn't make much sense to place your freshly cleansed stroker into a dirty case, now, does it? Luckily, caring for your Fleshlight case is easy peasy. Simply suds your case up with a sex toy cleaner, rinse, and dry! Alternatively, you can use a toy-friendly cleansing wipe like Lovehoney Fresh Toy Wipes.
3. Flush the canal with warm water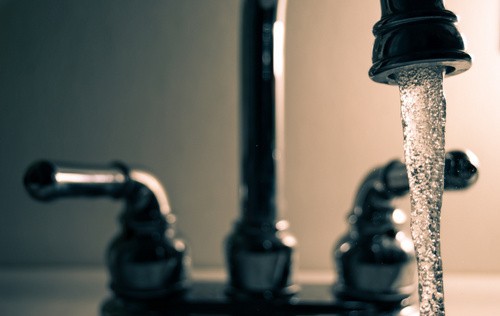 Using warm (not hot!) water, hold your stroker beneath the faucet and rotate it so the sleeve's entire exterior receives a rinse before focusing on the inner portion. You'll want to give the sleeve's interior the most attention since that's where the action happens.
With your faucet still spouting warm water, thoroughly flush out the sleeve, making a special effort to cleanse all the nubby textured bits that may be trapping hidden dirt. You can do this either by rubbing your fingers against the Fleshlight's inner walls (while it's still filled with warm water) or sealing the water inside the sleeve by covering the opening with your hand and giving it a few shakes.
4. Spritz the Fleshlight with sex toy cleaner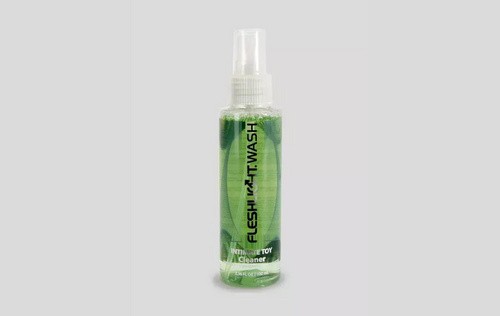 Spray the entirety of your Fleshlight (inside and out!) with a compatible sex toy cleaner, then rinse it off. We recommend Fleshlight Fleshwash since it's literally made for this express purpose - you can't get more legit than that, right?
5. Dry it off
If you leave your just-washed Fleshlight wet, all your cleansing work will be for not. Y'know that icky mildewy smell your clothes get when you forget to transfer them from the washing machine to the dryer? Now imagine that on a stroker sleeve - yuck.
To dry your case, simply wipe it off with a cloth. Your stroker's sleeve requires a bit more care, however.
First, turn your stroker upside down and gently shake it so that any pools of water trickle out. Next, you'll lay your Fleshlight sleeve out on a paper towel or other clean surface, then pat the exterior dry using a fresh towel or cloth. Lastly, wait for your sleeve to air dry. This may take a while, and the amount of air drying time required will differ depending on the texture of your Fleshlight sleeve's interior. It's best to place your sleeve upright with the opening facing downwards, if possible.
Tempting as it may be to speed up the drying process, it is essential to let your stroker sleeve dry naturally. Never use heat (such as a hairdryer, for instance) as this can damage the velvety-soft material of your Fleshlight sleeve. Patience is a virtue, folks!
6. PRO TIP: Renew the sleeve's material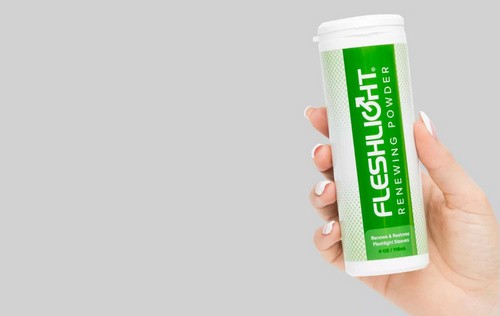 Though not technically a necessity for cleanliness, a stroker renewal powder will greatly extend the lifespan (and quality!) of your pocket pussy. Over time and with repeated use, Fleshlights and similar male masturbators lose that soft, supple texture that makes their sleeves feel so lifelike. A renewal powder will keep your stroker feeling just as sumptuous as the first time it graced your dingus with its penetrable presence.
Using a stroker renewal powder is a simple two-step process with lasting impact. After your Fleshlight has fully dried, sprinkle a thin layer of powder on your sleeve's exterior. Once covered, lightly massage the powder into the material, using your fingertips to do so. Next, place a bit of powder on your finger and rub it lightly against the stroker's inner walls.
If your stroker brand makes an accompanying renewal powder, it's best to stick to that brand when caring for your toy. For instance, THRUST's THRUST Lifelike Sex Toy Renewer Powder is a good match for THRUST strokers, while Fleshlight's Fleshlight Renewer Powder pairs best with Fleshlight products.
Why You Need to Use Sex Toy Cleaner Instead of Soap
Household soap (or any cleaning products with soap or detergent as an ingredient) will degrade your beloved Fleshlight's sleeve. After investing in a quality stroker and taking the time to clean and care for it, it's a little silly to ruin your junk's new pal just to save a few bucks on supplies - do right by your D and your Fleshlight by keeping proper care products on hand.
And when it comes to proper care, Fleshlight's got your back - their Fleshwash Intimate Toy Cleaner is specially formulated to keep your stroker hygienic AND intact. You can even use it with other stroker brands too!
That being said, Fleshwash is not your only option for stroker-compatible toy cleaners. Sex toy cleaners with water-based formulas like our best-selling Lovehoney Fresh will also do the trick without damaging your toy.
When in doubt, check your sex toy cleaner's ingredient list or speak to a customer care representative to find out whether the toy cleaner will mesh well with your stroker's materials.
Recommended Stroker Cleaning and Care Products
You and your Fleshlight deserve the best of the best, and that's just what these stroker hygiene and maintenance products deliver. We've even thrown in a few Fleshlight accessories that can enhance your stroker fun - when in Rome, right?
Cleaning, Care, and Accessories for Fleshlights
Stay Fresh, Y'all!
A clean stroker is a happy stroker, and by happy, we mean it will maintain its quality, last longer, and, perhaps most importantly, not infect your D. Sure, properly cleansing your Fleshlight after each use takes more effort than immediately throwing it in your bedside table post-O, but it is an effort worth making.
More of a visual learner? Check out our video tutorial on how to clean a Fleshlight below!
Video: How to Clean a Fleshlight
More Sexual Happiness Advice
You can never know enough about sex, right? Join us on our sexploration journey via the thriving Lovehoney forum, our weekly Sexual Happiness podcast and our blog.