"Revolution in Orgasm" - Review of the Month, January 2015
Revolutionary and unique are words that get thrown around a lot in the sex toy world, but sometimes a product comes along that embodies these revolutionary ideals with brand new methods of stimulation. The Womanizer USB Clitoral Stimulator does just that, using suction for clitoral stimulation like never before.
Our review of the month for January describes the revolution of a Womanizer orgasm:
"I really think this device should be investigated by sexual therapists for people who have difficulty achieving orgasm. It seems to me a game changer. Also worth noting that since I have been using it, I feel an overall effect of heightened sexual awareness." Read the full review by BBWinch here.
BBWinch wins a $150 Lovehoney voucher for uploading our favorite review this month, plus we're saluting 3 runners up with top reviews linked below.
You could write next month's winning sex toy review! Read our guide to Writing Great Product Reviews and get started.
---
This month we've selected three fabulous January reviews as runners up. Each runner up receives 2,000 Oh! Points to spend or save on their Lovehoney account. Congratulations!
Runners Up
glitterary's review of TENGA Egg Lovers Heart
"So, I've had mixed success with these; I think a lot of it comes down to what kind of sensation the receiving partner enjoys. However, they're a great idea and if you're the kind of person who likes to tease your partner rather than race to the finish, I think you could get a lot of mileage out of the unique sensation a TENGA egg offers."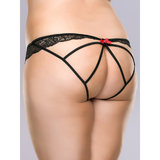 TheMinxyMilly's review of Lovehoney Plus Size Spoil Me Satin Cage Brief
"Personally I think other people, usually men, get more out of me wearing these than I do, but when someone is attracted to me, I feel positive about my body and it can make my day. I prefer to wear these for intimate moments, but if I am having a bad day, I can use these to give me a slight boost. Knowing someone is attracted to me when I wear them gives me an empowering feeling and it can really make my day."
BlindMonkey7's review of Fifty Shades of Grey Restrain Me Bondage Rope
"There's something about being tied up. Much better than cuffs. You can tease and build up the suspense a lot more than just whacking on a bit of metal around your wrists. It's a lot more versatile too, with the two ropes in the pack the possibilities are endless and are only limited by your imagination. Not by the amount of rope you have, there's plenty of it!"
---
You may also like: