What a Great Surprise! Enjoy July's Sex Toy Review of the Month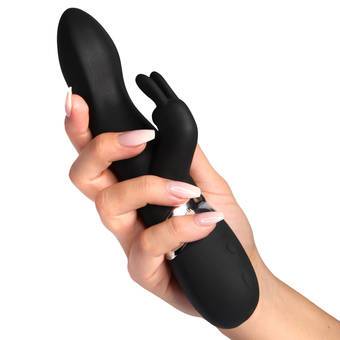 Although hundreds of new sex toy reviews are uploaded to Lovehoney each week, we're always on the look out for that special one that makes us laugh, smile or change our minds about a product. That's why we started our monthly review contest, where you could win a $150 voucher to spend at Lovehoney.
This month one very poetic review caught our eye - a self-proclaimed ode to the Tracey Cox Supersex USB Rechargeable Rabbit Vibrator:
""Okay," I said, "let's do it!"
And what a great surprise!
This rabbit is - in actual fact
a devil in disguise!"
Check out Clockwork_Oasis's full review.
Clockwork_Oasis takes our top prize this month for her lyrical and informative review, but read on below to find out who was selected as a runner up.
---
Our winner this month may be poetry in motion, but we've also selected three runners up, who get a whopping 2,000 Oh! Points each credited to their Lovehoney Community account - congratulations everyone!
Could you be next? We'd love to hear your thoughts on any purchases you've made recently, whether you've enjoyed it, disliked it or were mostly neutral. Submit your review for your chance to win the top prize. Start by reading our guide to Writing Winning Product Reviews for tips on how to perfect your reviews.
Runners Up:
---
Lovebirds_x's review of Lovehoney Main Squeeze Heavy Double Kegel Balls
"The size and shape of this set is great; they're small enough to be comfortable and easy to insert, but large enough that you don't struggle to keep them inside you. The shape seems to hug you internally and helps them stay snuggly in place. I thought being bigger could make them less of a challenge than my previous set, but I was wrong. It makes them easier to use, but not any less of a work out."
Vanessa8's review of Lovehoney Adore Me Lace & Microfiber Chemise Set
"I got the reaction I wanted from my partner, which was sheer lust. Because of the construction and fit of this set being so good and comfortable, I also plan to wear it out on the town underneath a dress or suit for another surprise later on. This is a high quality lingerie set that will have staying power in my wardrobe. Thank you, Lovehoney!"
Hanns's review of Lelo Mia 2 USB Rechargeable Clitoral Vibrator
"As with the rest of this toy, something about the way the motor vibrates feels really luxurious, and gives me really lovely, satisfying orgasms, leaving me feeling almost pampered afterwards. The vibrations are plenty powerful for such a small toy and even on the most powerful setting the Mia is whisper quiet. "
---
You may also like: