Electrical Pulses: August's Review of the Month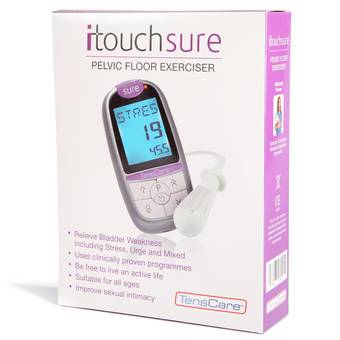 Chances are you've read one or two of our 279,000 user-uploaded sex toy reviews. We love reviews, and we love that so many of our customers take the time to send us feedback on the products.
Every month we like to give back by choosing one review to win $150 to spend at Lovehoney.com. This month's winner's review of the TensCare Itouch Sure Pelvic Floor Exerciser with Electrical Pulses is informative and inspirational:
"Having had 3 children, one of which caused me severe peritoneal tearing during birth, I'd suffered for years with stress incontinence and it was getting me down. No matter how many exercises I did, nothing worked! Until the Itouch."
"The big question is 'does it work'? And, yes, it most certainly does! I've found that I am much tighter, and I can run now without any leakage and even jump on a trampoline, something that was impossible before."
Read AWilki's full review here.
That's not all! We've also selected 3 runners up. Read on below to find out if you were lucky…
---
We've also selected three runners up this month who each get 2,000 Oh! Points each credited to their account - congratulations everyone!
Fancy trying your luck? We'd love to hear your opinions on any purchases you've made recently, whether you've loved it, hated it or were just mildly indifferent. Submit your review to be in with a chance to win the top prize, but remember to read our guide to Writing Winning Product Reviews first for tips on how to get started.
Runners Up:
---
Subdom27's review of Bondage Boutique Silky Rope Multi Position Restraint Set Red
"The greatest thing about this set is the versatility it brings to the bedroom, or wherever else you wish to use it. The possibilities are simply endless!"

"For our first test, we attached them to the headboard. Ours is metal with lots of poles to attach them round. Securing them in place was very easy. We simply wrapped the rope around the pole and threaded it back through the metal ring at the end. That then creates an extremely safe loop which won't come undone. We were also able to thread the trailing rope through the bars to create shorter restraints."
truegrace's review of Lovehoney Plus Size Spoil Me Satin Babydoll Set Plum
"The new Lovehoney range of underwear so far has simply been amazing. Excellent quality combined with decent pricing."

"Everyone should own something plum in their lingerie collection. In fact, lots of plum! This is such a nice colour, and very different to my normal, I just love it. The black lace really goes well with the plum, and totally makes this perfect."
Thisismyscreenname!'s review of Rocks Off Ammunition RO-80mm Erotic Ink Bullet Vibrator
"Then, there are the patterns! There's a wide variation - some mimic real sex, some are simple stops and starts of the vibrations, some are crazy alternating jolts! I tend to just use the basic speeds, but when I fancy a change these patterns are a fun, interesting safety net to try out! The patterns also seem to be the same intensity as the third speed and so are very powerful on their own!"
---
You may also like: