Best Selling European Secret Comes to the US: Enter to Win Womanizer W500 ($230 Value)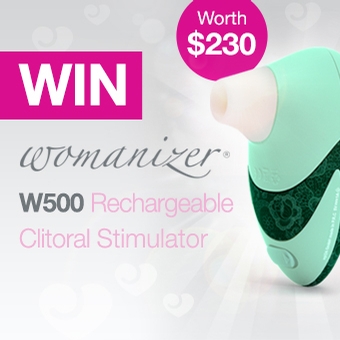 The Womanizer Clitoral Stimulator has been making waves in Europe for a while now, and we're bringing its unique stimulation mode Stateside!
This female sex toy uses suction, rather than vibrations, to stimulate the clitoris, and it's been garnering rave reviews from every corner of the internet.
Invented in Germany, the brains behind the Womanizer profess: "Many women get a completely new orgasm feeling. The womanizer, with its new technology and the way it works, which has nothing to do with a vibrator, is the gentlest and, at the same time, most powerful stimulation device that is on the world market."
One very lucky winner could soon be testing these claims and enjoying clitoral sensations like never before.
Click through to enter to win and tell us what you want to call your new Mint Green Womanizer W500 pictured here before February 8.
---
What's In A Name?
Despite looking rather like an in-ear thermometer, it's the name of this new sex toy that's been raising some eyebrows among our reviewers. Amongst references to Britney Spears' 2008 hit (swagger of a champion, anyone?), some multilingual fans have pointed out that the term "Womanizer" may be lost in translation, with the original meaning more along the lines of a female Cassanova.
Here's an idea from Lovehoney reviewer, Marriage is fun:
"If you want to sell a million of these, rename it to "Giggle-O!" Put a big smiley face on the top - with a wink."
---
How to enter:
To get in on this giveaway, simply use your email or Facebook account to log in to the Rafflecopter widget below. Don't worry, we won't save your information.
Next, leave a comment on this post telling us what you'll call your new Mint Green Womanizer W500 USB Rechargeable Clitoral Stimulator if you win. Earn extra entries by checking out our social media profiles and sharing this giveaway.
Competition ends February 8, 2016. Please read our Terms and Conditions here.
---
Would you like to learn more about this innovative new kind of pleasure toy and its namesake?
Here's a thoughtful review from Erika Lynae:
A look at the original Womanizer with Sunny Megatron and Elle Chase:
---
Are you ready for the ultimate suction… I mean seduction?
Feast your eyes on the entire Womanizer collection:
---
You may also like: