Feel Sexier In An Instant With These Body Confidence Tips
For many (myself included), losing weight and toning up is on my New Year's resolution list every year. However, for a number of reasons, maybe it hasn't happened, and you're still not feeling as sexy as you wish you could in the bedroom.
I like to think I'm a very body-positive person, and I genuinely believe in beauty at any size, but when it comes to my own body, I really struggle to put my beliefs into practice.
But, really, body confidence comes from accepting your body exactly as it is, rather than trying to make it into what you think everyone else wants it to be.
So, if you're looking for a boost to your sex appeal and sensuality, we've got three easy tips for you that can help you love your body, and everything it does for you.
---
Celebrate Your Body
I'm quite lucky that one of my best friends is a photographer, so as a Valentine's Day treat for my partners this year I asked if she would take some boudoir photos of me. When I got the shots back I could see that confidence not just on my face but throughout the rest of my body.
If you're having a low self-esteem day, then having sexy photos to look back on can give you a real boost when you need it most.
If you don't know any photographers, and don't fancy turning up to your local photo studio to ask, "Would you mind photographing me in my underwear?", then there are other solutions out there. Although I'm sure one or two would have happily agreed.
Taking sexy pictures of yourself is a very powerful way of celebrating your body, and learning which bits you love the most. Luckily, we've put together a great guide to taking the best sexy photos to help you out.
And remember, 'sexy' doesn't have to mean naked: you can wear anything you like. Your favourite outfit, the lingerie you've been looking for an excuse to wear, or nothing at all - basically, whatever you want, as long as it makes you feel happy and confident. Stick on some of your favourite songs and get snapping!
It's up to you what you do with them next: send them to a partner or somebody you know who would appreciate them, even just a close friend; keep them all to yourself to look back at on a bad day; or send a copy to your mom to proudly display alongside your school pictures (or perhaps not).
And now you have a secret weapon for the next time you find yourself sending a, "It's late, what are you up to?" text.
Set the Scene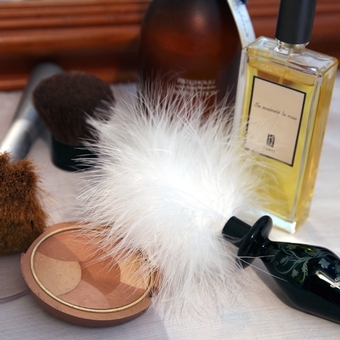 This is something I'm so glad I learned. Making your bedroom somewhere that you want to be, somewhere where you are in charge, can create a feeling of relaxation and confidence that will instantly have you feeling sexier.
This can be achieved by something as simple as getting new bedsheets and clearing out the clutter. Sadly, this will mean clearing away all the clothes that had been standing in as carpet for some weeks. For more tips, check out our guide to turning even the most hideous halls into a beautiful boudoir.
Even if you aren't currently in a relationship, you can still put the sensual setting to use. Masturbation has proven health benefits, not just physically but mentally. Nurturing yourself sexually and emotionally in this way has been shown to aid better sleep, improve your immune system, and boost your body image.
The more you allow yourself to be naked, in a setting where you feel sexy and empowered, basking in sexual pleasure, the better you will feel about yourself and the amazing things that your own body can make you feel.
By making your bedroom more appealing you won't only improve your sex life but your quality of sleep, and being well-rested has more benefits than just decreasing those eye bags. You'll have more energy, better concentration, and feel less stressed.
Another key benefit is feeling more in tune with your body, especially your appetite. Studies have shown that better quality sleep helps you to recognise genuine hunger more accurately, rather than reaching for that packet of cookies as something to distract yourself.
Treat Yo' Self!
It's a simple trick, but something as simple as a new pair of panties can make you feel amazing.
Be it a cheeky pair of boyshorts or a flirty thong, the secrecy of having something new and naughty under your clothes as you go about day-to-day tasks can give you such a rush.
This isn't just one for the ladies. Fellas, treat yourself to some new boxers and unleash your inner sex god! The feel of nice fabric hugging your hips and butt is sure to give you that extra bit of swagger in your stride. And believe me, a partner is more likely to prefer sliding off your jeans to see a nice pair of LHM boxers underneath than to find themselves face-to-face with the Cookie Monster.
Unless they have a thing for the Cookie Monster, in which case… Carry on.
If panties aren't so much your thing, then there are plenty of other options. A silky robe or chemise can be enough to make you feel like a vintage movie star.
And, admit it, we've all had that fantasy of opening the door to your crush or SO in nothing but one of these babies. Because let's face it, what you're hiding underneath of it is much better than a pair of briefs could ever hope to be.
Lizi is a Sociology student at Northumbria University, often found blogging about as Some Angry Northern B*tch. When she's not balancing her affection between her two partners, it often goes to her pet hedgehog, Stormageddon.
---
---
You may also like: