How to Use Anal Toys
Everyone has a butthole and that butthole is packed with sensitive nerve endings, meaning everyone – no matter your age or sexual orientation – can find joy in anal play. Go a bit deeper, and you could stimulate the sensation highway that is your pudendal nerve (which also connects to your most sensitive sexy areas), or, if you have a penis, the pleasure centre that is the prostate. Hey, with practice, you might even be able to enjoy an anal orgasm.
There are many different types of anal toys and while you might be aching to jump headfirst into exploring them, due to where the anus is and what it does, it's essential to prep properly and ease yourself in (especially if it's your first time).
Read on to discover our top tips for using toys for anal play in the most pleasurable way possible.
---
Anal toys: a step-by-step guide
---
1. Clean up
Due to what your butt's day job is, it's no surprise that this is the first tip. Getting yourself cleaned up in that area isn't just for hygiene or common courtesy for a partner – knowing that you're squeaky clean down below helps you (as the receiver) relax and enjoy anal play more, too.
"It's simple yet effective, it holds enough water to do the job right and to leave you feeling clean as well. The tapered nozzle fits easily and it's all easy to clean when finished with." - Chunkyb93
For most people, getting clean before anal play is as simple as making sure you've been to the toilet that day (so there's no poop waiting to evacuate) and having a good wash in the bath or shower prior to using your anal toy. If you'd like to take extra precautions, you can also use an anal douche to flush your anus about 45 minutes before anal stimulation.
Learn how to use an anal douche here.
---
2. Use lube
The anus does NOT self-lubricate to anything like the extent that the vagina does, so you MUST use lube when exploring any kind of anal penetration.
There are no ifs, ands or but(t)s about it! For first-time fun, the best anal lube is a water-based one.
"I have used the lubricant during anal play and the feeling is wonderful. I've also used it with toys and on my clit when going solo.
It's an all-round winner! It doesn't leave a sticky residue like some other lubes do and I've definitely found myself a favorite." - MrsLafinlas
Not only is a water-based lube compatible with all sex toys and condoms, but an anal-specific formula is thicker, and longer-lasting than regular lube for better comfort and pleasure during anal play.
---
3. Get warmed up
No, we don't mean star jumps (though it probably wouldn't do you any harm!)
"I bought this butt plug as a beginner due to its size being similar to that of a finger and because I had never used a plug before.
First time using it was great! The plug was extremely easy to insert and felt nice and pleasurable. The plug stayed in place and was also very easy and comfortable to remove." - Bella66
When you're ready for penetration, use a well-lubed finger to slowly and gently explore. This helps relax your anal muscles and get them ready for penetration.
A lot of people like to use small, tapered anal toys at this stage – a beginner's butt plug is perfect.
---
4. Toy around:
When you're ready, you can start to use anal toys. Anal toys don't always have to be used as foreplay before anal sex – unless that's what you're aiming for. You can enjoy them as their own activity, either by yourself or with a partner.
There are so many anal toys to explore, including:
Butt plugs
Anal beads
Anal probers
Prostate massagers
Anal vibrators
It's best if you're clued up on what you're about to use, so have a read of how to use anal beads and how to use a butt plug.
"Bought this for my wife as we wanted to experiment. The anal toys are all nicely sized for beginners with a good quality feel and no smell. The douche makes it very easy to prepare for anal as well." - Richard29
If you're struggling to insert an anal toy to its full depth (and you'd like to) a top tip is to add more lube, and bear down slightly (yes, as if you were on the toilet) then lightly press on the base of your toy.
The best anal toys for beginners have a tapered tip and slender girth, and ALL anal toys should feature a flared base to prevent over-insertion.
Remember: only insert toys that are specifically designed for anal play. To be safe, avoid sex toys designed for the penis or vagina as well as household objects – we've all heard the horror stories!
---
5. After Play: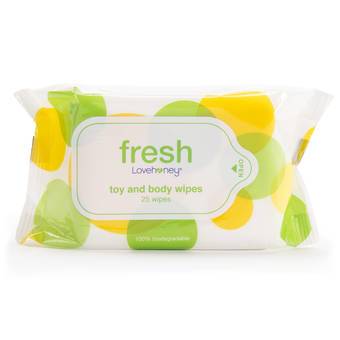 If you climaxed while using an anal toy (particularly a butt plug) the muscles in this area will have just contracted. This means you'll need to wait a moment or two to allow the muscles to relax again before removing your toy. You may find that adding a drop of lube helps your toy slide out more easily.
"Love these! They're good for our bodies and toys after clean-up and good for the planet! What more could you ask for!
They smell great and no after smell or residue left behind after wiping. Doesn't burn or sting when used intimately!"- Unigirl2020
If you've prepared properly and have been to the toilet prior to play, then it's extremely unlikely that you'll encounter any mess. However, if you should find anything 'new' on your toy, don't fret it. Poop is an occupational hazard of anal play and that's just a fact.
Give yourself and your toy a good clean, and move on. (And maybe consider adding more fiber to your diet!)
---
Top-Rated Beginner's Anal Toys: