6 Best Toys For Mind-Blowing Foreplay
You could say that foreplay is underrated.
When it comes to sex scenes on television, there's hardly ever any foreplay (I'm looking at you, Game of Thrones).
And if you're looking to porn for foreplay tips, you're outta luck, my friend. Zero, zip, zilch, nada.
Even when talking about sex, foreplay seems to be missed out of the nitty gritty details.
This is strange as, for many, foreplay is the best part of sex; having somebody bring you right to the edge of climax, and then go all-out for the grand finale.
So, for those of you looking to explore the art of tease and up your arousal game, here are our top picks of the best toys for mind-blowing foreplay.
---
Simple yet brilliant, strokers and stimulators add a new edge to foreplay.
The bumps and ridges can heighten your experience when using your favourite tried and tested foreplay methods.
Finger stimulators are also the perfect size to slip onto a bullet or mini vibrator, adding a new texture and new sensation to some of your best-loved toys.
Always remember to use them with plenty of water-based lubricant, and for some extra fun maybe try with a warming or tingling lube for extra sensitivity and stimulation.
---
We love a good love egg, because they're brilliant for both solo and couples' play.
With three speeds and seven patterns, the Lovehoney Thrill Seeker has a sensation to suit everybody; plus, it's great for spicing up a sensual massage.
Anybody who has a pair of wireless headphones will know how being freed from the operating device can open a world of possibilities.
Play options are almost endless with a love egg.
Tuck it in your underwear, use it to stroke erogenous zones anywhere on the body, or go about your day with a sexy secret, either controling the remote yourself or handing it to your partner.
---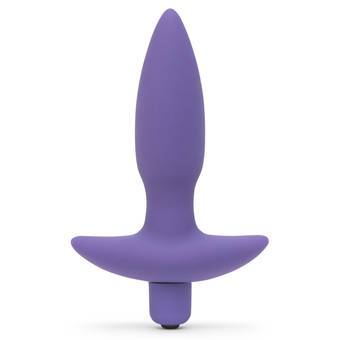 If you're new to anal play, these toys are perfect for beginners.
They offer stimulation to sensitive nerve endings which you may not have discovered before.
Small but powerful, this petite plug has a tapered tip for easy insertion and the T-bar offers extra security to prevent unwanted travel.
Plus, if you're unsure about using a vibrating butt plug, the bullet vibrator can be removed and used elsewhere.
Anal toys offer new sensations and heightened pleasure for users of all genders, especially when receiving oral sex, and make orgasmic contractions feel more intense.
---
Sensual massage is a wonderful way to get your partner in the mood, and offers plenty of opportunity to discover what you and your play partner like in the bedroom.
Lickable massage oils and candles can help you set the mood and make the most of a romantic night with your partner(s), as well as the create a sexy ambiance thanks to the teasing aroma they emit.
LoversPremium Energy Vibrating Massager is a highly versatile massager, as it's easy to use with oily hands, and helps to take an erotic massage to a new level of indulgence.
Just be careful when it comes to using your sex toys around massage oils, as they can sometimes react with certain materials and damage the toy.
NEVER use massage oil as lube, unless it's specifically designed for that purpose.
---
Foreplay isn't just limited to physical play; it's about getting into the right mood and mindset too.
Our Hot Knots Bondage Game is a satisfying combination to stimulate both body and mind.
Using games is a great way to expand one's sex life as they provide you with a simple-yet-structured guide to get the ball rolling and explore new sensations and positions.
It can sometimes be tricky to know what to do when a partner is tied up, but with the deck of inspiration included in Hot Knots, you'll have a multitude of possibilities at your fingertips.
The included silky restraints are comfortable and easy to use, with loops at one end for easy binding. Plus, they're adjustable and fit every size and level of mobility.
Why not pull out all the stops when and combine Hot Knots with Romantic Red Rose Petals and a few candles?
---
Playing with orgasm gels and balms are so much fun as you can experiment with different sensations and find out which you like best.
Sensuva Ice Cube Flavoured Cooling Nipple Balm is a great investment for, well, anybody with nipples! The near-instant cooling sensation increases sensitivity and that lovely perky look.
It can be a real game-changer when having a partner lick, suck, or kiss your nipples, as changes in moisture and temperature gives this product an edge.
Lovehoney Bliss Orgasm Balm is a firm favourite with our customers too.
The definition of 'good things come in small packages', it's beautifully packaged and discreetly sized.
Slick a small amount on to your finger and rub onto your nipples and/or clitoris (or have a partner do it for you), and let it work its magic.
---

---
You may also like: