7 Great Gifts for Your Kinky Friend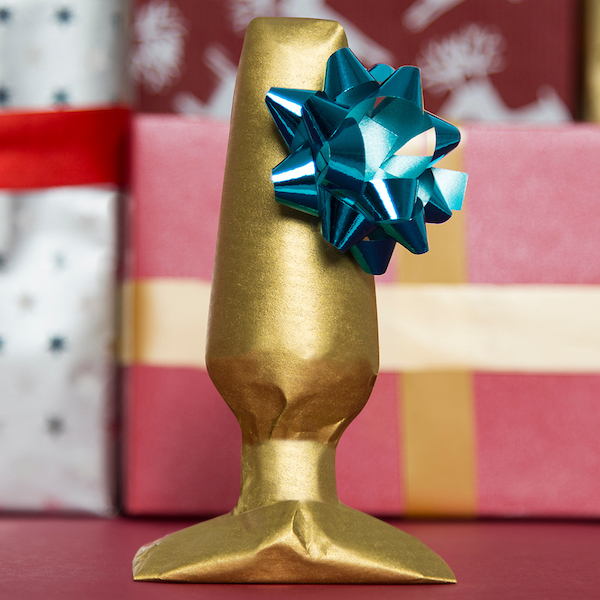 I'll happily buy a friend a coffee.
I love treating my mates when we go to the cinema.
I get way too excited about my besties' birthdays.
And if you're my BFF4EVA, my ride or die, then I'll have no qualms about giving you a sex toy.
Nothing says 'I know you really well and I only want the best for you' than a gift that titillates.
Here are 7 great gifts that my kinky friends can expect to receive in the future.
---
Under $15

You wouldn't let anyone pull the wool over your friends' eyes, but this blindfold is satin, so you can make an exception.
Your bestie will love the way it enhances their senses during a frisky frolic, plus they can use it to get some shut-eye once they're done doing the deed.
A fulfilling sex life and good night's sleep – now that's what I call taking care of your friends.
---

Cheeky and informative – what more could they want? These award-winning bondage cards are the gift that keeps on giving.
Your kinky friend gets 50 sizzling bondage positions to choose from, ranging from the mildest to the wildest of scenarios!
---

If you two are inseparable, then why not gift them with a pair of faux fur handcuffs?
A non-intimidating toy, these kinky cuffs come with 2 keys and a quick release mechanism.
Strong, and reliable – just like your friendship.
---
Under $20

Any of your kinky friends would be lucky to be on the receiving end of this sophisticated feather tickler (and I mean that in more ways than one.)
The fluffy feathers are ideal for sensual touching, stroking or even spanking. Talk about being tickled pink.
---

Perfect for your friend that loves to flaunt it, the Master Series Silicone Slave Collar is a sexual accessory like no other.
No matter if your bestie is a Dom or sub, this soft, slender collar is bound to enhance their power play.
Plus, it'll add an edgy Rihanna-esque twist to a night-out look, too!
---

I said whip it, whip it good! If your kinky friend wants to get into the swing of things, the Bondage Boutique Black Rose Flogger is the gift for them.
With its sturdy handle and 10-inch leather tassels, this lightweight flogger is an S&M statement piece.
Go on, treat them!
---
Under $65

They say you should buy your friends gifts that they wouldn't get for themselves.
So, if your mate has been talking about treating themselves to some kinky bondage gear for a while, why not beat them to it?
This selection includes a bullet vibe, silky restraints, naughty dice and so much more (plus, it's beginner-friendly).
If we can't give sex toys to the people we love platonically, then what has the world come to?
Browse our huge selection of toys and treat your kinky compadre to a gift they'll actually use.
---
Audrey Andrews is a student blogger for Lovehoney. In her spare time she loves to do craft, but would not advise knitting your own condoms.

---
You may also like: