8 Ways to Use the Position Master Mega Bondage Kit 
Let me be clear from the start – there are far more than 8 ways to use the Position Master Mega Bondage Kit.
But if I were to write about every combination this bondage gear could bring to your bedroom, this would be less of a blog and more of a novel.
So, rest assured that while I've had to restrain myself (pun intended) to just 8 ways this time, you and your lovers will only be limited by your imagination.
---
1. Sensory Deprivation
This kit comes with one blindfold, which makes sense because at least one of you has to be keeping an eye on what they're doing when it comes to BDSM!
I'm a big fan of this particular blindfold. It's extremely comfortable to wear thanks to the silky satin lining, but most importantly it stays firmly in place – and when a blindfold can stay in place during rough play, you know it's a winner.
The faux-fur-type texture on the front of the blindfold gives it a little bit of a racy touch, and it's one of the most versatile toys in the kit.
Why? Because you can combine it with every other item in the kit to supercharge your sex positions!
---
2. Wrist Restraints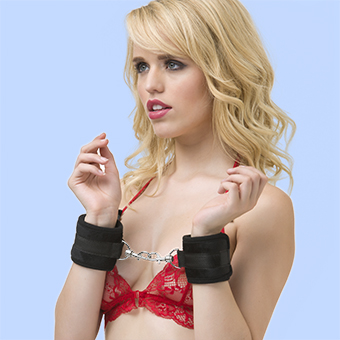 I can say with utmost certainty that these are the best wrist restraints I've ever used.
The generous width of the cuffs themselves, coupled with the quick-release clips and Velcro strips, means they're a perfect balance between restrictive and non-intimidating.
You can confidently strain against these cuffs without feeling as though you're going to bust out of them, and their sheer strength and thickness meant I felt deliciously submissive while wearing them.
At the same time, the Velcro and the quick-release clips are very user-friendly, so you can put your pleasurable play on pause at a moment's notice.
---
3. Ankle Cuffs
The same can be said for the ankle cuffs included in this bumper bondage kit.
One aspect of the restraints that can't go unmentioned is how incredibly soft they are! You can pull against them for all you're worth and it doesn't for one second feel as though the cuffs are cutting into you or creating friction against your skin.
Another characteristic that impressed me was how adjustable they are. My wrists and ankles are quite small, and the circumference of my boyfriend's is much larger, but the wrist and ankle cuffs could be adjusted to accommodate either of us.
---
4. Four-Way Hogtie
Talk about versatility – I was happier than a pig in mud when it came to this hogtie!
First of all, it made full-body restraint so easy – just attach the safety clips to the D-ring and you're ready to rock.
A hogtie can be worn either at the front or back of your body, so you get two positions out of this restraint alone before you've even thought about customising it with the other items in the kit!
---
5. Inflatable Sex Position Wedge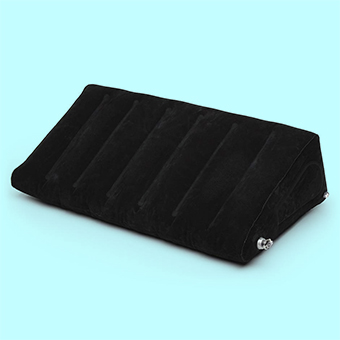 The rare occasions that I've remembered to try and elevate my hips during a randy romp, I've just shoved the nearest pillow under my bum.
A sexier, more practical and more hygienic alternative is the inflatable sex wedge that comes in the Position Master Bondage Kit – or any other position enhancer or piece of sex furniture for that matter!
It's easy to inflate and at no point did I feel as though my butt was going to pop it. I'm a proud convert, that's for sure.
I must admit I didn't get too imaginative with this inflatable – so far, I've just used it to get that sweet, sweet deep penetration happening – but that doesn't mean you can't get creative with it!
---
6. Position Restraint with U-Cushion
You're over halfway through my review of this exceptional bondage kit, so by my watch that means it's about time for a bold statement:
The position restraint and U-cushion combination was my favourite thing that came in the Position Master Bondage Kit, but at the same time it's made me angry.
Why, you ask? Well, the first part of that statement is easily explained – it's my favourite thing because it solved a problem that I'd accepted as an unavoidable fact of life.
I'm angry because now, after using this game-changer, I can't go back to the life I was living before. I've had a deliciously thick, soft pillow support my neck while the restraints use my own body weight to keep my legs sky high – why the hell would I return to having the basic cushion sex I was having before?!
I've seen what's behind the curtain, and now there's no going back. Honesty, who was I before I had this kit? I'm questioning everything and I'm not mad about it.
---
7. Over-the-Door Restraints
Me to anyone who would listen last week: This was a whole new level of submission for me, and I was straight up having a good time!
Having your arms tethered above you takes regular sex and turns it into a real romp.
I felt like the definition of a damsel in distress (in a good way of course) and honestly, who could turn down the opportunity to have a good old-fashioned knee trembler? Not this 20-something, that's for sure!
---
8. Over-the-Door Sex Swing
My long-suffering boyfriend was quick to manage my expectations when this kit arrived, because he knew how excited I was to try the over-the-door sex swing.
"We might not have a door frame to support it," he warned me. "And frankly, I'm not going to be the one to explain to the landlord why we need to call a carpenter out!"
But after a conversation which was freakishly reminiscent of that Gavin and Stacey episode ("Do you know what an RSJ is?" "....No" "It's a rolled steel joist") we found a winning door frame and got our sex swing up and running.
Just the sheer knowledge that the two of you are using a sex-swing is enough to make the situation sizzle. There is a distinct feeling of "This is it. We've made it. We are sex-swing people now."
Coupled with this sexual smugness, using the swing was a lusty, animalistic experience for us. It was sweaty, it was uninhibited, and it certainly lived up to the hype.
---
These are just 8 ways you can use the Position Master Bondage Kit.
Trying to calculate the numerous different combinations you could enjoy with all the equipment you get in this bundle was not really the kind of problem question that high school maths prepared me for, so I'm going to leave it up to you to find your favourite way to use the kit.
Have fun, and remember to play safe! read all about bondage safety here.
---
Audrey Andrews is a student blogger for Lovehoney. In her spare time she loves to do craft, but would not advise knitting your own condoms.
---
You may also like: