Silicone Lube FAQ
Silicone lube is a water-resistant lube that's safe to use with condoms and ideal for long-lasting lubrication during sex. Lots of people love silicone lube as it doesn't end up feeling sticky like a water-based lube does. Silicone lube is even waterproof, so it's fantastic for fulfilling bathroom sex fantasies.
Silicone sex lube is generally more expensive than water-based lube (because it contains more expensive ingredients) but you get a lot for your money. The long-lasting properties mean you won't need to keep topping up your lubrication and you'll need less of it too.
One important thing to note is that you can't use silicone lube with your silicone sex toys, but it's perfect for your glass or plastic toys and ideal for sex.
Common Silicone Lubricant Questions Answered
What is the difference between water-based and silicone lube?
If a lubricant is water-based, the main ingredient in the lube is water. With silicone lubricant, the main ingredient is silicone (usually Dimethicone). Silicone-based means that the lube is mostly comprised of silicone.
What does silicone lube feel like?
Silicone feels similar to oil on the skin but is lighter and less sticky. It feels much slicker than water-based lubricants which can often feel slightly tacky to the touch.
How long does silicone lube last?
Silicone lube will stay put until it's rubbed or washed off. It doesn't air dry and doesn't soak into the skin well, so you'll need to remove it yourself and not wait for it to go away.
Which is the best silicone lube for beginners?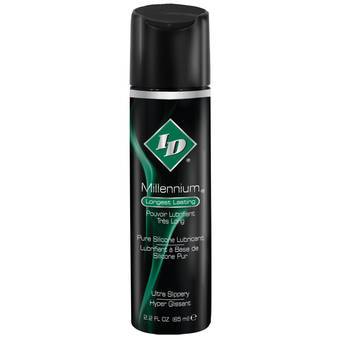 If you want to experiment with silicone lube, a pocket-sized version like the ID Millennium Silicone Lubricant ([[productprice:productid=485]]) is a great silicone lube to start with before you invest in a larger bottle.
Why is silicone lube more expensive than water-based lube?
Simply put, silicone lube costs more to produce than water-based lube. However, because the ingredients are such good quality you will find that a little goes a very long way so your investment in silicone lube will be worth it in the long run.
Is silicone lube safe to use with condoms?
Yes. Using silicone lube with both non-latex and latex condoms is perfectly safe. In fact, pre-lubricated condoms are usually coated in silicone lube so you may have used it without even realising!
Silicone and latex work wonderfully together and rubber fetishists or rubberists often use silicone lubricant to make their rubber outfits super shiny.
Is silicone lube easy to clean off?
Silicone lubricants are easily washed off of the skin using soap and water, but silicone will stain fabrics.
How do I remove a silicone lube stain?
If you get a little messy with your silicone lube and you manage to get it on your clothes, bedding, curtains, lampshades and dish cloths, then follow this step-by-step guide to removing silicone from fabrics:
1. Dab some more silicone lube onto the stain. You can do this even if it's already dry, the silicone polymers will bind together. Leave the freshly-dabbed lube for half an hour.
2. Prepare a 50/50 mixture of washing up liquid and household degreaser (like Swarfega) in a bowl. Sponge the mixture liberally onto the stain. (It is a good idea to check that the dyes in your fabric aren't sensitive to the solution before you cover it. To check, dab a little on an inner seam where it cannot be seen.)
3. Allow the stain to soak for 5 - 10 minutes.
4. Rinse. If your fabric is quite thick then you may need to repeat step 2 again to remove the stain completely.
5. Wash as usual.
Can I use silicone lube with silicone sex toys?
Lovehoney does not recommend using silicone lube with silicone toys as we are unable to guarantee that all silicone toys will be compatible with all silicone lubes.
Although it has been generally thought that medical-grade silicone toys and silicone lube will not result in a reaction, there are just too many toys and lubes for us to test. Better to be safe than sorry.
Recently, We-Vibe Toys and Pjur have partnered and after many compatability tests have declared that We-Vibe's silicone toys are safe to use with Pjur's silicone lubricants.
Can I use silicone lube with my Fleshlight or realistic feel toys?
Realistic materials often contain silicone and it's therefore not recommended to use a silicone lube with a realistic sex toy made from materials designed to emulate skin and flesh.
What else can silicone lube be used for?
Silicone lube makes a wonderful massage lotion and because it's compatible with condoms (unlike oil) it's ideal for erotic and intimate massage.
As mentioned before, silicone lube is excellent for shining latex clothing, giving a mirror-like gloss finish to the surface.
Silicone is also the major ingredient in metal lubricants, so it's handy to squirt onto your hinges if they get a little rusty and stiff or to help skateboard bearings running smoothly.
Silicone's also found in many cosmetic products. Using a tiny squirt of silicone-based lube to protect the ends of your hair and add a glossy sheen.
[[video:1534:width=700:centre]]
Product featured:Sliquid Silver Luxury Silicone Lubricant ([[productprice:productid=11378]])
Need more help?
You can Contact Customer Care, who will be able to help you find the right lube. You can email, telephone or live chat with an experienced advisor 24 hours a day, 7 days a week.
---
You may also like: