Beginner's Guide to Clone-A-Willy
The original penis casting kit, Clone-A-Willy, has been around for over a decade now, bringing silicone penis replicas to bedrooms everywhere.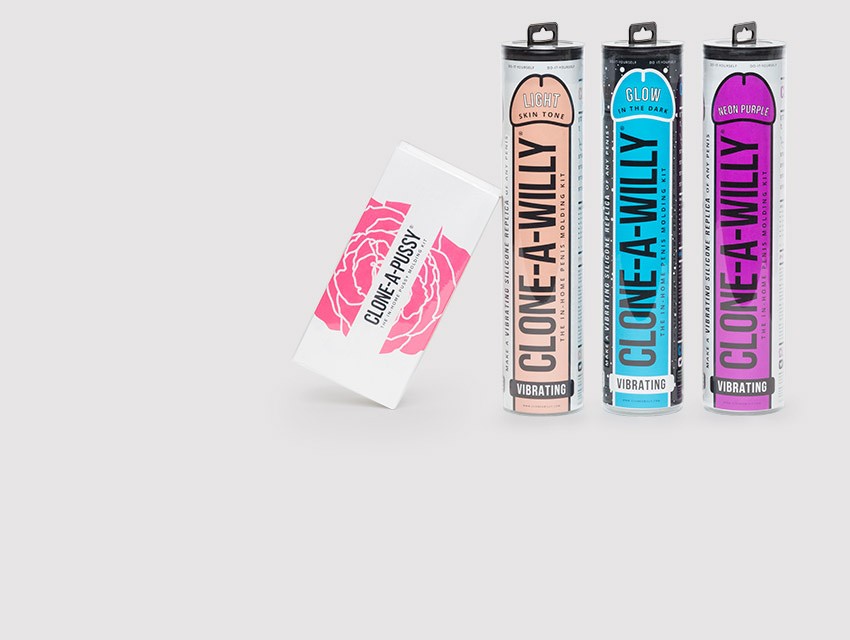 Featuring all the ingredients and (almost) everything you need to reproduce your penile pal in vibrator form, this kit is a popular make-and-do project with couples all over the world. Just add water (and your penis!) to create a shaking take on your very own member.
While your first impression might be to dismiss it as a giggle-at-first-sight gimmick, there are actually several unique benefits the Clone-A-Willy offers in addition to its side-splitting novelty value.
This guide takes you through the process of using a Clone-A-Willy kit and explains why you and your partner might want to try one.
Why would anyone want to clone their willy?
There are many reasons why people choose to try out dildo moulding kits. For couples in a long-distance relationship, a portable penis can be the perfect gift for lonesome pleasure sessions to keep the clone's owner front and centre in their lover's mind.
Similarly, long-distance couples who enjoy sexy Skype sessions might find the lifelike cast adds another element of realism to their on-camera play.
For people with penises who find the idea of sex toys in the bedroom intimidating (or even insulting), this is the perfect product to bypass insecure feelings. Even the most reluctant partner surely won't able to resist their lover telling them, 'I love your penis so much, I want a duplicate!'
For the same reasons, it's also a great toy to use to fulfil threesome fantasies without actually introducing a third party into the bedroom.
Finally, the process of making the vibrator is a fantastically funny, yet intimate erotic experience to share with your partner.
Will my penis be safe?
Created by a chemist, the ingredients adhere to the highest of standards and both the mould and completed vibrating dildo are completely body-safe.
The moulding powder is algae-based alginate, the same formula used by dentists to cast teeth, while the cloned penis is made from 100% platinum-cure silicone for a totally stable product that will not degrade or deform over time.
Which kit is right for me?
Lovehoney sells several Clone-A-Willy kits, as well as a Clone-A-Pussy counterpart for ladies looking to replicate their vulva. Each kit offers a slightly different take on the duplication concept. Discover the best kit for you.
Best Clone-A-Willy for first-time replication
Clone-A-Willy Vibrator Create Your Own Penis Molding Kit
The popular original kit will recreate your partner's best feature (no, not their eyes) into a truly one-of-a-kind toy in your bedside drawer at all times... and you'll never have to go without your favourite member.
What customers say: "This is such great fun to do, the results are amazing! It really captures the smallest of details. I absolutely love the results I wish I could show it off!"
Best Clone-A-Willy for after-dark adventures
Clone-A-Willy Glow In The Dark Vibrator Molding Kit Blue
Fumble to find sex toys under the duvet no more thanks to Clone-A-Willy's glow in the dark model, which emits a ghoulish glow once the lights are off. A hugely fun concept that's particularly relevant around Halloween (but enjoyable all year round).
What customers say: "We were both very impatient once we mixed the silicone together as it takes several hours to set, but it was worth it. The glowdust is very reactive to all light and glows really well."
Best Clone-A-Willy with all the balls and whistles
Clone-A-Willy and Balls Vibrator Molding Kit
Do your member justice by casting the full caboodle thanks to an added ball bowl for tip-to-stem replication. As well as added balls, this Clone-A-Willy kit features a multispeed vibrator to increase the range of sensations.
What customers say: "This was great fun to make and the final result was amazingly realistic. The vibe was pretty powerful too."
Best Clone-A-Willy for reproducing vulvas
Clone-A-Pussy Female Molding Kit
Another strike for gender equality is hailed with the advent of the Clone-A-Pussy, the ladybits-replicating counterpart to the penis kits. Although sadly not vibrating, this DIY set is all you need to create a detailed and lifelike silicone vulva in a realistic skin tone.
What customers say: "We had such a laugh and fun doing it together. I am so glad we bought it. I really recommend this to anyone who wants a good few hours giggle, and for days after when you look at your art."
Best Clone-A-Willy for the return of Clone-A-Willy
Clone-A-Willy Medium Skin Tone Silicone Refill
Why have simply one cloned cock when you could have a whole army at your disposal? You only need one mould from a full Clone-A-Willy kit: these additional silicone refills will satisfy your desire for multiple mimics.
What customers say: "Our clone is the absolute best toy we have in our collection…. It's amazing how close to the real thing it feels."
How to Make Your Own Vibrator With Clone-A-Willy
Cloning your penis isn't that difficult - it just requires a bit of preparation and precision regarding timings. Annabelle and Brenna guide you through the process step-by-step, so you can enjoy cloning your penis at home.