The Best Oral Sex Toys for Her
Sometimes oral sex is one of the only things that will get you off.
The incredible targeted clitoral stimulation is what many women need to achieve orgasm, and sometimes fingers just don't cut it.
We've rounded up the top sex toys to give you those incredible clitoral orgasms, even if you don't have a partner handy!
Best Oral Sex Toys for Her
Say hello to some of the best toys to simulate oral sex, with their flickering, fluttering and sucking motions. Use in conjunction with a dildo or internal vibe for blended orgasms so good your bed will shake.
Womanizer
The Womanizer utilises patented Pleasure Air Technology to deliver stimulation unlike standard vibrators.
Its open silicone nozzle engulfs the clitoris to elevate sensations while the power of suction and pleasure waves will bring you a new orgasmic experience more akin to oral sex than classic vibrator offerings.
Choose from multiple different styles including the Starlet and Liberty models.
What Lovehoney customers say:
"This toy is absolutely the most amazing toy I have ever purchased! This toy will give you some of the best orgasms you ever thought were possible." - Peachu
---
Sqweel
The world's best-selling oral sex simulator, the Sqweel harnesses the power of soft, silicone tongues that spin around to provide truly impressive oral sex skills.
The 10-tongue Sqweel 2 has 3 different rotation speeds and a back-and-forth flicker mode to bring ample oral-like options.
Sqweel Go and Sqweel 2 are designed to offer an experience that's as close to oral sex as you can get.
Enjoy out-of-this-world sensations from not one, but 10 tongues.
What Lovehoney customers say:
"On just the lowest spin speed an orgasm is easily achievable, so once you turn it on to full speed it's incredible!" - Missy_G_E
---
Tongue vibrators
Powerful, versatile and easy to use, tongue vibrators offer the delicious feeling of flicking, fluttering tongues at turbo-charged speed.
Tapered to tip, they offer pinpoint stimulation where you want it most, and with a variety of speeds and patterns, it's like the real thing.
In different designs, shapes and materials, with waterproof and rechargeable options, tongue vibes are perfect for experiencing amped-up oral sensations.
What Lovehoney customers say:
"I recommend this for anyone, male or female, who enjoys a bit of tongue action. Use it on your nipples, genitals, clit, labia – if you're male use it on your balls, lick it up and down your frenulum. It's so versatile!" - *sexybabe*
---
Suction Vibrators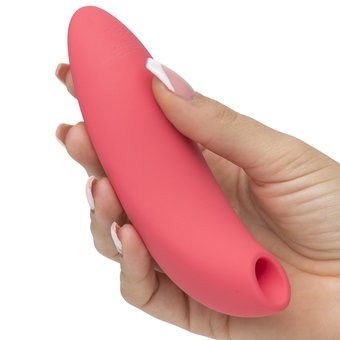 Clitoral suction vibrators pair stunning vibrations with gentle suction to take your clitoral stimulation to new levels of satisfaction.
The waves and pulses feel unlike any contact vibrators and can help you reach climax after climax.
Whether it's isolated clitoral stimulation or blended orgasms you're after, there are plenty of suction toys to choose from in an array of styles.
Let the waves lap over your clitoris to deliver (some might say better-than) oral sex sensations.
What Lovehoney customers say:
"The sensation they provide is truly incomparable to any vibrator." - Playfulandfun!
---
Orgasm Enhancers
If you're looking to increase your chance of orgasm, or just to ramp your big O up to 11, then Bliss Orgasm Balm is for you
Infused with peppermint and essential oils, Bliss works by stimulating the nerve endings and promoting blood flow to the clitoris for increased size and sensitivity.
Just apply a dab to the clitoris before sex for a delicious tingle.
What Lovehoney customers say:
"Wow this stuff is amazing! With just a little pea-sized amount you get an intense sensation throbbing over your genitals." - Choco Renee
---
Need more help?
---