Best Vacation Destinations for a Couple's Retreat
Lovehoney's has conducted research to reveal the best destinations for a couple's vacation.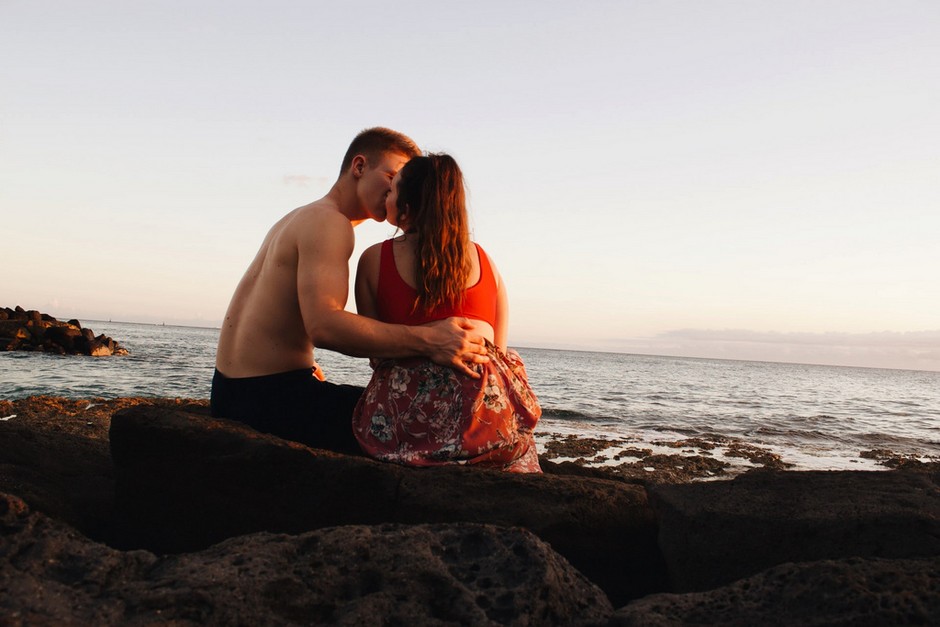 Whether you're sipping cocktails by the pool, exploring a cool neighborhood, or lounging in bed until lunchtime, it's no secret that we're all much more relaxed on holiday. We tend to let ourselves go a whole lot more, mentally, physically and sexually. This is great on a personal level, but it's also super important for our relationships. A tropical adventure in the heat could be just what the doctor ordered to shake up your usual routine, or a sexy city break might be the perfect chance to get the much sought-after alone time you've been craving.
With summer just around the corner, our latest research has revealed which destinations are best for those of us looking for that intimate getaway, and which destinations leave much to be desired in the romance department. We asked more than 2,000 participants where in the world they most want to have sex, and then ranked each city, considering metrics such as the cost of a romantic date-night, the number of adult-only hotels, and how much sun you can expect to soak up.
The 10 best destinations for a romance fueled vacation
For those wanting to indulge in a sun-soaked destination, with romantic evenings and intimate adult-only hotels, our research has crowned Bangkok, Thailand as the number one hot spot for a couple's vacation. This comes as no surprise after our survey also revealed that almost half of us (43%) fantasize about having sex on the beach.
For those looking for a romantic date night, a three-course meal for two in the city will set you back just $29.18, and for those who like to unwind with a beer, half a liter costs only $2.33. Plus, if getting steamy under the sun is what you're after, the city is also super hot all year round, with average temperatures ranging from 82°F to 85°F. Though, with over 500 romantic hotels to choose from, and the average price of an adult-only hotel costing just $34.45 a night, you and your partner might be tempted to never even leave the bedroom. If you do plan on shacking up in the hotel rather than heading out to see the sights, perhaps this is the perfect chance to try out a bit of role play - our survey revealed 30% of us are more open to trying it when we're not having sex at home!
Following in second place is Cairo, Egypt, which comes out as one of the best places to go for a luxury date-night, with three-course meals averaging just $19.42. Can you think of a better place to be wined and dined than in the land of Queen Cleopatra herself? Egypt's capital also has an incredible 341 hours of sunshine per month in the summer, making it the perfect destination to heat things up a little (or a lot).
If you're heading off on vacation to seek that much-needed uninterrupted alone time (but don't want to break the bank), then look no further than the Philippines' capital city, Manila. The average price for an adult-only hotel is the cheapest of all the cities analyzed, costing just $26.13 a night, plus with over 450 to choose from, you won't struggle to find the ideal setting for your next naughty getaway.
With constant heat and tons of beaches to choose from, it will come as no surprise that Rio de Janeiro, Brazil is fourth on the list - imagine getting down and dirty on the Copacabana!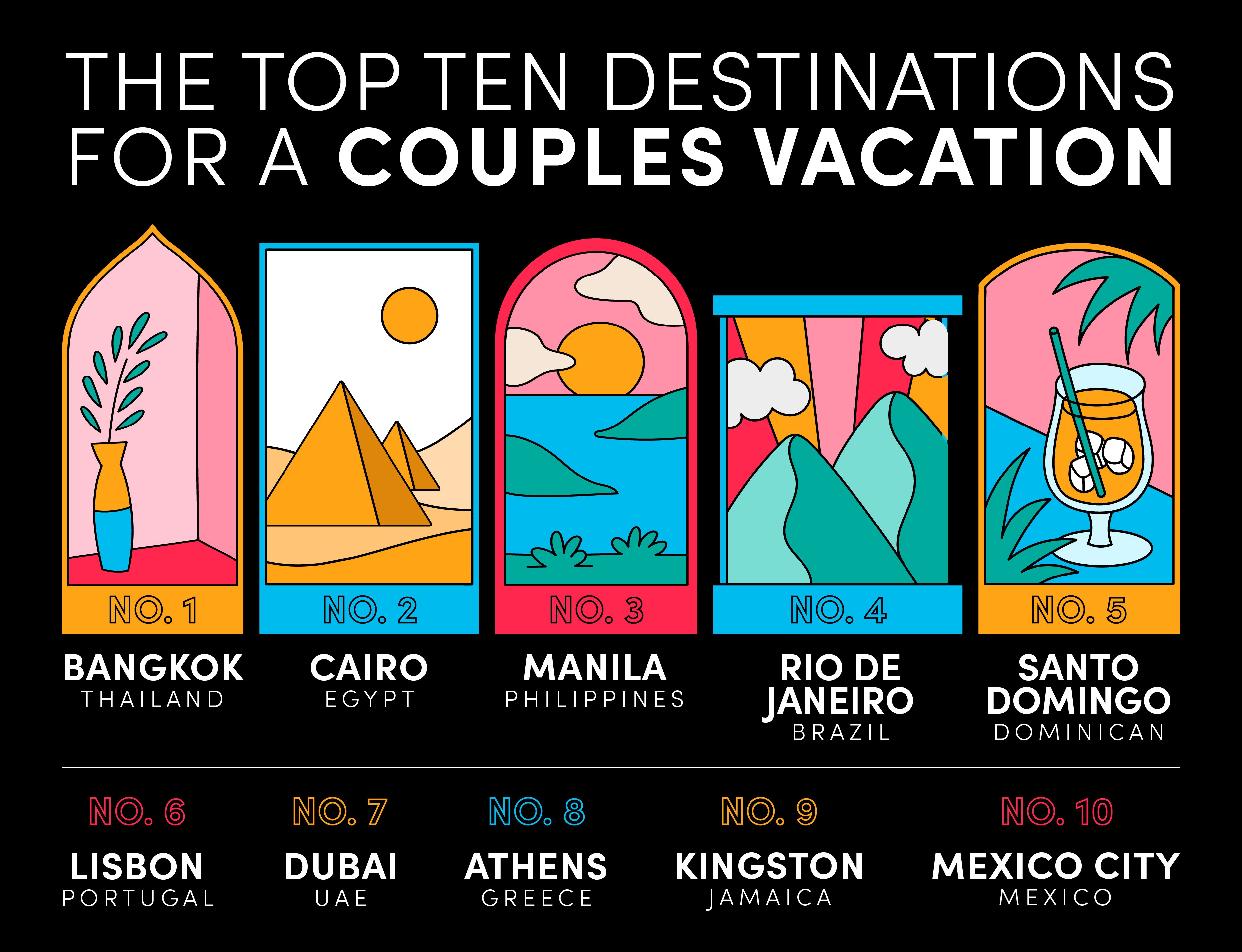 The 10 least romantic destinations
If you're currently planning your next couple's retreat, there are a few places that might leave a little to be desired in the romance department.
Due to its expensive nature (a three-course meal will set you back a huge $109.46) and limited options for romance-friendly hotels, our research named Iceland's Reykjavik as the least romantic place to venture to on a couple's holiday.
For those looking to spice things up under the sun, you'll also want to avoid Dublin, Ireland, which ranks very low down the list thanks to its cold year-round temperatures and distinct lack of sunshine. The city reaches highs of just 55°F in summer, and if you head there in winter, you can expect as little as 78 hours of sun per month.
Surprisingly, while it may be known as one of the sex capitals of the world, Amsterdam, the Netherlands actually ranks as the third least romantic city to vacation as a couple, with costly hotels, little sunshine, and pretty cold weather all year round, with average temperatures reaching just 58°F in summer.
Edinburgh also ranks low on the list, so if you were planning an adventure to Scotland to go hunting for the Loch Ness monster, we recommend you think again - it might bring you some personal thrills, but it definitely won't bring you any thrills in the romance department.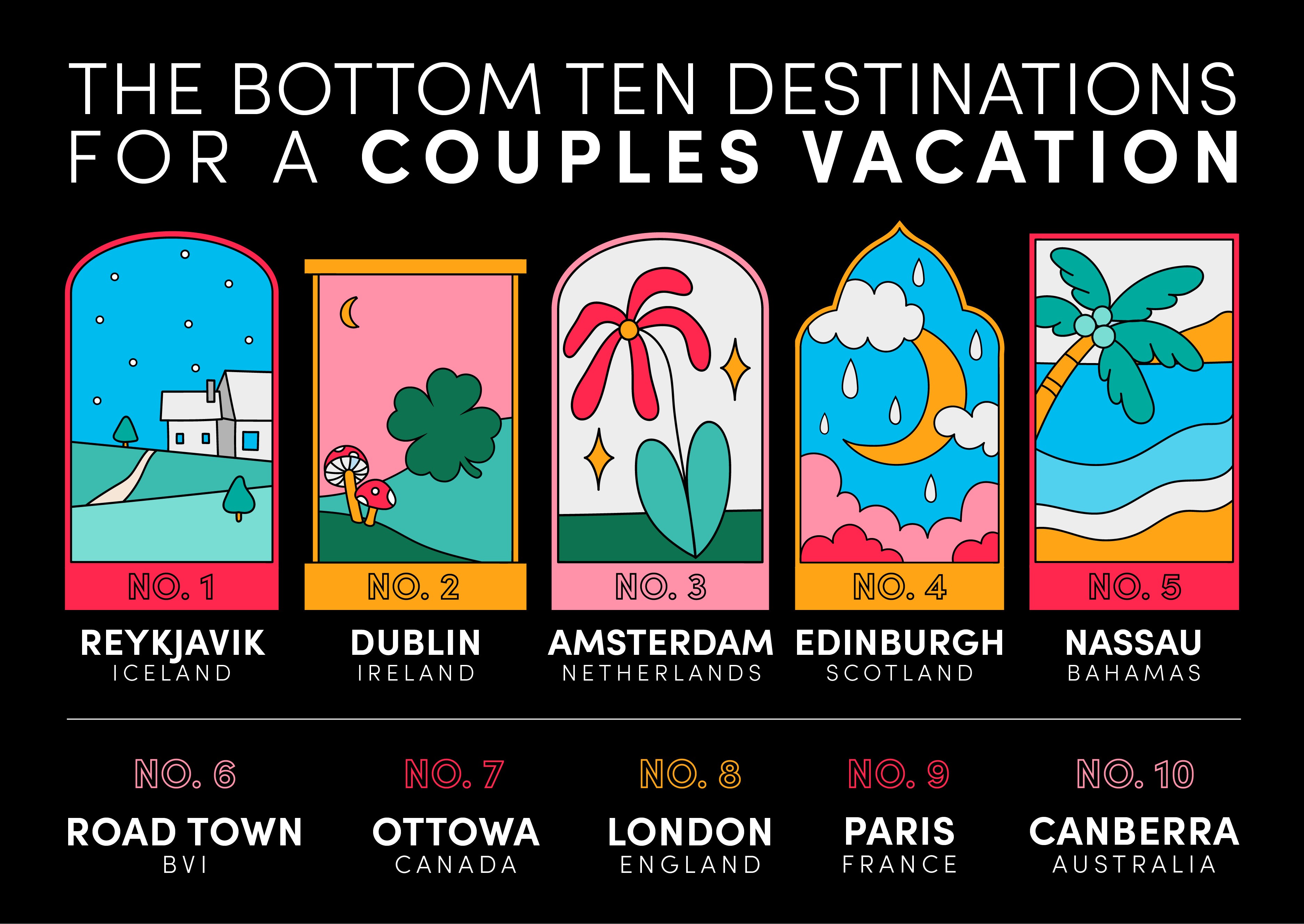 Why are vacations so important for your relationship?
Life can often get a little crazy, and vacations are obviously an amazing way to switch off from work and escape the stress of everyday life, but they can also be a great chance to re-energize our relationships too. Maybe a wild adventure is just what you need to spice things up, or perhaps staying tangled up in the sheets will help you rediscover your intimate connection.
Lovehoney's Sex and Relationship expert Dr. Jessica O'Reilly says: "Shaking up your routine can spark passion. Being in an unfamiliar location with an unpredictable schedule can activate your brain as you take in the novelty of your surroundings. When you travel with your partner, not only do you break free from the monotony of your daily routines at home, but you also associate your partner with excitement and new experiences."_
Whatever you want from your time away, there are a few things you can keep in mind to make sure you're getting the most out of your retreat.
Ditch the socials
We'd recommend logging out of your social media and making an effort to be present so you're really giving each other your full attention. Make sure you get that out of office on too - there's nothing less sexy than an incoming work email to ruin the vibe. You don't have to drop all the tech though. You can easily switch your phone for something more exciting - a vibrator could be your new best friend when it comes to exploring things in the bedroom with your partner!
Don't over plan
Don't try to cram too many activities into your schedule. As Dr Jess says: "You don't have to see every corner of a new city or utilize every service available at a resort to enjoy yourselves. Leave some time for decompressing and simply enjoying one another's company" - and if one day you don't feel like leaving the bedroom, then don't!
Let yourself relax
Also, try not to put too much pressure on yourself. The best part of a vacation is that you can just relax into it. Try not to get caught up in trying to force things to be romantic. We guarantee things will heat up naturally once you're lounging by the pool, and spending intimate evenings together. Though if you do need a nudge in the right direction, why not try a new sex toy on for size? According to our survey, 30% of us are more open to trying them when we get out of our own bedroom!
Why is getting out of the bedroom good for your sex life?
While it can be natural to resort back to the bedroom every time you have sex, switching up locations can actually do wonders for our sex lives. Whether it's adding a sense of adventure, fulfilling a fantasy, or providing a novelty factor, getting out of the bedroom can be just the thing we need to improve our relationships.
Says Dr Jess: "When you travel, your inhibitions tend to decrease, making you more open to new experiences. Just as you may try out new activities like parasailing or tasting new foods, you may also become more willing to experiment in bed (or on the beach!). According to self-expansion theory, creating and nurturing opportunities for growth can lead to increased connection and satisfaction in your relationship."
According to our survey, 36% of us say we feel more open to new things when we're outside of the bedroom because it makes us feel more relaxed, and 44% say it's because it feels like living out a fantasy.
However, when it comes to where we fantasize about having sex the most, rolling around on the beach, getting jiggy by the pool, and fooling around in the ocean all came within the top five - so heading off on vacation could be the perfect chance to finally live out some of your wildest desires with your partner.
You don't need to lose these lovin' feelings the minute you return home either. Dr Jess explains: "If you take the core reasons why vacations tend to lead to more feelings of closeness and more frequent (and exciting sex), you can replicate these at home. Have a go at trying new things in new places, such as new fantasies, locations, positions, toys, or anything else that takes you off autopilot. Ensure you make time for one another too. You have choices as to how you spend your time, so consider if you need to cut back on other commitments to make room for your partner."
Methodology:
Lovehoney surveyed 2,008 general consumers in the US aged 18+, in August 2022, in order to determine why they feel more sexually adventurous outside of the bedroom, and what countries they would like to have sex in the most.
Lovehoney then built an index to determine the best vacation destinations for couples, considering metrics such as the number of romantic hotels, sunshine hours, and prices for hotels per destination. The countries were based on a seedlist of where couples indicated they are keen to have sexual intercourse from the consumer survey.