Bettie Page Does America! Plus, We're On TV!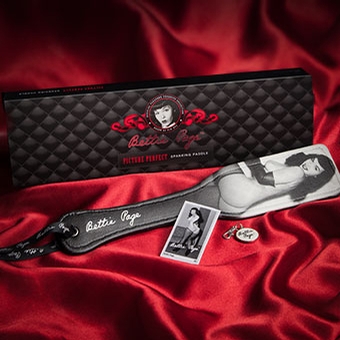 Launching in the UK in October last year, The Bettie Page Official Pleasure Products Collection made its first appearance (and sale) at the London Tattoo Convention, sponsoring the national 'Miss Pin Up UK' competition.
Since then, sales have been consistently strong, with positive feedback from Bettie Page fans and seasoned bondage enthusiasts alike, which has got us grinning from ear to ear!
As an official piece of Bettie Page merchandise, it's very important to us that we please the 'original' Bettie fans, as well as those who have only just discovered her, and the rest who are just looking for a luxurious product to add to their kinky bedroom play.
Amazingly, it seems we've already built up a global fan-base on our Twitter and Facebook accounts (thank you!) but we've noticed that the majority of our followers are in America.
So, with this information in mind, it made sense to launch the collection in the US… and that's what we've done. Read on to discover exactly what's in the range, and catch a preview of our television debut!
The Bettie Page Official Pleasure Products Collection has been developed to please both the BDSM scene and those who are fans of Bettie Page and retro-repro merchandise. Each piece of the range has been individually approved by Bettie Page's estate to ensure our products create an authentic experience for the buyer.
We're also excited to announce that the Bettie Page collection has been featured on Lifetime TV in the UK! We've been supremely lucky to be included in the popular TV show, Frisky Business. The show features behind-the-scenes footage of the final design process of the collection, as well as a sneaky peek into our weekend at the London Tattoo Convention. You can learn more and watch the preview, the Notorious Bettie Page on Lifetime UK, from anywhere.
Here's a little reminder of the luxurious bondage products we have in our collection…
---
Enhance and Excite…
With two vibrators and a blackout blindfold up for grabs, inducing and enhancing pleasure is easy as 1… 2… 3…
Bettie Page Buzzin' Bullet Vibrator and Orgasm Balm Set
Bettie Page Bad Girl Blackout Blindfold
Bettie Page Vibro-A-Go-Go Classic Vibrator
---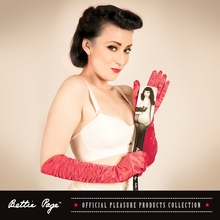 Spank You Very Much…
Awaken your partner's senses with luxurious spanking tools featuring Bettie in classic poses. Take your pick with two cheeky paddles to choose from…
Bettie Page Picture Perfect Spanking Paddle
Bettie Page Picture This Spanking Bat
---
Hold Fast!
With restraints suitable for beginners and advanced players alike, there's something for everyone here. So, will it be the rope, or the cuffs this time?
Bettie Page Wild 'N' Willing Faux Leather Wrist Cuffs
Bettie Page Tied & Teased Cotton Bondage Rope
Bettie Page Sweet On Satin Restraints Set
Bettie Page Collar Me Bondage Collar and Lead Set
---
If you're interested in stocking the Bettie Page Official Pleasure Products Collection in your store, please visit the Lovehoney Group page for contact information.
---
You may also like: