What to Buy for a Bridal or Bachelorette Party
Please enjoy this guest post from Canadian blogger Rebecca, also known as one half of A Couple of Kinks. Let the wedding season commence! -Krista
The warmer weather has arrived, and with it, the usual summer flocks of brides and grooms. We all love weddings, as they give us a chance to celebrate our friends' most memorable days.
However, the downside is that your calendar is filled with bridal showers and bachelorette parties. Parties mean gifts, and bridal gifts often mean safe, boring, or impersonal presents.
Traditionally, gifts were meant to help the happy couple set up their new homes, except nowadays quite a few couples already live together.
With Lovehoney, it is super simple to spice up a monotonous gathering or make sure that the bride-to-be gets a little something for herself, so here are some ideas to guide you through this wedding season.
---
1. Lingerie
Buying lingerie for someone can be tricky, as it is often a matter of personal taste and you never want to mistake the size. As an easy and flattering option, consider buying a kimono that can fit elegantly over whatever lingerie the bride chooses to wear on the wedding night.
In order to keep it wedding-theme appropriate, make sure you buy something in white or cream colour, such as the Kiss Me White Sheer Lace Kimono and Thong Set. Its sultry, sheer white style is ideal to wear over lingerie or throw on alone to tease the groom. Buying lingerie for someone else means you need to consider their personal style, a suitable colour and ensure that the size is one-fits-all or adjustable.
---
2. Massage Oils and Candles
If you're looking for a sensual gift that's a little less intimidating, you may want to consider a massage kit. It isn't overtly sexual in nature but the bride will know exactly why you've purchased it! Plus, it can be played off to family members as an addition to a romantic night, without implying that the couple is going to get really dirty.
The Jimmyjane Knead Me Dark Vanilla Sensual Massage Candle and Stone Set is a excellent example. You get a massage candle with a soothing aroma that melts into massage oil, plus you also benefit from a massage stone to prevent wearing out the fiancé's hands and keep them energized for later in the evening. It's a very safe gift choice for any of your friends.
---
3. Light BDSM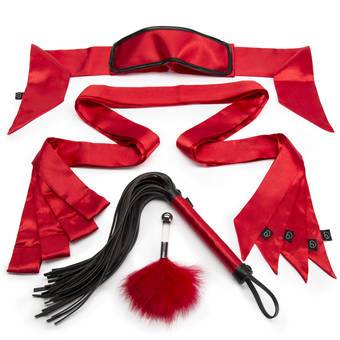 Now is the perfect time to influence a little bondage into your friend's sex life, but don't start off with anything too intense as it might scare people away. Starting with something light like an eye mask and some soft restraints might be better received.
The Tease by Lovehoney Luxury Bondage Kit comes with an assortment of light bondage gear to test out, including a blindfold, restraints, a tickler and a suede flogger. Plus, if you want to give the happy couple some extra pointers, your gift will be even better if you include a beginner's guide to BDSM. Bondage accessories can be a little intimidating to purchase for yourself, but if the new bride and groom suddenly have a kit in their closet, it might just pique their curiosity.
---
4. Couple's Vibes
Depending on the couple, they may or may not use sex toys. Typically, it is ill advised to purchase a toy for someone else when you aren't sure of specific preferences, however, the We-Vibe Classic USB Rechargeable Clitoral and G-Spot Couple Vibrator might be a splendid addition to any newlyweds' collection.
Couples who have never experimented get to introduce toys together with one that is specifically designed for lovers who enjoy PIV sex, while couples who have already experimented get to test out a luxurious toy designed to please both of them. It is bound to give them a good time, whether that means repeat-usage or a fun night of experimenting. Your gift might open up their world to sex toys, and we all know that can be an excellent thing.
---
5. Board Game
You can always give a gift that keeps on giving like a board game designed for passionate nights at home. There is a well-known phenomenon of post-wedding blues because couples no longer have to spend all of their time focused on the wedding: the highlight of their year has passed, and that can be quite a wave of emotions. Gifting a game that helps them reconnect or explore their passion can be an excellent idea. Make sure to purchase a game that doesn't require too many accessories in case they don't have them like the game Nookii: The Hot Game for Passionate Lovers. Keep it simple and unintimidating to pique their interest.
Have any other gift ideas? Tell us in the comments below!
---
You may also like: