Which is the Best Bullet Vibrator?
One of the most popular, and best value, sex toys is the bullet vibrator. A bullet sex toy is a great first-choice vibe, a fantastic couple's toy and an essential part of every girl's toy collection. A vibrating bullet is a small, bullet-shaped clitoral stimulator and bullet vibrators all share three key features: they're discreet, powerful and versatile.
Bullet vibrators are discreet and because they are small they tend to be quieter than, say, a rabbit vibrator. They're easy to hide in your lingerie drawer, handbag, glove compartment or suitcase for a weekend away.
If you're new to bullet vibrators or are considering adding one to your toy collection, here's a guide that will help you decide which one to get.
Product featured: Tracey Cox Supersex Bullet Vibrator
Best-selling Bullet Vibrators
Plump for one of the most popular bullet vibrators on Lovehoney - you can't really go wrong with any of these for your first bullet. There are some subtle differences between the bullets, and this chart gives you an at-a-glance comparison of the best bullet vibrators.
If you're looking for another bullet vibrator (or just love doing your research before taking the plunge) then you might want to consider the following factors carefully when making your decision.
Wired and Wireless Bullet Vibrators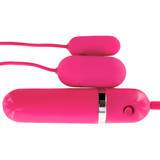 The first thing to think about is whether you want a wired or wireless bullet vibrator. Most of the bullet vibrators we sell on Lovehoney are wireless, with a built-in button that controls the bullet's settings. Although wireless bullets may appear to be the least intrusive type of bullet vibrators, some people prefer a wired bullet for ease of control and the fact the functions can be changed by their partner while they hold the bullet in just the right spot.
A wired bullet vibrator is controlled via a hand-held controller, rather than a push button on the bullet itself. This type of bullet is great if you find the built-in buttons fiddly, or if you want to hand control of your orgasm over to your partner. The Lovehoney Bedtime Bullet Twin Bullet Vibrator Set is a great example, with two vibrating bullets for extra exploration potential.
Speeds and/or Patterns
Carefully consider what you want from a bullet vibrator. A single speed is great for a beginner, so the Tracey Cox Supersex Bullet Vibrator would be perfect as a first bullet vibrator. If, however, you like to build up to a peak from slower speeds to faster speeds then you need something with multiple speeds like the Lovehoney 10 Function Dream Bullet Vibrator.
If patterns, pulses and various speeds are your thing then check out the Lovehoney 10 Function Dream Bullet Vibrator which has 3 different speeds and 7thrilling functions.
Batteries and Rechargeablilty
The final factor that may influence your decision is the type of batteries the bullet vibrator takes. Because they are small, batteries for bullet vibrators are also small and are usually LR44 or N batteries. If you've not heard of them before, don't let that put you off as Lovehoney sells both kinds in the Batteries for Sex Toys section.
If you're already a convert to rechargeable toys and relish the thought of not having to keep spending out on batteries, then you have a few options available to you. The Lovehoney Flash 7 Function USB Rechargeable Clitoral Vibrator is charged by USB and gives up to 3 hours to playtime with each charge.
Need more help?
You can Contact Customer Care, who will be able to help you find the perfect bullet vibrator. You can email, telephone or live chat to an experienced advisor from 24/7.
---
You may also like