Interview: Arielle Loren, Corset Magazine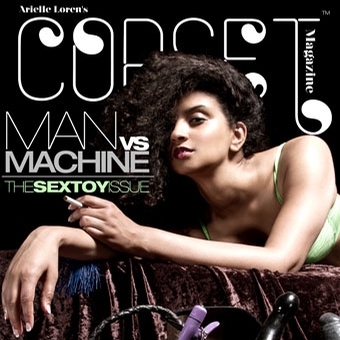 "A revolutionary force for empowering, comfortable, and inspiring dialogue about sex, the magazine embraces curiosity, honors sensuality, and celebrates sex. It's where ordinary people contribute and discuss their desires on their roads to sexual empowerment." [corsetmagazine.com]
I met Arielle Loren at Blogher back in NYC in 2012. We stayed connected and I've been working with her ever since to provide interesting sex toy features, deals, product reviews and giveaways in her magazine and on Corset's site.
The current issue of Corset Magazine, Man v. Machine: The Sex Toy Issue, is full of things we love - including some really steamy stories, a feature from Erika Moen and ohjoysextoy.com, and some insanely hot pictures featuring gorgeous glass sex toys from Crystal Delights.
Big thank you to Arielle for taking the time to answer some of my curious questions and giving a discount on Corset Magazine to Lovehoney readers like you!
---
Krista: Where did you get the idea for Corset Magazine?
Arielle: I used to be a freelance sex writer for some major publications, and I began building this really, intimate relationship with my readers. Many of them would send me their sex questions or share their personal stories with me on Facebook, Twitter, YouTube, etc. So I thought to myself, why isn't there a magazine where people can share their personal stories related to sexuality, have honest, intimate conversations, and still be visually stimulated by nude art and erotic photography? That was my ultimate fantasy of how I wanted to engage with and provide a community for my readers online. So I created it. Into the world came Corset Magazine, readable on your personal computer, iPad, Kindle, and other tablet devices.
K: What is your favorite thing about creating the magazine?
A: We're eight issues strong, and I'm still turned on by the creative process. I come up with a theme for each issue, share it with our community of readers, and then they send in their personal stories related to the topic. Everything is community-sourced, and I feel that keeps us more relatable and authentic for ordinary people who don't consider themselves sex professionals or experts. Even our photography comes from amazing photographers who happened to have stumbled across Corset and want to support our work. It's an amazing group effort and then our Creative Director, Donnie Ramsey, aka the graphic genius, puts everything together and adds some of his own creative illustrations to complement each piece of content.
K: And your least favorite?
A: Oh, that would be the administrative tasks involved in keeping every issue organized. Thankfully, I have lots of help between my editors and assistant. Together, we go through each piece and make any necessary grammar clean ups. Then, after more than a few eyes have gone through each issue, we release it to the public.
Arielle's Top Picks:
"Well, what do you think those tongues can do to you?"

Sqweel 2 Oral Sex Simulator

"That little nub in the center drives me crazy!"

Seti Power Toyfriend 5 Function Silicone Clitoral Tickler

"A++, I was thrilled to learn that it was also waterproof…"

Lovehoney Flash USB Rechargeable Mini-Vibrator
K: What did you do before you started this project?
A: I used to work a regular 9-5 in marketing prior to starting Corset and making a decision that I would be a full-time entrepreneur. I still do consulting for small to medium-sized businesses using my marketing and business development expertise. The catch is that I can now do it from my laptop, be anywhere in the world, and still have the time to work on Corset. It's an amazing life opportunity and I've found myself teaching others how to set up portable lifestyles as well.
K: What are some of your biggest challenges?
A: Growth. As an adult magazine, we're limited in how we can use traditional marketing to reach mainstream audiences. So we've had to get creative in telling people we exist, primarily through word of mouth marketing, live events, and other more intimate tactics. We're making it work though and have readers all over North America, South America, Europe, and Africa. We're well on our way.
K: What makes the Man v. Machine: The Sex Toy Issue special?
A: By far, the personal stories about sex toys, pleasure, struggle, and success. That's really what sets Corset apart from other sexuality related sites in general. We're not commercial. We're very intimate and personal with our content. When you read our Sex Toys issue, you're going to feel like you're sitting on someone's living room floor with a glass of wine and talking to a close friend about their latest sexual experiment or adventure. For me, Corset feels like home when it comes to understanding, sharing, and exploring my sexuality. And I'm grateful that my readers have shared they feel the same.
K: What does the future hold?
A: More readers. More conversation. More empowerment. More community. That's what we're all about. Corset is the place for people to see, feel, and experience their sensual, sexual, liberated selves. That work is our movement.
K: Thanks again for creating this visually stimulating resource for all of us, and for taking the time to answer all of my probing questions!
Arielle would like to offer a special deal just for our readers! Get 25% off any issue, bundle pack, or subscription to Corset Magazine using the promo code LOVECORSET atcorsetmagazine.com.
Be sure to check out the current issue, Man v. Machine: The Sex Toy Issue, which includes reviews for the Lovehoney Flash USB Vibe and Tracey Cox Supersex Silicone Love Ring, photos of the gorgeous Crystal Delights toys, and comics from OhJoySexToy.com. What's not to love?
---
About Arielle and Corset Magazine
CORSET was first conceived and launched in 2011 after its founder, Arielle Loren, saw a wide gap in the media landscape for educational, sensual, and personal conversations about sex that happen to be women-friendly. Focusing on visually stimulating, intellectual, and relatable content, The Magazine debuted to eager fans ready for something more empowering to apply to their sex lives. Corset Magazine is currently published bi-monthly under special themes, and has covered topics like Orgasms, Kink & BDSM, Pornography v. Erotica, and Oral Pleasure.
---
You may also like: