Get Closer to Lovehoney Lingerie
Crafted by Lovehoney: From Concept to Customer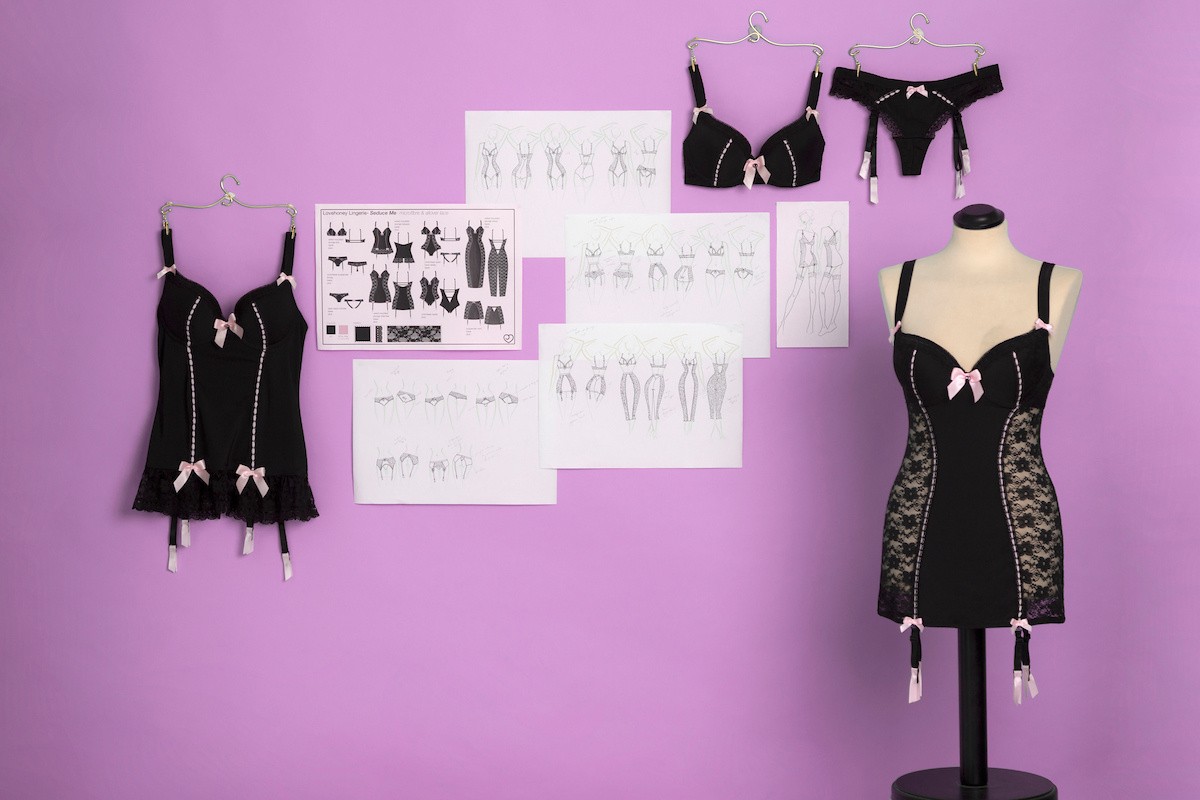 At Lovehoney, we have been designing our own stunning lingerie in-house since 2014. Starting with a launch of only 3 collections - including a handful of bodystockings and a few crotchless knickers. Since then the Lovehoney Lingerie team have worked tirelessly to craft many exciting collections in stunning new materials, as well as underwear for men, costumes for roleplay, and so much more.
We spoke to Head of Lingerie Heather Mercer to find out more about Lovehoney Lingerie and what sets our work apart, and she was delighted to share. "We are incredibly passionate about our customers! We want everyone to feel empowered by our lingerie, and we strive to be as inclusive as possible. We are playful in our tone, but take the job of making our customers feel sexy very seriously"
"Lovehoney Lingerie is designed to make the wearer feel confident and empowered, sexy and provocative. It's about celebrating yourself, and knowing you are looking and feeling fierce."
It's true that the right sexy outfit can make you feel like a whole new person. But how does a piece of our own brand lingerie get created? Who comes up with the ideas, and how are the collections made? Let's follow the journey, from concept to customer.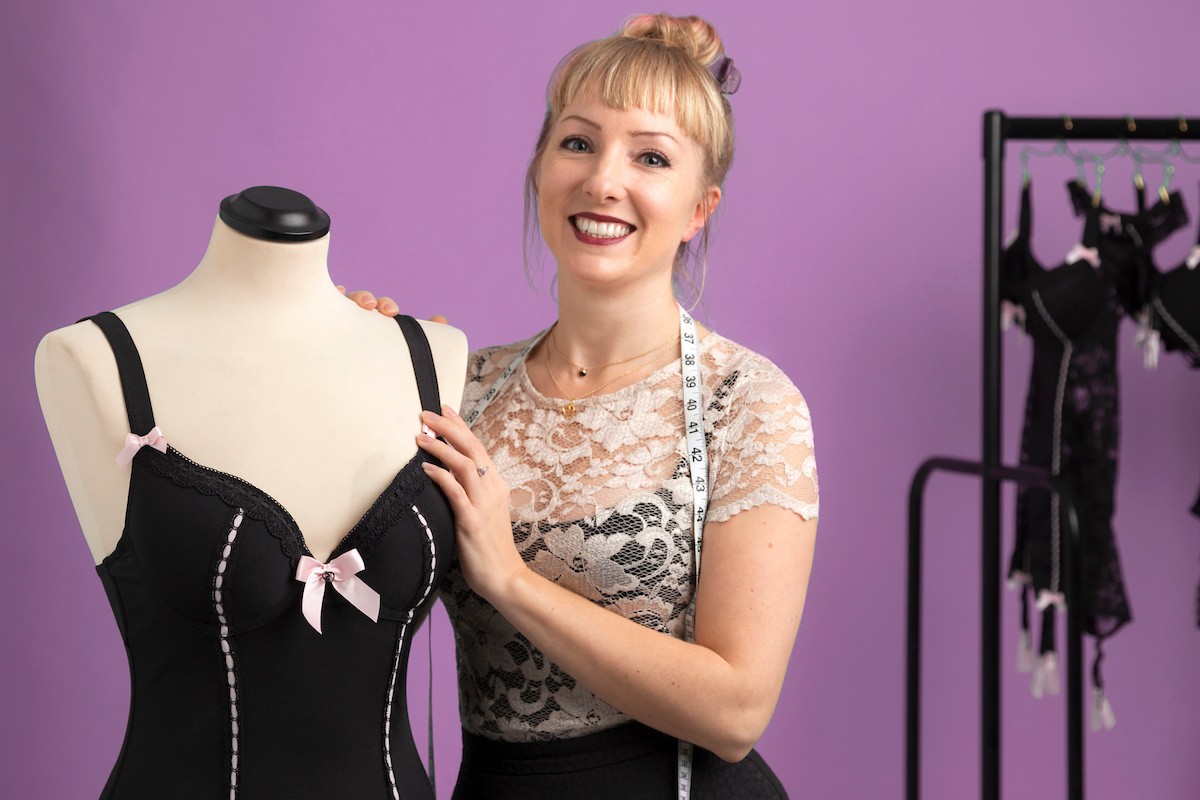 New for Valentine's 2022
We've just launched our brand new Valentine's 2022 lingerie collections, each one jam-packed with beautiful new lingerie sets that are bound to get you in the mood for love. This season, we're encouraging our Lovehoney lingerie fans to get wild.
From the couples amongst us who want nothing more than to romantically connect, to those of us who just want to spend a little time on self-love; we believe there's a lingerie set for anyone and everyone. Go sweet and sultry in soft pinks with our Sweet Love range, or dare to unleash your powers of seduction with our brave and bold Fierce Romance collection.
An Idea Comes to Life
Heather has over 15 years experience in designing lingerie, as well as experience working as a lingerie sample machinist. She says that time has given her invaluable knowledge of how the way garments are constructed affects design. "As a designer you need to be as realistic as possible, and have a thorough understanding of garment construction. We work in a fast paced environment, so we cannot send designs to our manufacturers that are not practical."
"Each element needs to be carefully considered, and needs to be fit for purpose. There are a lot of components involved in lingerie - far more than outerwear - and these all need to be right for the job. As there is a lot of work involved in bringing a collection to life, we are constantly on a tight schedule to meet our critical dates".
Each season, the lingerie team starts by looking at current trends, catwalks, social movements and events for inspiration. They also look at our customer feedback, comments, and reviews. Heather says "our review team works with hundreds of real reviewers who are not afraid of giving an honest opinion! We really value this as it helps us to improve our design, quality and service. Every new style is sent to our review panel, and we read every review to ensure we are giving the best possible service."
When designing each Lovehoney Lingerie collection, this customer connection helps us to really consider who the wearer would be, and how they might want to feel when they slip into something sexy. The team then sketch lingerie designs by hand, add texture and lace digitally, and review the season as a whole to ensure the pieces work cohesively together.
This review looks at the aesthetics of the collection, and also the customer the designs are intended for. For example, if the majority of the pieces are soft and fluid, it's unlikely that someone who loves the look of that will be interested in a striking structured basque.
Luckily there's a lot of different looks and materials to choose from when designing collections, from delicate chiffon and beautiful lace, to the high shine wet look used on our Fierce collection. Each fabric gives the collection it's specific appeal, and we work hard to ensure we only choose the best quality. There are more options to come too! A little sneak peek courtesy of Heather - "We are soon to be introducing recycled and regenerated fabrics, as we are aware that all fashion needs to become more responsible and sustainable. This is a small step, but it's a step in the right direction and more sustainable collections will follow."
As a global company, we also need to consider the time of year and different events that might be happening in each individual region. Along with the summer/winter divide across hemispheres, some styles and collections are more popular in different areas of the world, which is all taken into account when designing lingerie.
And about our love for One Size lingerie… "We are really successful with our One Size lingerie, which is always surprising to our customers who have not had a good experience with other brands" Heather tells us. "We ensure our One Size styles have the maximum amount of adjustability so the wearer can tailor it to their own size and shape."
Into Development
Once the sketches have been reviewed and the collections signed off, the designs are translated into CAD (Computer-Aided Design) format, then into technical drawings and specification packs for our manufacturers.
What we get back are Concept and Fitting Samples, which help the Lovehoney Lingerie team to make sure the new pieces fit like a dream. Heather says "we fit our lingerie with the help of real women across our size range, amending the fit and patterns until they are perfect. This can take around 9 fittings per style - when a collection has 5 styles that's 45 fitting and amendment sessions! It sounds like a lot, but we pride ourselves on our consistency, and how the end result makes the wearer feel".
After months of work, once all sizes and final fittings are approved, the collection is released back to our manufacturers for bulk production under the watchful eye of Heather and her colleagues.
Into the World!
Getting from initial concept design to finished product takes a lot of work. The Lovehoney Lingerie team works a year in advance - and sometimes more - to craft the gorgeous lingerie on our website. This year, we've just launched our Valentines 2022 collections, Heather and her colleagues are already busy designing for Valentines 2023!
A Labour of Love
Crafting our Lovehoney Lingerie in-house takes time, hard work, and a lot of fittings. But for Heather, seeing the joy her work creates for our customers, and knowing how the right piece of lingerie can make a person feel makes everything worth it:
"I'm incredibly proud of Lovehoney Lingerie! It's been amazing to see it grow and expand and gather a host of loyal customers. If I had to pick out the collection I'm proudest of, it would have to be Fierce. This was a huge launch, and we got the tone spot on."
"I'm also really excited about launching Mindful very soon; this is our first sustainable collection and our first time working with a branded yarn called Econyl®. Econyl® is made by removing fishing nets and plastic from our oceans and regenerating it into nylon, which we are turning into sexy fishnet stockings. That's right... fishnets from fish nets!"
For more information on the upcoming Mindful collection, keep your eyes on the Lovehoney blog and our social media channels. You can find us on Facebook, Instagram, Twitter, and YouTube.
Video: How we designed the Seduce Me collection