Expert Tips on How to Orgasm with Endometriosis
Affected by endometriosis? You're not alone.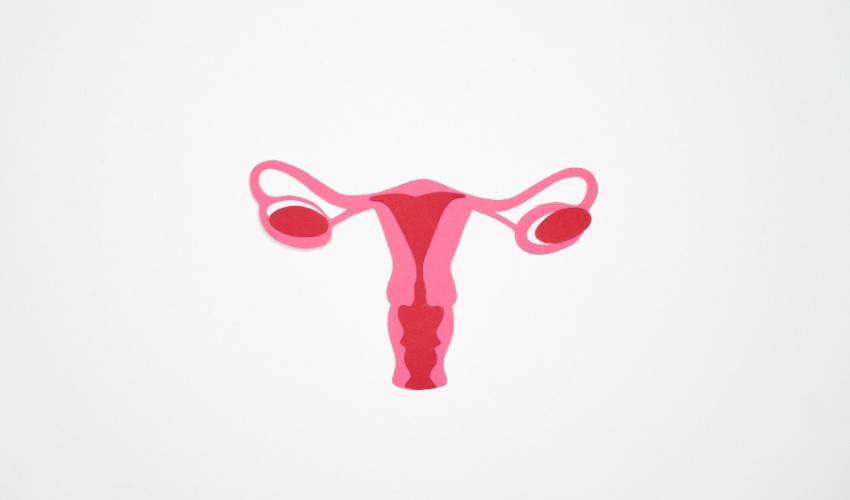 According to WHO, 1 in 10 people with uteruses at reproductive age are affected by endometriosis globally (that's somewhere in the ballpark of 200 million people). Endometriosis can interfere with quality of life and with the ability to be intimate with your partner (or yourself). Often any form of penetrative sex can be painful, and some prefer not to engage in any type of sexual activity as result. That's why we're breaking down a variety of ways to explore intimacy and pleasure for anyone impacted by endometriosis.
What is endometriosis?
Endometriosis is a pelvic condition where endometrial tissue, similar to the cells that line the uterus, begins to grow outside of the uterus. Endo (as endometriosis is sometimes referred to) can affect all of the pelvic region, causing intensely painful cramping, abdominal pain and, for a lot of folks, pain during sex, especially any sex involving penetration.
The tissue that forms as a result of endo does not release during menstruation, like the rest of the uterine lining. It stays in the uterus and causes discomfort. This tissue can get irritated, inflamed, develop scar tissue, or even cause cysts, all of which are painful. In other words, endo can be incredibly uncomfortable and, depending on where the tissue develops, certain activities are impacted.
How does endometriosis impact sex?
Most people with endometriosis report some discomfort with sex ranging from mild pain in the days leading up to menstruation to sharp, stabbing pain or even deep, aching pain. Internal penetration is most often the culprit, but in some cases only deep penetration brings discomfort.
Endo can restrict the vaginal canal from expanding. Vaginal expansion is a natural response in the arousal cycle and penetrative sex can be uncomfortable without it.
Some folks who suffer from endo also experience tenderness throughout the pelvis and abdomen during a flare up that makes pressure on the pelvis and movement, like pelvic thrusting, painful. Because endometrial tissue can grow in different places like around your uterus, fallopian tubes, and the back of the vagina, people's sexual experiences differ. In some cases, endometrial tissue adheres the vagina to the rectum. Penetration can pull or stretch the irritated tissue, causing pain.
How do you enjoy sex with endometriosis?
For Endometriosis Awareness Month, we have teamed up with sex educator Javay Frye-Nekrasova, MEd to provide tips and recommendations for engaging in partnered and solo sex with endometriosis. Below are Frye-Nekrasova's top tips and product recommendations (+ a few of our own!)
Communication is key.
"Emotional concerns may include disappointment in not being able to engage in sex with a partner, as one would imagine, as well as frustration with your body. Talk with your partner, share your thoughts, and explore the different avenues of pleasure with each other." says Frye-Nekrasova.
'Warm up' before engaging in penetrative play.
Frye-Nekrasova explains, "It can take up to 20 minutes for the vulva to be fully aroused. This is important because the vagina elongates when the vulva is aroused, and this can make a big difference in less painful penetrative play."
A little advice from us? Giving more time for vaginal expansion can help in some cases.
Solo play!
"Masturbation can be beneficial for alleviating pain during intercourse as the release of endorphins and happy hormones can help with discomfort. A warm bath with some Epsom salt might also help with pain so that you can enjoy pleasure during masturbation," states Frye-Nekrasova. "You can opt for a vibrator like the Mon Ami Bullet, as it is waterproof and safe to join you in the tub."
Not into bullets? We recommend the equally tub-friendly Mantric Pebble Clitoral Stimulator!
Lube up.
Vaginal dryness causes friction and can add to the discomfort experienced by endo. Using a high-quality water-based lubricant, like Enjoy, reduces friction and increases glide whether you're using toys or playing skin to skin. It can also help to counteract feelings of tightness or tenderness associated with endo. Lubricant makes all sex better, but especially for anyone suffering from endometriosis.
Incorporate sex toys.
Whether playing solo or with a partner, sex toys can make a big and beautiful difference for those diagnosed with endometriosis – and their partners. Below are just a few recommended toys to help the cause:
Penis Bumpers
Lovehoney Health Penis Bumper Set (3 Piece)
Penis bumpers can be great for anyone who experiences pain towards the back of their vaginal canal at certain times of the month and especially helpful for anyone with endo. "Penis Bumpers are a great sex toy option for penetrative sex. It helps to minimize the depth of penetration, thus lessening the potential for pain," says Frye-Nekrasova.
What customers say: "Completely changed our sex life - removed all fear and pain"
Clitoral Stimulators
Womanizer Premium 2 Rechargeable Smart Silence Clitoral Suction Stimulator
"Clitoral stimulation is a great option if penetrative play is painful. The Womanizer Premium 2 is a great clitoral stimulator that uses Pleasure Air technology to simulate oral sex," states Frye-Nekrasova. Not to mention, the Womanizer Premium 2 has 12 intensity-levels, the most of any Pleasure Air device, which means you can start with a subtle low setting to build arousal and pleasure over time.
What customers say: "whoever invented this technology deserves an MBE as it feels exactly like oral."
External Clitoral Vibrators
We-Vibe Tango X Lipstick Rechargeable Bullet Vibrator Blue
"If you are more of a vibration lover then the We-Vibe Tango [X] is a great option that packs a lot of versatility in a small package," suggests Frye-Nekrasova.
What customers say: "Purchased this as an upgrade from a cheaper bullet. Well worth the purchase. Good value for money and the design is great. The silicon handle is comfortable and avoids getting any aching hands. Would recommend this to anyone seeking more variation is settings, as this has lots of them!"
Lovehoney's External Clit Vibe Suggestion
We-Vibe Touch X Rechargeable Clitoral Vibrator
The ergonomic design cups the body for full body massage, nipple play, pubic mound stimulation and direct clitoral stimulation. This toy can go the distance for anyone looking to explore erogenous zone other than their pelvis during an endo flare up.
What customers say: "It's easy to use, comfortable to hold, and very rumbly."
Penetrative Vibrators
We-Vibe Sync Limited Edition App and Remote Control Couple's Vibrator
"For those who want to try out some penetrative play for masturbation a shorter penetrative toy like the We-Vibe Sync could be a good place to start," Frye-Nekrasova recommends. "It is a dual stimulator that stimulates the clitoris and g-spot at the same time. It also has a remote control as well as an app to allow you to control the stimulation."
What customers say: "This was the first sex toy I've purchased, and I was not disappointed! It's very comfortable, easy to insert, and it stays in place well. The design is slightly moldable, so you can bend it to fit your body."
G-Spot Stimulators
We-Vibe Rave App Controlled Rechargeable G-Spot Vibrator
The g-spot is located at the front of the vagina wall. Shallow penetration pointed towards the belly button accesses this sensitive pleasure zone. Fingers are a great way to massage the g-spot, but can fatigue with repetitive massage. The We-Vibe Rave is an asymmetrical toy specially designed to rotate side-to-side over the g-spot rather than to thrust in and out. It can be a great option for anyone experiencing pain with thrusting or deep penetration.
What customers say: "I was seriously starting to believe g spots were some kind of myth until I decided to make it a goal to find it - that's when I came across this little treasure. It's sleek and has a natural feeling to it inside you. There's so many vibration patterns and if you're feeling really creative download the app!!! It's quiet and great in the bath as welI don't know why you're even still reading this GO BUY IT"
With a little creativity and exploration, sex during an endo flare up can be enjoyable. Some may find that sensual touch, massage, and exploring new erogenous zones fulfills their desires, while others may be able to enjoy penetrative play with some of the recommended adjustments and toys. Explore different positions and toys, take your time, and most importantly listen to your body's limits and let pleasure guide your journey.
DISCLAIMER: The suggestions in this blog are meant to help those suffering from endo and their partners explore pleasure. These suggestions are not medical advice and may not work for everyone. We encourage everyone suffering from endo to consult a doctor about any particular symptoms or pain you are experiencing.