February's Book of the Month: The Seduction of Valentine Day Plus, Enjoy a Free G-Spot Vibe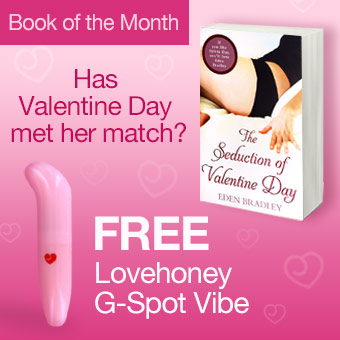 Are you keeping up with Lovehoney's Erotic Book Club?
Get ready to dig in to February's Book of the Month and receive a free Lovehoney Powerful Mini G-Spot Vibrator with your order.
The Seduction of Valentine Day is the story of an attractive call girl named Valentine Day who caters to the desires of her wealthy clientele in luxury hotels.
While these gentlemen lust after and adore her, Valentine has yet to give into the temptation of real seduction herself.
This sexy erotic novel and accompanying free G-spot vibe are the perfect way to spice things up, whether you're reading alone or with your sweetie. You can feel the heat of Valentine Day's seduction through the pages of this red-hot erotic novel.
Prepare to be drawn into a world of irresistible passion. Read on to find out more about Eden Bradley's inspiration for this erotic tale…
---
Valentine Day is a high-end escort, the consummate lust object and always the professional - she has never allowed herself to be seduced. Enter Joshua - with his winning smile and sexy husky voice, her meticulous control might be slipping from her grasp. Valentine is drawn to the potential of pure, erotic bliss. Will she surrender to the unknown?
Author Eden Bradley feels a real connection to her protagonists. She believes The Seduction of Valentine Day is one of her best works: "This book sprang from the hero, Joshua. He's very much based on a man I dated and fell crazy in love with, but things fell apart due to some issues we/he were unable to resolve. As I often do, I wrote the story I would have liked us to have. All these years later, he may still be the one that got away." You can almost feel the raw emotion channeled into Bradley's novel. The real life connection in the story brings the book alive with genuine chemistry.
Although fictional, Eden's words bring Valentine to life as a believable personality with an intriguing depth. "I'm not really sure how it came to me that Valentine was a prostitute - I just felt it was a story that needed to be told. Valentine needed to be a 'real' person. I think - I hope - I did a good job in bringing her to life."
"This is some of my best work, and Valentine is one of my favorite heroines - it was an enormously emotional journey writing this book. I hope everyone enjoys it!"
We invite you to follow the tale of intense seduction and unstoppable chemistry. Snuggle up and settle in for a pleasurable and exciting Valentine's read.
---
---
You may also like: