Let's Play! Fifty Shades of Grey Official Pleasure Collection
We are delighted to introduce the much anticipated and well received Fifty Shades of Grey Pleasure Products Collection right here at Lovehoney.com!
Lovehoney worked exclusively with the author of Fifty Shades of Grey, E L James, to develop this line of toys inspired by the best-selling trilogy.
If you've been wondering how to get your hands on the sex toys mentioned in the steamy scenes in the books, then look no further.
The same kegel balls, restraints and vibrators envisioned in the story have been brought to life. These are the items used by Anna and Christian to elicit earth-shattering orgasms.
Each product is named after a passage from the book completing the real-life fantasy.
Learn more about the Official Fifty Shades of Grey Pleasure Collection after the jump.
Invoking pure passion, the Fifty Shades of Grey Official Pleasure Collection is the only official licensed range of Fifty Shades of Grey sex toys and bondage items.
"I'm delighted to see the authentic Fifty Shades of Grey Official Pleasure Collection finally available in the USA, the home of Ana and Christian. Americans were the first to succumb to the intensity of their passionate romance, and every item in this luxurious official collection has been specially chosen by me to help fans of the trilogy enjoy the Fifty Shades experience on a whole new level." - E L James
Find the entire collection right here at Lovehoney.com: Official Fifty Shades of Grey Pleasure Collection
Here are some five star reviews of select products from the line:
Fifty Shades of Grey We Aim to Please Vibrating Bullet - Intensify pleasure with the sleek and powerful We Aim to Please bullet vibrator. The perfect accessory for heightening solo or shared play with a partner, this sleek vibe offers incredible clitoral stimulation in a petite package.
In her review BlondeBarbie2013 explains how this little bullet packs some real power, "Now when I turned it on oh my! Powerful much!? I have never had a bullet so powerful. I was quite surprised how quiet it was, which was good as my walls are paper thin in my house! And the most important thing for me is that it literally made me cum in seconds! I'm so pleased I bought this now. It's really good to use during sex too doing missionary or doggy, on your own with a dildo even in the bath!"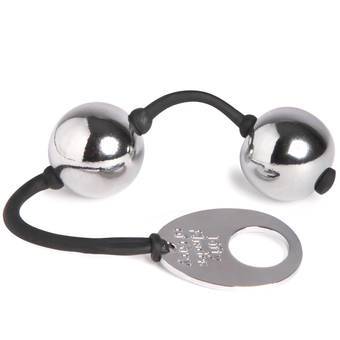 Fifty Shades of Grey Inner Goddess Silver Pleasure Balls - Replicate Ana Steele's pleasure with the Inner Goddess Silver Pleasure Balls. These advanced jiggle balls offer discreet G-spot stimulation and incredible toning effects for your internal muscles. Wear during foreplay for intensified sensations.
Emmzi writes, "These are the silver pleasure balls from the book Fifty Shades of Grey and they are weighted balls you use for G-spot stimulation and as a exerciser for your pelvic floor muscles.
This product is great for anyone who loves the Fifty Shades of Grey books and wants to try something new or feel how Anastasia feels after Christian uses the silver balls in the book on her."
Fifty Shades of Grey Hard Limits Restraint Kit - Restrain your lust with this soft, strong and secure bondage kit. Ideal for anyone wishing to recreate Christian and Ana's passion in their own bedroom, take charge and indulge your lover in full body restraint as part of your bedroom bondage repertoire.
Kent Couple reviews, "Looked at all of the alternatives and plumped for the 50 Shades version, perhaps swayed by the name but more by the very professional look.
When it arrived the packaging was superb, the kit was easy to set up and we have left the main straps under the bed for next time.
Cuffs were comfy and the blindfold very effective and comfortable."
Fifty Shades of Grey You. Are. Mine. Metal Handcuffs - Ensure sublime submission with You. Are. Mine Metal Handcuffs. Inspired by Ana and Christian's adventures in Fifty Shades Freed, take turns at being the submissive lover and enjoy effective restraint during foreplay and sex with these gleaming handcuffs.
kato reviews, "I got these handcuffs as I wanted something a bit more than the fluffy handcuffs I have. The build of these handcuffs are of good quality and I did not feel that these would break easily.
As with most handcuffs nowadays, you get a key but there is also a safety release. I am yet to use the keys as we tend to use the safety release, quick safe and no faff, brilliant."
Fifty Shades of Grey Twitchy Palm Spanking Paddle - Achieve Christian-style domination and intensify your bedroom authority with this elegant spanking paddle from the Fifty Shades of Grey Official Pleasure Collection. Ergonomically shaped to behave as a natural extension to your own twitchy palm, for sensual stroking and arousing thwacks.
Tinny888 writes, "It looks elegant, has a good amount of flex, and fits perfectly in your hand, allowing the perfect swing."
It has a slightly padded side (silver) which I think is great for people just starting out, and a leather side (black) allowing for a harsher smack.
It looks like it is made from durable material and will last through all of what we have planned for it.
Can't fault it as we both had a great time."
You can mix and match or pick up the entire Fifty Shades of Grey collection right here! Which product are you most excited to try? Will you collect them all? Comment below or tweet to us @lovehoney_com
---
You may also like: