These Fleshlight Girls Are the Real Deal!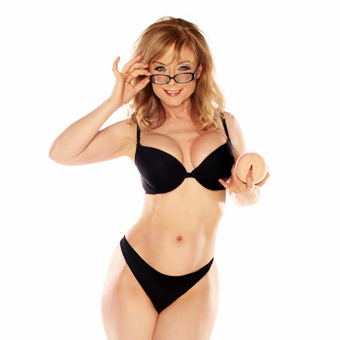 I recently had the pleasure of attending the XBIZ 360 show in LA which was attended by some of the biggest and hottest porn stars gracing our screens today.
I saw and even got to meet and talk with some of my favorite adult stars including Nina Hartley, Jiz Lee, Stoya, and April Flores to name just a few.
Can you imagine the ultimate fantasy of having sex with one of these beautiful people?
Fleshlight has brought you one step closer with their Fleshlight Girls masturbation sleeves, molded directly from the intimate orifices of real porn stars.
If you're ready to feel something real check out these Complete Fleshlights and learn more about the gorgeous Fleshlight Girls right here:
---
Nina Hartley has been in the game since many of us were in diapers! Nina is the ultimate MILF and she remains relevant to this day. She is as energetic and gorgeous as ever.

"I have been inexplicably aroused knowing I'm going to use this toy at whatever given time. To the point that all my other toys have been neglected since this one arrived. The material is just sublime and so elegant feeling and I find myself going back for more!" - Cottonmouth, Lovehoney customer

Stoya is smart, sexy and stylish. She spearheads this informative Porn 101 video with a great introduction to how the industry works and important things to consider before jumping in. - Famous Porn Stars Teach You Everything You Need to Know to Join the Adult Biz in 'Porn 101'

"Well, what can I say? I've never had a sex toy which has lived up quite as spectacularly as the claims before - it really is that good." - flirtyandy, Lovehoney customer

Jessica Drake is a hugely popular adult star. She has been immortalized as both a real doll and a Fleshlight that you can call your very own. Her Wicked Guide to Sex includes Sqweel 2 among her "TOP TEN Sex Toys". You can see she knows about good sex!

"To sum up, from day one Fleshlight have had in my mind the best male masturbation product out there. With the personalised touch it has improved upon its already great product." - Stuburns, Lovehoney customer
---
Asa Akira was named the Funniest Porn Star Ever by lady-centric health and wellness site Blisstree. She's gorgeous and witty and is definitely keeping it real. She's known for her sexy girl-on-girl scenes, but Asa Akira's realistic Fleshlight is made for men and cast directly from her famous vagina.

"I have used this multiple times since its arrival and each time has been more amazing than the last." - MrMattington45, Lovehoney customer

Misty Stone is known as the diva of the industry, starring in over 120 porn films. She recently contributed her voice and likeness to the latest version of Grand Theft Auto 5. Her Fleshlight emulates Misty's sexy dark skin with the lifelike material.

"The actual Fleshlight had a nice feel to it and on feeling the inside you can feel all the ridges and nodules inside, which I was getting excited about trying. My wife was also impressed…" - M & A, Lovehoney customer

Tori Black has two AVN 'Female Performer of the Year' awards and is universally named as one of porn's hottest stars. You can now enjoy Tori Black's perfect pussy with this male masturbator. Here's a fun shot of Tori Black before and after getting made up for a shoot via Complex.com.

"I'm a virgin and if the real thing iis anything like this then I'm in for a real treat when I meet Miss Right." - SexualNewbie, Lovehoney customer
---

Still looking for your ideal Fleshlight?
If you're still looking for the Fleshlight Girl of your dreams, take a look at all the Complete Fleshlights we have to offer.
Customer Care can also help you find the perfect Fleshlight or male sex toy. Send an email any time, and call or live chat to an experienced advisor from Monday to Thursday: 24hrs a day and Friday through Sunday too.
---
You may also like: