Boost Your Sex Toy Experience!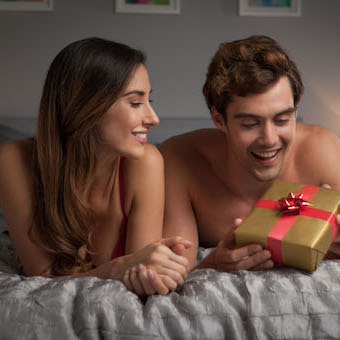 So, you're the proud owner of a new toy from Lovehoney, and you're probably buzzing with happiness.
Now that you've had some fun, what's next?
We're big believers that there's always room for improvement when it comes to using sex toys – they're an endless source of fun!

To help you get even more from your toys, we've put together a few tips and tricks, from choosing the right lube to playing with a partner.
1. Wetter = better
When it comes to sexy time, there aren't many things that lube doesn't improve, so stock up and slide your way to Orgasmville.
We're not sure that's a real place, but we want to go. Now.
Find out which lube is best for you by reading our handy guide.
2. Do the backstroke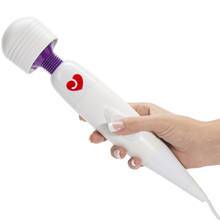 Some hard-working vibes moonlight as massage therapists. Don't believe us?

Turn your massage wand to the lowest setting and gently press it against your shoulder blades, back and neck, moving it in a slow, circular motion.
Feels good, right?
3. Gently does it
Vibrators vary hugely in intensity, with plug-in toys generally more powerful than their battery-powered pals.
Bought a powerful vibrator and want to reduce its intensity? Try muffling the vibrations by using your toy over your underwear.
4. Get an upgrade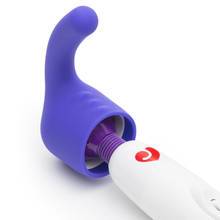 If you've got a massage wand, turn it into a G-spot-pleasing toy or a male masturbator by adding a special attachment.
Visit our guide for information (and a video) on choosing the right accessories for your massage wand.
5. Pillow talk
Cuddle up to a Liberator Humphrey sex pillow and enhance masturbation and foreplay, enjoying your vibrator or dildo hands-free!
Just slip your toy into the specially designed slot and add extra excitement to your erotic adventures.
6. Balm for the soul
Adding a little orgasm balm to your clitoris makes those ultra-sensitive nerve endings even more responsive, which can intensify orgasms, too.
Concocted from the finest ingredients, our Desire Luxury Orgasm Balm adds tingles to your play.
7. Look, no hands!
Just when you thought buying your new Fleshlight was the best idea you'd ever had, we go and tell you that someone has invented a shower mount so you can supercharge your experience.

Use it to fix your toy to a flat surface and achieve any angle or height you desire.
8. Partner up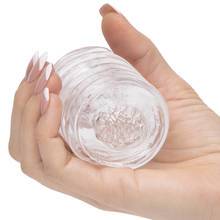 Let your lover tease you with your vibrator during foreplay or ask them to insert it while they go down on you.

If you have a male masturbator, your partner can pleasure you with it just like they would with their hand.
9. Turn around
Have you ever used your rabbit vibrator in reverse?
Flip your rabbit on its back so the ears lie along your clitoris and the shaft buzzes against your perineum.
For more on getting the most from your rabbit head to our handy guide.
10. Different strokes
Added a THRUST stroker to your toy box?
Slip a THRUST bullet vibrator into the hole in the base of your toy, and add a mindblowing buzz to your solo sessions.
11. Take a dip
Check it's waterproof, then run a bath and let your imagination – and your toy – wander.
Water-based lubes wash off in the shower, while silicone lubricant is water resistant.

Check whether it's compatible with your toy – no silicone lube with silicone sex toys!
12. Winning team
Just added a suction cup dildo to your collection? Didn't think things could get any better? Wrong!
Pair your new toy with a harness or harness briefs and open up a whole new world of strap-on fun and penetration play.
13. Hot and cold
Your beautiful glass dildo is perfect for indulging in a little temperature play
Just submerge it in warm water, or cool it in the fridge for 10 minutes before use (just be sure to test the temperature on your arm before taking things downtown).
---
You may also like: