Yaaaaas, HallowKweeen: Dress to Thrill in Our Spine-Tinglingly Sexy Costumes
Role play is a ghoul's best friend, and our Halloween Shop is officially open!
Whether you're planning to jump someone's bones, or you need a cute costume to impress your broom-mates, we've got what you need.
Come and get it, boo.
---
Lovehoney Vampire Vixen Bundle
Whether you're vamping it up for October 31st or living out True Blood fang-tasies, this gorgeously gothic outfit is dripping with undeadly allure.
Made from super-slinky lace with long sleeves and a criss-cross-front, the dress reveals plenty of flesh, should someone want to sink their teeth into you.
Tie the satin capelet around your neck for a hell-raising Halloween look.
---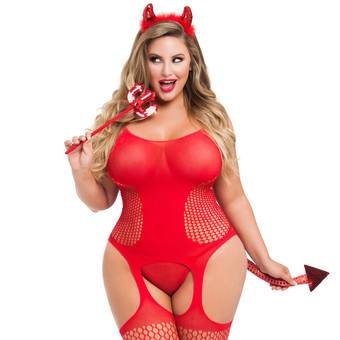 Lovehoney Dirty Devil Bundle
Time to sexorcise those demons.
With smooth, sheer fabric smoothing over your Beelze-boobs, and stretchy suspender straps leaving your intimate areas exposed, this is one tempting, tormenting bodystocking.
Stir up a fire down below by adding the tail, horny headband and fork.
---
Lovehoney Sultry Sorceress Bundle
You'll look the black cat's pajamas in this sultry semi-sheer dress.
Flirty and figure-hugging, it reveals your bare shoulders and back thanks to its mesmerizing plunge reverse.
Perch the matching hat on your head (it features feathers, teeny-tiny spiders and netting) for an extra helping of hex appeal. Work, witch.
---
Lovehoney Kinky Kitten Bundle
Everybody wants to be a cat, because a cat's the only cat who knows where it's at...
Prove you're not kitten around in this cute cat outfit. Trimmed with leopard print, the curve-hugging suspender dress is perfect for prowling around in.
Swish the matching tail, perch the ears on your head and turn on your feline charm.
---
Dreamgirl Sexy Harlequin Costume
Be the Quinn-tessential bad girl in Dreamgirl's dangerously sexy outfit. This wet look twin set will have your Puddin' purring like a Harley.
Slip the mask on, tie your hair up with the ribbons, then invite your partner in crime to slip the matching mask over their eyes.
Two-tone dip-dye and baseball bat optional.
---
Dreamgirl Captive Princess Costume
Imagine your lover's excitement when you peel off your princess layers to reveal this golden haltenerneck bra, sheer side-split skirt, collar and lead.
Whether you wear it for rebellious role play, or to indulge your captor/captive fantasies, this set is sure to knock your dressing up game out of the galaxy.
---
You may also like: