How to Embrace Your Curves with Lovehoney Hourglass
Bridget Jones walked so we could run.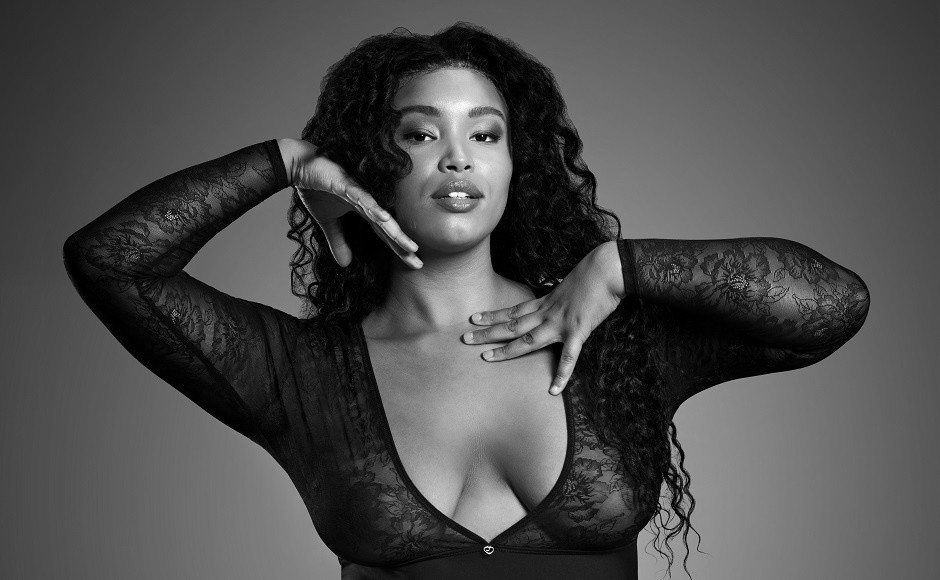 You've only got one body in this life, kids, you might as well love every shape, curve and bump you've got. Now, we all know it's not always that easy but embracing your curves and dressing them to look their best can feel empowering and amazing.
Accentuating your assets is the name of the game when it comes to curvy confidence. Does it mean you have to squeeze into something you can't breathe in or condemn yourself to a lifetime of ugly granny panties à la Bridget Jones? Absolutely not.
When we decided we wanted to design a new range of shapewear, we wanted style, confidence and comfort to be at the forefront - not tucking, squeezing and hiding. The new Lovehoney Hourglass collection does just that and to celebrate its launch, we thought we'd give you a little rundown on how this stunning, smoothing lingerie can help you flaunt your stuff.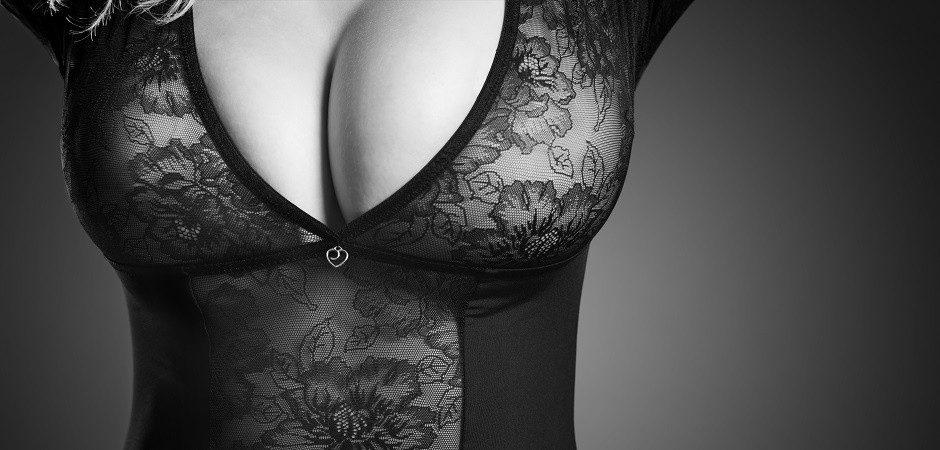 Sculpt your confidence
Whether your body is booty-ful, booby-ful or another kind of beautiful entirely, the first step to embracing it is telling yourself what you love about it. Don't say there's nothing - everyone has at least one thing they like. Try and find something new to love about yourself everyday and you'll be well on your way to self-love city.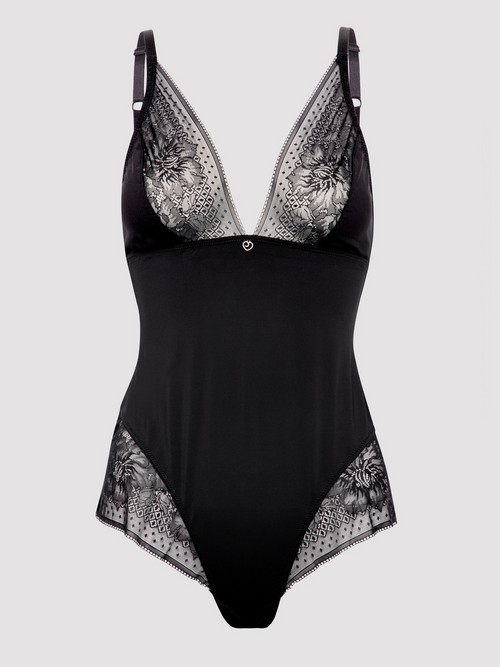 Self-love is one of the most important things when it comes to body confidence but some sexy lingerie always helps too. Wear a hot set under your clothes while you're out and about, in bed with your partner or even just when you're home alone and we are sure you'll feel good as hell (as Queen Lizzo once said).
The Lovehoney Hourglass Black Smoothing Sleeveless Crotchless Body would fit easily underneath most clothing and creates a dazzling contour with or without your fave outfit over the top. This sleeveless body features gorgeous floral mesh detailing around the bust and hips while
breathable microfibre panels support your waist without controlling it. A plunging neckline at the front and back also makes this beauty great for showing some skin with a low cut L.B.D. (little black dress).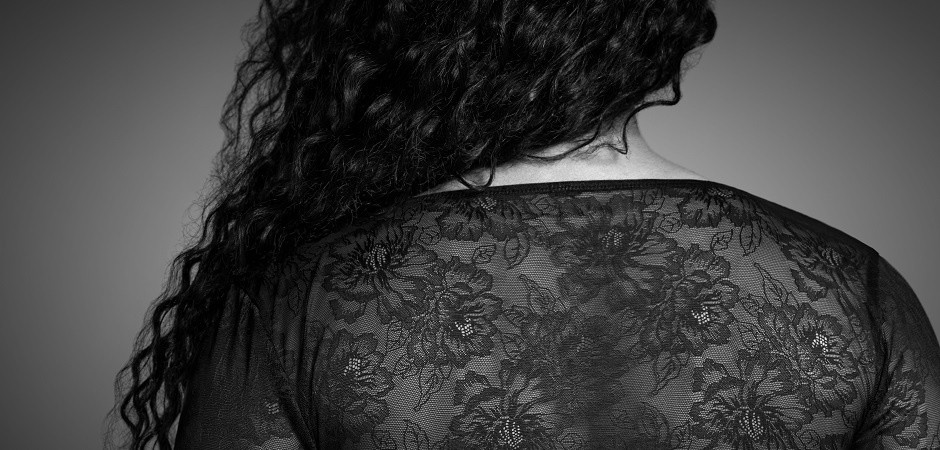 Curve is the word
Whatever your body shape - curvy, straight and everything in between - showing off your natural silhouette with form-fitting styles which offer some structure can make you feel like the hottest person in the room. Our Hourglass range is designed to support your natural form, not change it.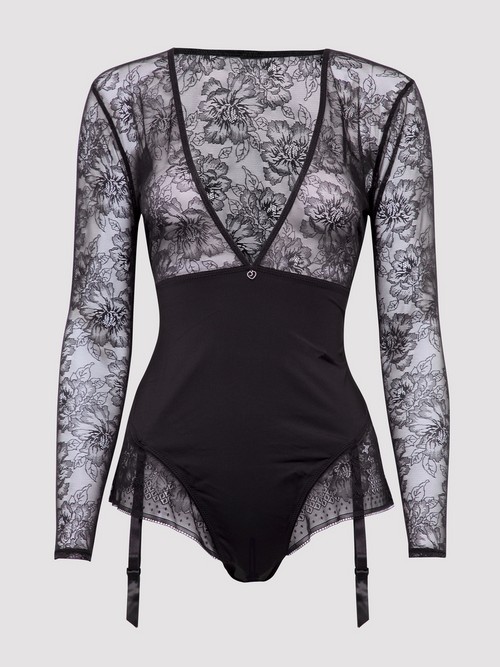 The collection's signature black floral lace mesh covers the whole arm and bust of this long sleeve body. It's a flat, figure-hugging material which clings to your skin to create a to-die-for smoothing effect. Not to mention the plunging neckline which your bosoms will thank you for.
Denim jeans would turn this body into an epic night out or date night top. It is sheer so you might want to wear it with pasties underneath or a leather jacket over the top to cover up (or not, you do you). Save the crotchless surprise for your partner until you get home and they won't know what hit them.
Open in all the right places
While we know no lover is ever going to be upset by your full nakedness when you're in the moment (trust us), sometimes having a bit of coverage or material support can do wonders for your daringness. Cue the Hourglass open cup body.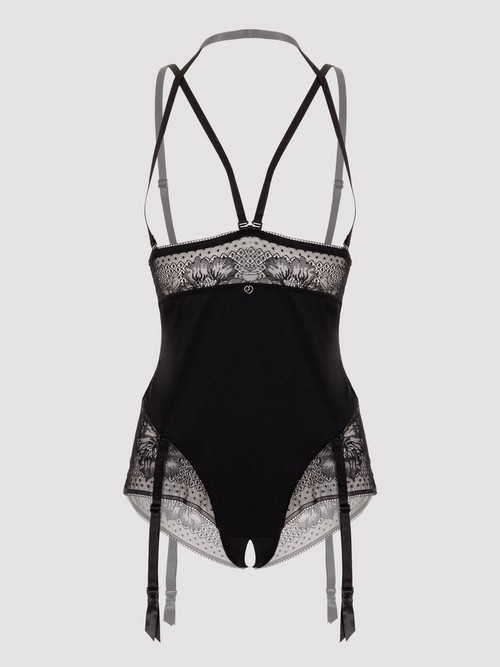 This show-stopper features the same microfibre panelling as the other sets but instead of cups, has detachable straps which frame your tatas like nothing else. Leave them bare, wear a different bra or add some nipple pasties; the choice is yours.
Chances are you and your lover won't be able to resist ripping this off in the throws of passion but even if you keep it on, all your fun bits are easily accessible. A crotchless bottom, open cups and your sumptuous silhouette? Your partner won't even know where to begin.
Worn to be seen
In case you hadn't noticed yet, the Hourglass range is made to be seen inside and outside of the bedroom. Some things are too pretty to be hidden under clothes after all and we'd say the sumptuous combination of this ultra-soft microfibre and detailed lace falls into the category.
Sculpting shapewear doesn't have to be confined to just underwear and our sultry Hourglass dress proves it. With a thigh-high hem, a plunging neckline and a smooth, extremely flattering outline along the hips, this dress was made for a teasing dance at home or a super-saucy club outfit. Now work those moves