I Wore Sexy Underwear Every Day For A Week And This Is What I Found
Don't get me wrong: like most people, I love nothing more than lying on the sofa and watching Netflix in my comfy pyjamas.
However, when Lovehoney gave me the opportunity to try wearing sexy underwear every day for a week, it was an offer I just couldn't resist.
I eagerly waited for the package to be delivered and was beyond excited to see the new underwear that had been chosen for me.
Unwrapping the usual discreet packaging and placing out the different pieces, I suddenly felt a little nervous; I've always picked my own underwear and some of the outfits chosen weren't in my usual comfort zone.
Carry on reading to see how I got on…
---
I woke up ready for the day to find my usual Monday morning blues had been replaced with an overwhelming excitement.
I spent most of my day distracted, eager to get home and show my other half how the new babydoll looked.
As I slipped into the slinky lingerie, the first thing I noticed was how flattering the lace cups were on my boobs. They looked huge! The eye-catching red material certainly added to the effect.
Looking at myself in the mirror, I felt a surge of confidence: the babydoll looked sexy but made me feel even sexier.
---
Waking up with a smile on my face from the night before, I decided that I felt brave enough to wear the crotchless pearl thong for the day.
I slipped on the thong and was pleasantly surprised at how comfortable it was. I anticipated that the pearls may have been a little uncomfortable but, boy, was I wrong. As I began walking around, the pearls stimulated my clit with every step!
I found myself discreetly wriggling in my chair, or offering to get up and make a cup of tea, just to feel the delicious sensation down below.
After a day of wearing these, I felt hornier than ever and couldn't wait for my partner to take advantage of the fact the thong was crotchless.
---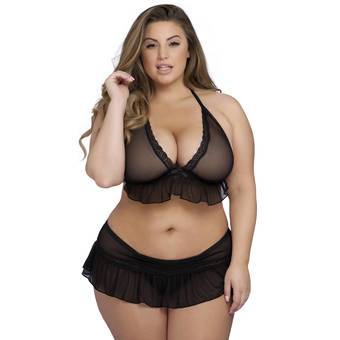 By Wednesday, I had noticed a definite increase in my sex drive. Usually after two nights of mind-blowing sex, I'm happy to take a day or two to recharge, but this week was very different.
With my other half away for the night, I decided to see how wearing the cute burlesque-inspired set would impact my day.
The biggest thing I noticed was that I began walking a little bit taller and feeling a lot more confident, even though nobody else could see the stunning set I had on underneath.
---
With my other half coming home that evening, I decided to pull out all the stops and finally venture completely out of my underwear comfort zone.
I was surprised by how easy the dress and stockings were to put on; I usually spend over five minutes fiddling with stockings, but this set was on within a few minutes.
However, the biggest surprise was how truly stunning the set looked on me.
The bodystocking was so incredibly flattering; it made me feel sexy inside and out. The light sheer material was so soft on my skin and hugged all the right curves.
---
As the week was ending, it was hard to feel sad that this little experiment was nearly over, considering that I still had this beautiful basque set to wear.
I decided to take advantage of the removable garter straps by teaming the basque with the contrasting black thigh high stockings. This created a true enchantress-style outfit.
Alongside my increased confidence and sex drive, this outfit was a great choice to end the week on, as it definitely awoke my inner dominatrix (who, much to my other half's dismay, doesn't appear often).
---
The effect that wearing sexy new underwear for a whole week had on my self-confidence, sex drive and sex life truly shocked me. There were so many more benefits than I would've predicted, and I can't wait for pay day so I can do this again.
Spending money on bedroom attire may not seem as essential as other things, but thankfully Lovehoney has loads of offers which make buying sexy bedroom wear a lot more affordable, and – believe me – the benefits really do outweigh the cost.
Try pushing yourself out of your underwear comfort zone and comment down below telling me how it went.
---
Megan is a Psychology student at the University of Exeter. She can't quite read minds, but can read bodies.
---

---
You may also like: