Need a Valentine's Day Sex Playlist? We've Got You Covered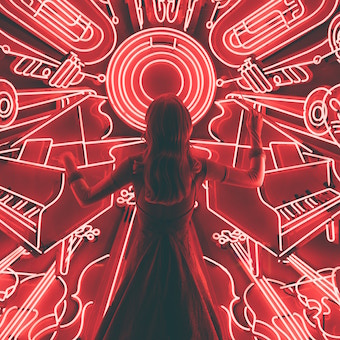 When it comes to planning your sexy Valentine's evening, getting the setting right can be the difference between mind-blowing and mundane.
Scented candles? Check. Clean sheets? Done. Sexy playlist? Hang on.
Sure, it's easy enough to throw on your most-played tracks or your favorite 'Bangers 2017' , but you just can't trust that Spotify algorithm - no one needs to hear Call Me Maybe mid-coitus.
(Not that there's anything wrong with that song getting you hot under the collar, of course - different strokes for different folks and all.)
But not all sexy soundtracks are created equal, and everyone's definition of the perfect provocative playlist is different. So that's why we've created not one, not two, but five different sexy Valentine's playlists.
From super-slow seduction tracks, to love-making ballads, to throbbing guitar riffs, we've got a playlist for every taste and occasion - and you can give them all a listen here.
Are there any tunes that we missed? Which is your favorite playlist? Let us know in the comments below!
---
The ForePlaylist
Start your date night off right by pressing play on this selection of ambient, blues, and indie tracks. The perfect accompaniment to a romantic dinner and a sensual massage...
Pair with: a lickable massage candle and our metallic mini wand.
---
Classic Sex Tunes
Brimming with all the classics in sex music from the last 50 years, this playlist contains the likes of Marvin Gaye, Barry White, Usher, and D'Angelo for timelessly sexy vibes.
Pair with: the Desire classic vibe and some Enjoy water-based lube.
---
Bump & Grind
From Drake and Ciara to Ginuwine and Madonna, this collection features the sultriest R&B, pop, and electronica of the last decade. And no R-Kelly in sight...
Pair with: your favourite Lovehoney Lingerie set or some LHM boxers.
---
Filthy Sexy Rock
If your go-to bedroom tunes are more Nine Inch Nails than Nina Simone, this is the playlist for you. Discover contemporary and classic rock tracks that'll send you and your partner straight into overdrive.
Pair with: a classic mains-powered wand and a pair of Bondage Boutique cuffs.
---
Candles & Rose Petals
Bring the ballads back into the bedroom with our pick of the slowest and most romantic tunes. Favorites like John Legend and Ed Sheeran meet lesser-known tracks from Childish Gambino, Sade, and John Hiatt.
Pair with: our fabric rose petals and a silky blindfold.
---
You may also like: