News Flash! Discreet Vibe Charges via USB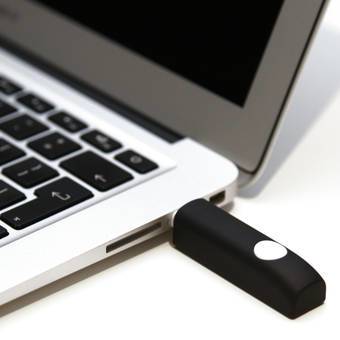 Do you see the sex toy in this picture?
Meet Flash! The newest vibe from the tech sex geeks at Lovehoney. It charges via USB, it's waterproof and made of soft black silicone.
Over on our sister site Lovehoney.co.uk they're wondering: could this be the most discreet vibe ever made?
"The future of sex toys is here, and it's charging in a Starbucks near you! Introducing the brand new Lovehoney Flash USB Rechargeable Mini Vibrator. Sleek, petite and discreet, this powerful mini vibrator is whisper-quiet and looks uncannily like a memory stick, making it arguably the most discreet pleasure product on the market."
See more pictures and read more after the jump.
Here at Lovehoney.com we're really excited to present to you the new Lovehoney Flash Vibrator, straight out of the future of vibe technology.
This sleek black rechargeable USB vibrator is made from skin-safe silicone with a flexible, contoured tip. The Flash is easy-to-use and powerful. It's 100% waterproof and ultra-quiet for incredible stimulation wherever you go. Anyone up for a roadtrip?
Three reasons this vibe is going to set the new standard
1. Throw out the batteries (and the cord!) for good
Yes, that's correct this beauty will never need either. Just imagine all the places you can charge your Flash?
2. No one has to know a thing
It looks like any other device on your desktop. Compact, discreet and powerful.
3. You can literally take it anywhere
Take it to the bath, shower, car, airplane, to France, or snuggled in between you and your lover.
All that and the price is definitely right! For under $40 this vibrator will have you smiling in more ways than one.
I'm eager to try out this versatile little vibe. Here's what the reviewers have to say:
Nicole writes: "I was lucky enough to try this vibrator hot off the shelf and I was very, very impressed. The first thing you notice is how sleek and slim this nifty vibe is. It really does look like a USB while charging, making it super discreet and perfect for people with housemates. I was blown away by how powerful the Lovehoney Flash is - literally! It has 3 speeds and 4 patterns, and even the lowest speed is incredibly powerful. The patterns offer a nice variety, making it easy to start off gently before amping up the vibrations…"
More praises for this small but might new gadget keep coming in. PrinceGabriel explains why they love Flash: "We were wanting a rechargeable vibrator for ages, but the prices were way to high. We found this little gem. It is amazing. The vibe is incredibly strong and especially for its size! This little toy has given us orgasms in seconds."
Vampiremaiden calls this — Big vibrations in a small package — "Having an embarrassing variety of vibrators, I have to say that this one is by far the quietest I have, which is an amazing bonus as I find with many products that it can prove problematic to use them due to the noise of the vibrations. However despite the quietness the vibrations were extremely powerful and precise."
Read more Flash reviews here.
Pick up yourLovehoney Flash USB Rechargeable Mini Vibrator today!