Guest Post by Simone: 10 Online Dating DOs and DON'Ts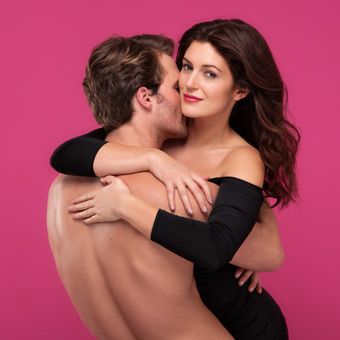 And now for something a little bit different: We are delighted to welcome back guest blogger Simone Katerine with 10 outstanding tips to help you score via online dating. Enjoy! -Krista
Two years ago, after ending a long term relationship I finally decided to lose my online dating virginity. Within 24 hours of creating a profile, I was chest deep in creepy messages from potential suitors, nonsensical profiles, and terrible smartphone meets mirror photography. I felt a bit like an anthropologist thrown into a brand-new world that I had only heard about in stories from friends.
With that said, online dating can be a great way to connect with other singles that you might not have normally met through your usual social circle. However, I've learned that there's definitely a "good" and a "bad" way to do online dating. Although the internet is rife with online dating horror stories, your online dating experience doesn't have to end in disaster. Here's a few online dating DOs and DON'Ts that will help you get the most out of your online dating experience.
1. DON'T lie
Absolutely no good can come from lying on your online dating profile. Unless you really are a millionaire with 10 houses, 5 yachts, who just happens to own an NBA team and is just "looking for the one" don't say that you are. It's as simple as that. Same goes for lying about your appearance - If you're 5'6", don't say that you're 5'11. If you're in your late 30's, don't post a photo from that time you went to a wedding and looked really good… when you were 22. Lying about this kind of stuff is the easiest way to shoot yourself in the foot - because trust me, when we meet you we'll be able to tell.
2. DO be yourself
Want to stand out from the crowd? Own the heck out of who you are and what you look like. Love brewing craft beers in your basement and have museum-worthy Lego collection? Own it! Share it in your profile! In a world where so many online dating profiles look the same, people really dig authenticity.
3. DO post decent photos of yourself
Use photos that are in focus, well-lit and show your face in a friendly and inviting manner - a smile never hurts! When assessing potential mates we're much more likely to go for a guy who looks friendly and inviting, rather than someone who looks like they were pulled from a police lineup. If you love playing the drums, hiking or have traveled the globe, it never hurts to include photos that reflect these interests. Make sure you include at least one (fully clothed) full body shot. We want to be able to picture you as an actual person, not a disembodied head. If you don't have many photos of yourself, ask a friend to take a few of you. If they care about your dating future, they'll likely lend a helping hand.
4. DON'T post shirtless selfies
Guys, absolutely no good can come from the self administered "smartphone in the mirror shot", especially if you're shirtless. Take cue from Justin Timberlake, Mr. "Suit and Tie" himself and wear some proper clothes - at the very least, a shirt. If you play the cards right, there will be a time when we'll want to see your abs. Now just isn't the time.
5. DO have good manners and grammar
There's nothing worse than coming across a potential date with a great photo only to find their profile riddled with spelling errors and typos. Put your best foot forward - If writing isn't your strong point, have a friend proofread your profile because good grammar is sexy! Plus, having a concise and well put together profile shows you mean business.
6. DON'T type lyke dis
I don't think I'm alone here when I say that nothing kills my libido like a message that says, "Sup ma? This iz Jay. U look hott." Use proper grammar and spelling, people!
If you keep these tips in mind you should manage to snag a date in no time, now a few things to remember during for your first date:
I think it's pretty much been scientifically proven that wearing a nice pair of knickers is a huge confidence boost. However, with that said you still want to feel comfortable! Ladies, choose a bra and panty set that fits you properly, is comfortable and makes you feel sexy (the last thing you want is to be tugging on your lingerie all night!) Guys, make sure you don your favorite, fresh-from-the-laundry pair of boxers or briefs - hey, you never know who might see them!
8. DON'T bring up sex
I know this seems counterintuitive and you're thinking, "But I love sex! And didn't you just tell me to wear nice underwear?!" Yes, I did. However, unless you're on an adult dating website where the end game is to hook up with someone pronto, mentioning sex in your profile or taking the first date conversation to a sexual place, is likely going to turn people off. I know this probably seems a bit hypocritical considering I am a sex and relationship blogger, however if I see the word "sex" on an online dating profile, I immediately move on to the next one. Why? Because it's just too much, too soon. You're essentially a stranger. I want to gauge your interests, what you're like as a person and if I'd feel safe interacting with you. Knowing you like ______ (sexual act) in bed, right off the bat is just kind of creepy. If we hit it off, there's lots of time for sex to enter into the equation later on.
With that said, sometimes good chemistry happens and your date pleasantly unfolds in ways you didn't imagine. The last thing you want is to be caught unprepared. Always bring some condoms with you so that you can enjoy the moment safely and responsibly. Carrying condoms with you isn't presumptuous, it just means that you take your health and safety seriously.
10. DON'T show up to your date with too many, ahem, "accessories"
If you're anything like me, you surely have a plethora of sex toys, lubes and other goodies at your disposal. However, unless you're aware ahead of time of what the person you're dating is into sexually, you might want to avoid whipping out the Japanese bondage rope and 12" dildo on the first date - just saying.
---
About Simone
Simone is a writer, blogger and nationally syndicated sex and relationship columnist. She's the author behind the cheeky and irreverent blog Skinny Dip and the editor & social media manager at the award winning blog No Strings Attached. When she's not writing about everything to do with sex, dating and relationships, she loves to wander around her town with a large cup of coffee in hand, in search of the next great story.
---
You may also like: