Can I Use a Rabbit Vibrator if I have a Penis?
Say it with me: "vibrators are for everyone!"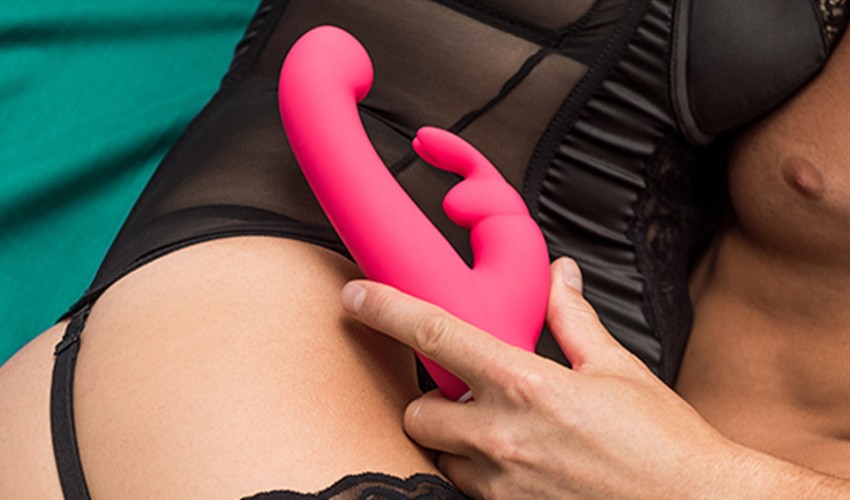 It's easy to assume that rabbit vibrators can only be used by people with a vulva. Their vibrating ears and shaft make them ideal for stimulating the clitoris and G-spot which is amazing but what about if you have a penis? Can you use the delicious vibrations from both the ears and shaft to double down on your pleasure? Abso-freaking-lutely.
Most vibrators can be used by any sex to arouse and stimulate but rabbit vibes are particularly excellent because they are safe to use anally as well. In this blog, we're giving you all our best tips and tricks on how penis owners and men can use rabbit vibrators. Plus, we share some of how greatest hops which have been tried, tested and reviewed by penis owners.
How to Use a Rabbit Vibrator If You Have a Penis
Externally
One of the benefits of a rabbit vibe is having two different types of vibrating tips to play with – the targeted stimulation of the ears and the broader tip of the shaft which offers vibes to more surface area on (or inside) your body.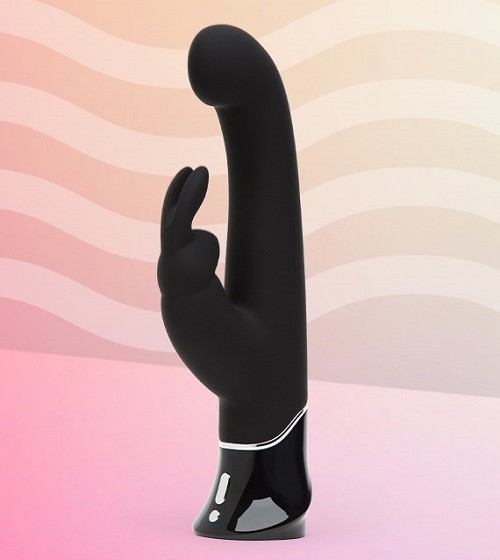 Use the rabbit tip to tickle the balls and nipples, starting on low to get used to the feeling and see how you like it before moving on to explore more of the speeds and patterns. You can also try tucking the frenulum (AKA the banjo string) in between the two ears for insane stimulation to one of the most sensitive spots you can find on a penis.
As for the shaft of your rabbit, it has plenty it can do outside the body too. Gently massage the rounded tip into the perineum
(AKA the taint), increasing blood flow to the prostate and – with a little bit of patience – potentially even reaching a perineum orgasm.
Stroking the penis shaft with the rabbit shaft up and down and all around is another awesome way to level up solo play, hand jobs and blow jobs.
Anally
One of the things which make rabbit vibrators so popular for vulva owners are the blended orgasms they can deliver. This happens when both the clitoris and G-spot are receiving glorious vibes simultaneously.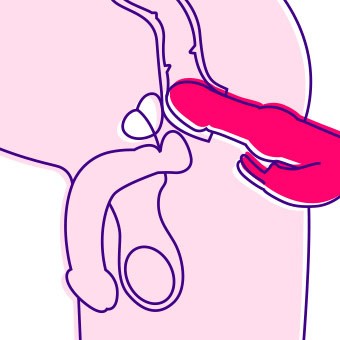 You can attempt to experience similar sensations through backdoor penetration, stimulating the P-spot and perineum with your toy for hands-free thrills or with the added intensity of a good fondle at the front. Make sure you cover your rabbit and anus in a good quality, water-based anal lube before you begin and as with any anal play, go slow.
A few things to consider:
Most rabbit vibes will do the trick here but be mindful of how thick they are and consider whether a slimline option might be best for you.
Some of our toys feature rotating beads within the shaft which can struggle under the surprising strength of your anal muscles but you may still be able to feel them rumbling around.
If you do decide to use your rabbit anally, take extra care when cleaning it – using a toy cleaner or soap and warm water – between play.
Using a rabbit vibe never has to be solo journey (even though it's just as fun). Take turns playing with your partner using the rabbit, exploring the different areas and feelings which gets each of your legs shaking. You could even get matching rabbits and partake in a spot of mutual masturbation. Cute.
Now you know you can enjoy all the power of dual stimulation, which toys are best for people with penises as told by our customers.
Anyone can be a Greedy Girl
Fifty Shades of Grey Greedy Girl G-Spot Rabbit Vibrator
Tailor-made orgasms are on hand with Greedy Girl, a G-spot rabbit vibrator that combines silky silicone with 36 possible vibration mode combinations. USB rechargeable, waterproof and travel-friendly with 2 powerful motors and 15 speeds and patterns.
What customers say: "What a great toy! Bought for my partner originally and she loved it! Hits all the right spots and the use of different functions is awesome. Great for foreplay.Also, the function are also great for the men! Select the pulsing one and place it touching your anus for great extra stimulation!"
A classic that hits the spot for many
Lovehoney Jessica Rabbit 10 Function Rabbit Vibrator
Bounce into orgasm action with one of our most popular rabbit vibes. Jessica boasts a curvaceous shaft and perfectly placed clitoral stimulator for a fusion of internal and external bliss that'll leave you jumping for joy.
What customers say: "Oh wow.. This was the first Rabbit I had bought.. Id had the bog standard one with out the ears.. By oh my u wish id purchased this soon.. The vibrations on my clit make me orgasm in minutes and the turning of the dildo really hits the spots you need.. Overall this is amazing and my partner also love the feel of the ears on the end of his penis.. We both love it"
For the happiest of penises
Happy Rabbit G-Spot Rechargeable Rabbit Vibrator
As featured in The Times – recommended for combined clitoral and penetrative stimulation, intense pleasure and a large dose of happiness is yours with the happy rabbit® G-Spot Vibrator.
What customers say: "If you ever want a great toy, then this is it. I have tried a fair few of the vibrators on the market and been happy and then I met this guy and I will never go back again. This has got to be the greatest gift to woman or even man kind on the market today. I highly recommend it if you want earth shattering orgasms, multiple orgasms or if you like anal play as it can do that too! I called mine Warren"
Big bunny's for everyone
Lovehoney Bigs Bunny Girthy Rechargeable Rabbit Vibrator - Black
Bigs Bunny is certainly right! This girthy rabbit vibe is made for fulfilling dual stimulation, internally and externally, and that's not all folks. 5.5 inches of girthy insertable silicone are powered by a rechargeable battery with 7 vibration functions.
What customers say: "Where do I even start. It's amazing.Size wise it's a good size maybe to bigger if you a beginner. It feels so soft and smooth.It's has loads of speeds and setting and each one just gets better and better as you go through they helping you reach your point. I have never cum so much from a toy in my life and I've had a few. Used it with my other half and he loved it. Even use the vibration on his penis and he enjoy it. Would highly recommend"
Slimline to slip in the backdoor
Happy Rabbit Slimline Curve Rechargeable Rabbit Vibrator
Taking the shape and functionality from its full-size cousin and combining them with a more slender shaft, the happy rabbit® Slimline Curve is great for rabbit vibrator beginners, and anyone who likes slim penetration and strong clitoral stimulation.
What customers say: "...we incorporated the Rabbit into an anal session which just felt absolutely amazing!..."
More Rabbit Vibrator Recommendations