The Most Popular Honeymoon Destinations In The US For 2022
Wedding season is fast approaching, and it finally seems like 2022 will be the first year of semi-normal celebrations post Covid-19 (hooray!)
Whether you're planning on tying the knot yourself this year or want to know all about the most popular honeymoon destinations in the U.S. we've got all the intimate honeymoon destination insight you could dream of.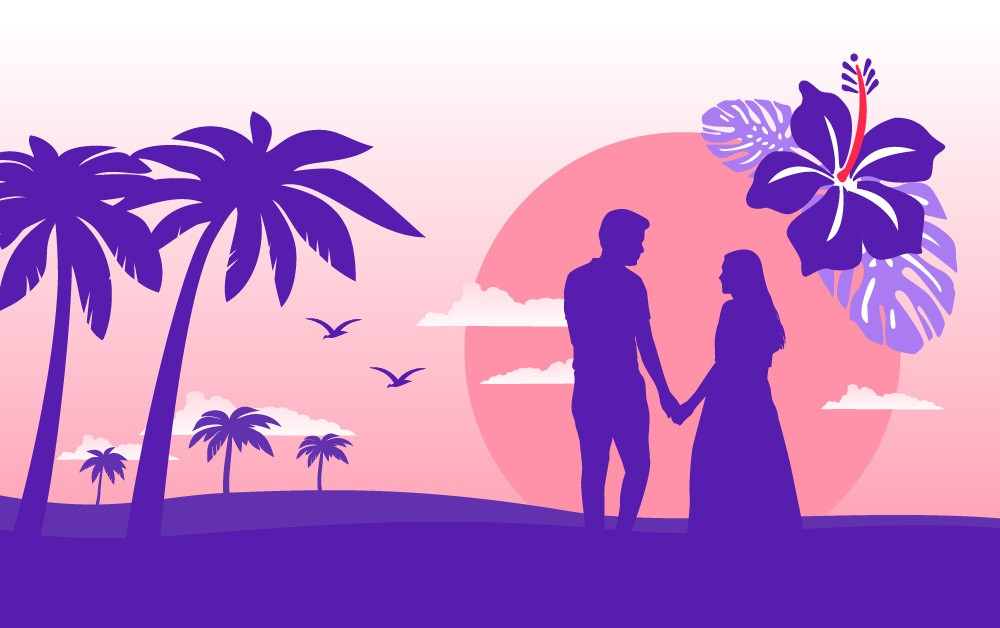 Of course, a list of the most popular honeymoon destinations is not complete without an itinerary of once in a lifetime activity.
We're talking oceanside massages, tasting locally made brews, humpback whale watching, hiking to the Uluwehi Falls and more! So, pack your suitcase, not forgetting sex toy's for couples and prepare for the ultimate honeymoon experience!
Top 10 Instagrammed US Honeymoon Destinations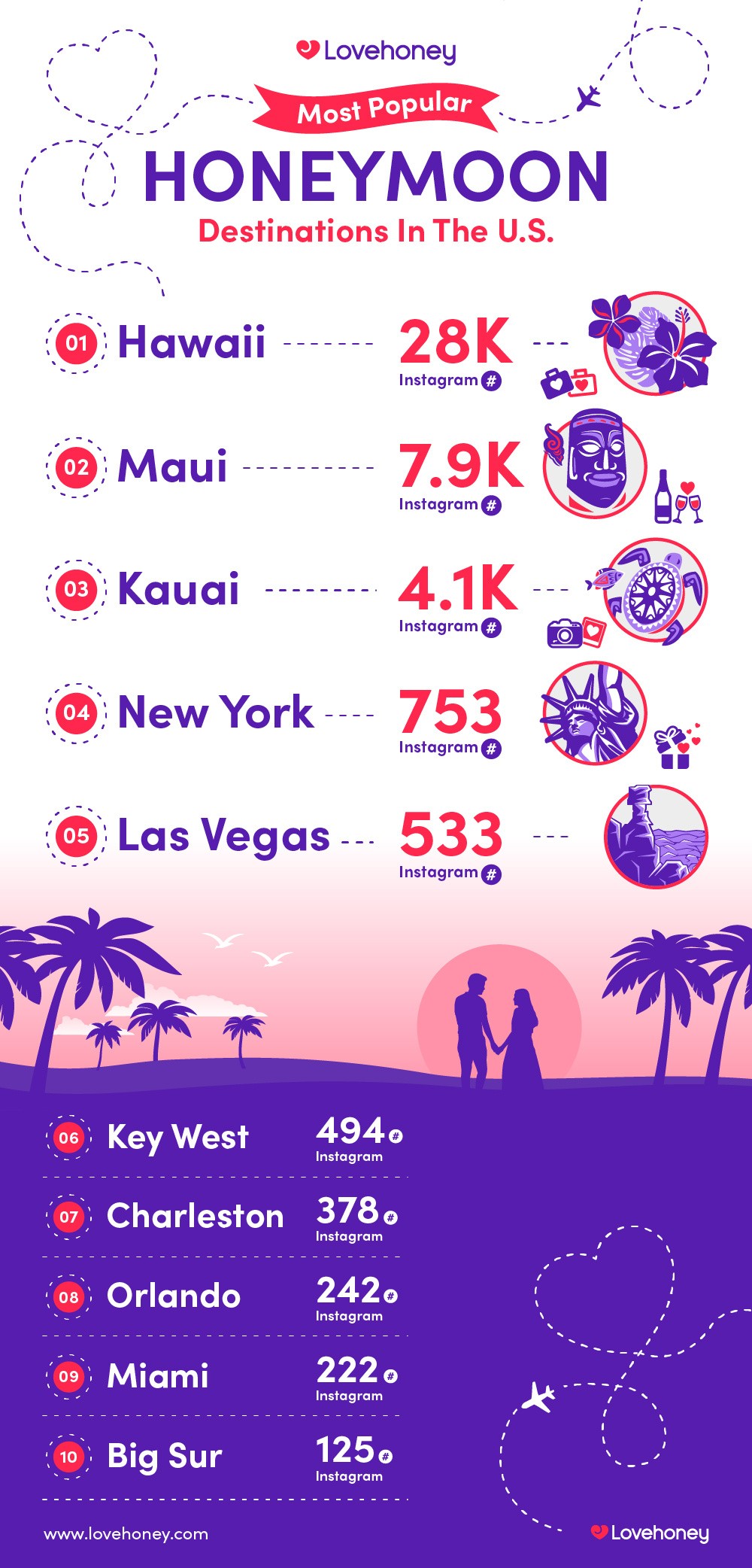 1. Hawaii – 28K Instagram Hashtags

It comes as no surprise that Hawaii is ranking as the most Instagrammed honeymoon spot with over 28K hashtags.
A huge hit for newlyweds across the U.S. (and the globe), Hawaii offers hundreds of stretches of stunning sand with beautiful scenery to admire from every angle with Maui, Kauai and Honolulu being ranked among the top 5. Why not pack a sexy costume to admire the views!
Known for its active volcanoes, exotic landscape, and relaxing energy, it's perfect for those wanting to submerse themselves in a laid-back vibe with plenty to do and explore when the time comes.
Things To Do
Watch the sunrise at the summit of Haleakala
Experience a Hawaiian Luau
Enjoy an oceanside massage with your new husband or wife
2. Maui – 7.9K Instagram Hashtags

Maui takes second spot in our list of the most popular honeymoon destinations in the U.S. for 2022.
Unsurprisingly, this Hawaiian island also earned over 4K Instagram hashtags for its Star Noodle, Moku Roots and Sale Pepe are amongst the top 3 restaurants on the island, serving favorites including pasta, burgers, and noodles.
If you're looking to spend time relaxing on the beach and spending time in the water to cool off now and again, Maui's leeward side is highly recommended.
Things To Do
Drive the "Road to Hana"
Complete the Pipiwai Train to Waimoku Falls
Snorkel at Molokini Crater
Visit Maui Brewing Company, the largest craft brewery in Hawaii
3. Kauai – 4.1K Instagram Hashtags

Kauai (Hawaii's fourth largest island!) rolls in as the third most popular honeymoon destination in the U.S.
It's also the last Hawaiian island on our list. With 97% of its land being comprised of natural terrain, it's no surprise that this island is also often referred to as the 'garden valleys' and is ideal for those looking for an adrenaline rush with a side of romance.
Things To Do
Book a whale watching tour to spot humpback whales
Kayak down the Wailua River
Off-road through the jungle on an ATV
4. New York City – 753 Instagram Hashtags

Away from the luscious beaches of Hawaii, fourth on our list of most popular U.S. honeymoon destinations is the big apple.
A bucket list location for many, New York offers the chance to create lifelong memories from the moment you say 'I do'.
Considered one of the most romantic places in the U.S. with luxurious hotels, botanical parks and gardens and unforgettable skyline views, consider your honeymoon here the perfect excuse to view the city from a new perspective.
Things To Do
Enjoy a horse and carriage ride through Central Park
Book a helicopter ride to escape the city's hustle and bustle
Watch your favorite show on Broadway
5. Las Vegas – 533 Instagram Hashtags

Viva Las Vegas! It comes as no surprise that Las Vegas is considered wedding capital of the U.S. with an average of 114,000 weddings per year, packing a vibrator can make the trip even more memorable.
Also known as the City of Lights, the U.S. state offers lots of amazing things to do as a newly wed couple.
From taking a helicopter tour of the Grand Canyon to throwing the perfect pool party even in the winter months, it's a perfect location for those wanting to combine luxury and experience.
Things To Do
Ride a gondola down the Venetian Grand Canal
Spend the evening at Bellagio Fountains
Watch the sunset over Bryce Canyon National Park
You may also like: