Interview: The Ultimate Guide To Prostate Pleasure With Aislinn Emirzian
We love discovering new kinds of orgasms and learning about the amazing things our bodies can do. But many men out there have yet to discover the sheer pleasure of prostate stimulation.
These days we call the prostate the P-spot or the male G-spot. This highly arousing area can be reached by pressing on the front wall of the rectum, about 3-4 inches inside the anus.
If you're curious about prostate stimulation and don't know where to start, we've got the book for you: The Ultimate Guide to Prostate Pleasure.
I had the opportunity to interview Aislinn Emirzian, who co-authored the book with Dr. Charlie Glickman.
Read on below for the full interview, and don't forget to pick up your copy of The Ultimate Guide to Prostate Pleasure and start your journey now!
Q. Can you give us a brief intro to your book, The Ultimate Guide to Prostate Pleasure written with Dr. Charlie Glickman?
Our book is a thorough guide to the exploration of prostate massage for men of all orientations and experience levels. It's also great for anyone who wants to be on the giving end of this kind of play. We cover how to locate the gland, specific massage techniques, tips on sex toys, and how to target the prostate during anal intercourse or strap-on sex. We also include a chapter on prostate health and the possible benefits of massaging the gland. And because many men are concerned that receiving anal penetration for a prostate massage would be in conflict with their masculinity, we put in a chapter on that, too!
Q. Who has been the main audience for the book so far?
Lots of men of all ages! Some have been doing this for years and are excited that we are spreading the word. Others are novices, and they have shared with us what a fantastic surprise it was for them to discover this powerful and previously unknown-to-them erogenous zone. Men from all across the sexuality spectrum have responded to the book, as well as (straight men will be happy to hear) a very large number of women.
Q. Why might a man be interested in trying prostate massage?
A lot of men experience very intense pleasure during prostate massage. Some have compared the sensation to being on the brink of orgasm, and they may be able to linger in that very good feeling for a long time without going over the edge of ejaculation. Some can reach orgasm from prostate massage alone, and this feels distinctly different from their usual penis-induced orgasm. Others find that they need to involve the penis in order to reach orgasm, but that when they do it is stronger and longer-lasting. I will add that many men shy away from anal penetration for a number of reasons, but those who do open up (so to speak) often find that they get significant gratification from exploring the anal area. Of course, not everyone will enjoy prostate massage, but with such great potential for pleasure, it seems worth a try!
Q. Who or what inspired you to take on this topic?
People often refer to the prostate as the "male G-spot" (and there are some anatomical reasons for thinking of it this way). Well, when I set out to write this book, there were quite a few guides to the G-spot, but there was no comparable book to lead men in finding the "male G-spot." That seemed strange, especially because there was an obvious growing interest in prostate massage. I thought that this information should be more available.
On a related note, it's pretty common knowledge that women may enjoy multiple erogenous zones: the clit, the G-spot, the anal area, and many others. It's not as commonly acknowledged or accepted that men can also get turned on or even reach orgasm by stimulating different areas in addition to the star of the show, the penis. I hope that my book helps more men (and their partners) to feel that any part of their body is fair game for pleasure if that's what they desire.
Q. Have you been surprised by any of the responses to the book that you've received?
On several occasions, gay men have been surprised that a woman would write a book on prostate play. They never approach me directly, but a variety of responses have been relayed to me, ranging from a polite, confused "Why would a woman teach prostate massage?" to a very entitled "A woman should not! It should be a man."
I think the idea is that you should have the anatomical parts that you are teaching about, which is one of many reasons why I was happy to have Dr. Glickman on board as a co-author. Then again, no one thinks it is unusual when a woman teaches or writes a how-to on blow jobs or hand jobs, so I've always felt that this reaction was funny. But above all, if people are surprised to see a female writer of a guide to prostate massage, I think it shows how pervasive is the myth that men who sleep with women don't enjoy receiving anal play.
Q. Can you give us your one best piece of advice for someone just getting started or curious about prostate play (other than to read the book, because they should of course read the book!)
Go slow. Take your time to enjoy the exploration. The prostate likes pressure, but experiment with lighter pressure before firm pressure. Don't hammer away at your prostate with hard, fast strokes and wonder why it doesn't feel good. Often, when it comes to sex, people think that harder and faster is the best way to get the most pleasure. But when you are learning something new, it can really help you feel more if you slow down, take a deep breath, and go a little softer, at least at first. There's always time for harder and faster once you've figured out what you like!
---
About Aislinn Emirzian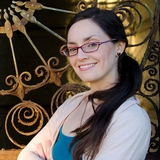 Aislinn Emirzian became a sex educator as a student at Smith College, and later worked with sex positive adult toy stores like Oh My Sensuality Shop in Massachusetts and Good Vibrations in California. She has taught workshops on a wide range of topics, but prostate pleasure is her favorite! Learn more at www.prostatepleasureguide.com
---
You may also like: