Committed or Casual: Relationship Attitudes Around the World
Do we still believe in happily ever after? Lovehoney investigates global attitudes towards commitment.
It's no secret that society's views and attitudes towards committed relationships have changed over time. From situationships and entanglements to throuples and open relationships, there are now countless ways of describing relationships and different levels of commitment.
Although we're not all satisfied with the idea of getting married and having children with one person, many of us grew up with the idea that this was the ultimate sign of commitment. But do people still feel that putting a ring on it is the only way to prove you're completely devoted to a partner?
By looking at marriage and divorce rates, as well as the percentage of the population 'in a relationship', we've revealed where in the world people are seeking 'conventional' commitment the most. We also explored peoples' views on how commitment has changed and partnered with social psychologist Dr. Justin Lehmiller and sexologist Shamyra Howard, who've explained what drives the change and how to navigate this.
The Global Commitment Divide: Which countries are most likely to seek commitment?
Committed countries
Hungary is the land of commitment! With a high marriage rate of 6.7 per 1,000 citizens, it's clear that couples here are in it for the long haul. Plus, they really mean it when they say "I do", with a low divorce rate of 1.5 per 1,000 people.
The rest of the top 10 spots are mostly claimed by European countries (though New Zealand managed to sneak in at number seven thanks to 65.8% of its population also being coupled up). Portugal and Luxembourg took the second and third spots, with marriage rates way higher than the rate of divorce. Luxembourg has the highest amount of marriages of all locations researched, at 7 per 1,000 people, whilst Portugal has one of the highest percentages of people in a relationship (65.98%), second only to the Netherlands.
Slovenia, in fourth place, boasts an impressive divorce rate of only 0.8 per 1,000 people, the lowest of all countries researched. Hats off to Slovenia!
Interestingly, singles in the EMEA region appear not to be relying on dating apps to find love, with downloads being among the lowest in the world at just 0.1%. With more of a cafe culture, perhaps Europeans are finding their perfect partner whilst grabbing a drink as opposed to swiping on their phone.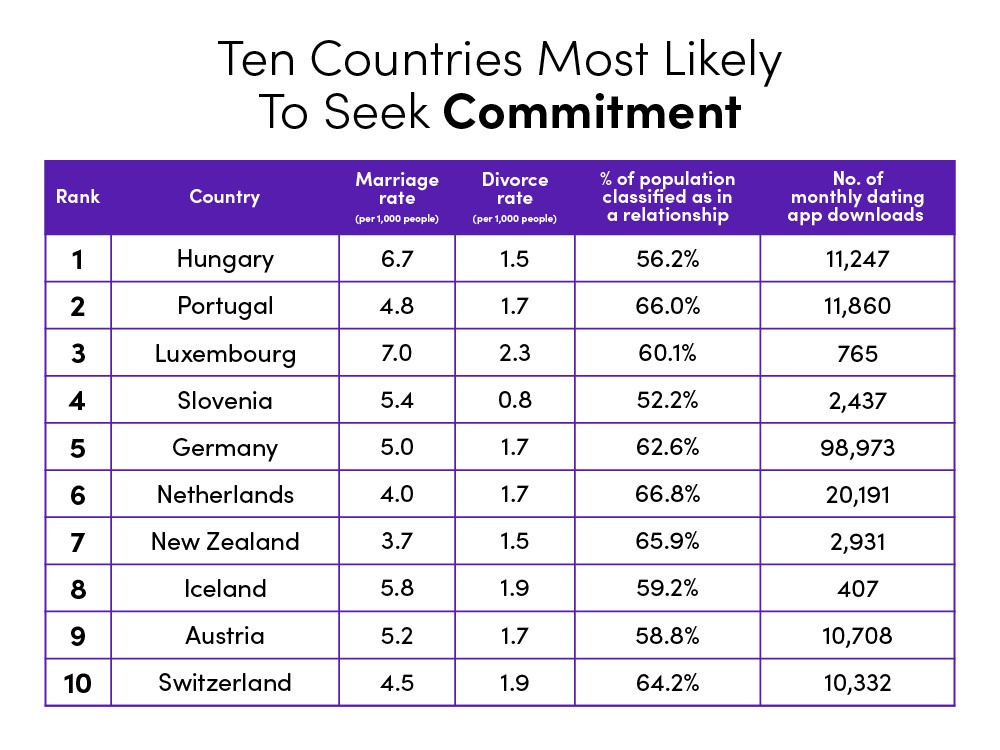 Commitment-phobic countries
Eastern Europe is the place to be if you're into keeping things casual. Anyone not looking for anything too serious will fit right in with the people of Latvia, Czechia, and Estonia, who are the least committed nations in the world.
Latvia in particular has the highest divorce rate of all the countries we studied at 2.7 per 1,000 people, as well as the lowest percentage of people in relationships (47.9%). The country also has an average marriage rate of just 4.7 per 1,000 people. So if you're looking for a no-strings-attached style of relationship (or want to enjoy being single), Latvia might be the place for you!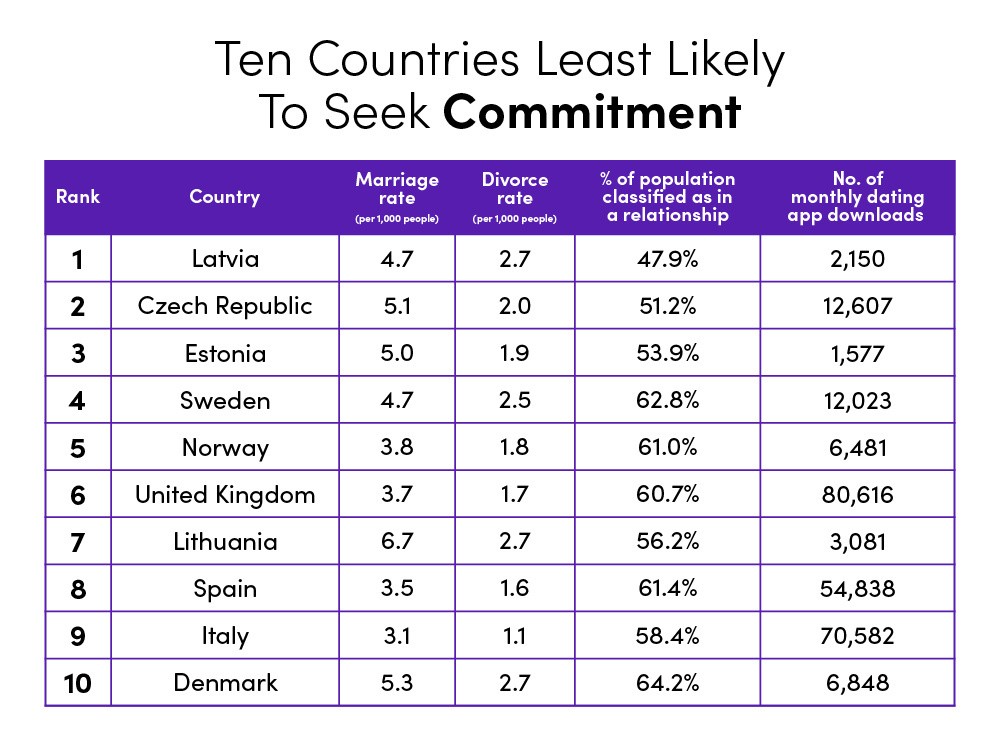 Changing attitudes towards commitment
Although marriage is a commitment many still aspire to achieve, alternative relationship dynamics such as polyamory and throuples are growing in popularity.
We conducted a survey, revealing that while 92% of us are open to marriage, many of us would be interested in testing the waters with other relationship styles too. Nearly half of respondents (45%) would consider being in a non-committed relationship, almost two-fifths (38%) would experiment with an open relationship, and nearly a third (32%) could see themselves in a throuple in the future.
American attitudes to monogamy
Naturally, attitudes towards non-monogamy vary across the country. Given that Salt Lake City is historically a very religious city, it's not a shock to learn that 100% of its residents believe in traditional, monogamous relationships. After that, the strongest advocates for monogamy are Seattle and Miami, where just 8% and 10% of people respectively do not believe in monogamy.
Las Vegas holds the title for the most open-minded city when it comes to non-traditional relationships, with a third (33%) of Las Vegans saying they don't believe in monogamy. 30% of residents in Charleston are also unconvinced by monogamy - which may come as a surprise for such a traditionally conservative city.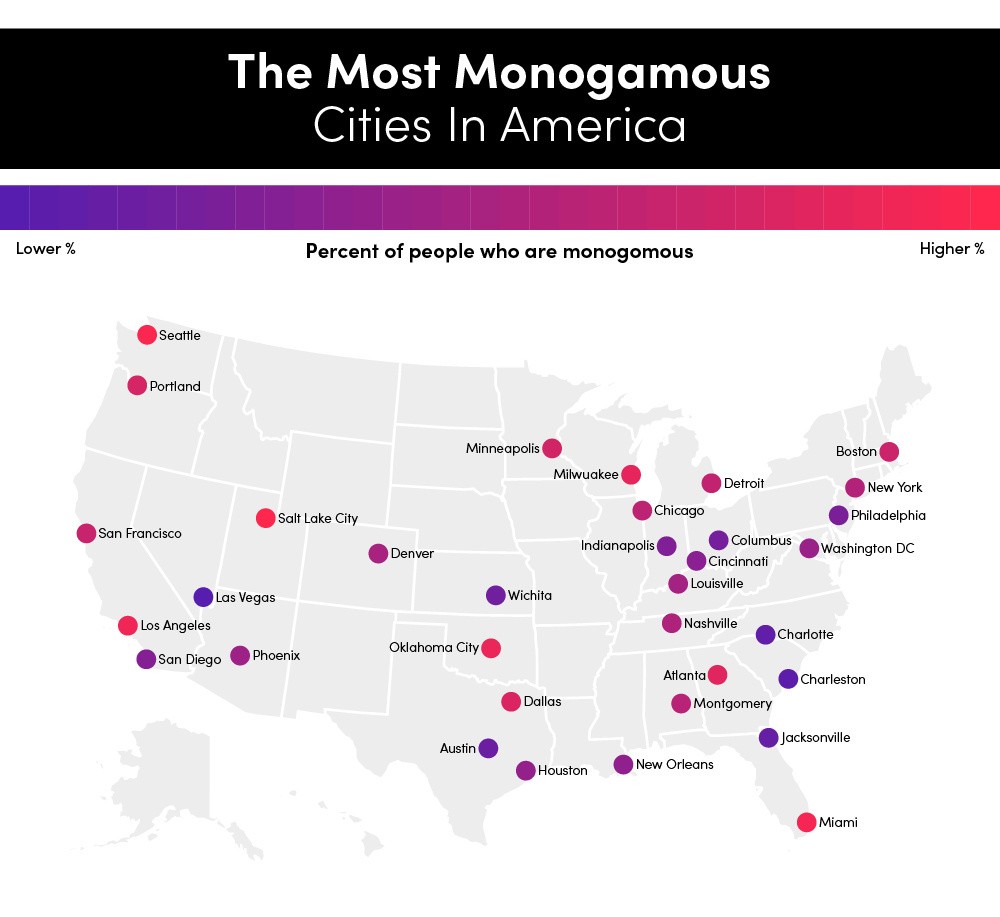 It's important to keep in mind that marriage isn't the only kind of committed relationship out there, and there's nothing to say that non-monogamous relationships can't mean commitment too. At the end of the day, it's up to you and your partner(s) to decide what this looks like.
We could argue that the normalization of masturbation and sex toys means people no longer feel pressured to pursue conventional relationships if they're not comfortable with them. Now, more than ever, people are putting their own self-pleasure and wellness first - and we love to see it!
Why are attitudes towards commitment constantly evolving?
Dr. Justin Lehmiller, social psychologist and research fellow at the Kinsey Institute, suggests that non-committed relationships and alternative dynamics are on the rise because of increased media representation and increasing expectations of what we want in a partner.
"First, we have more mainstream media representation of relationship diversity. It used to be rare that you would hear anything about consensual non-monogamy in the media - and when it was mentioned, it was typically stigmatized. Today, however, multi-partner relationships can be found everywhere from reality TV to front-page news. This greater representation has allowed many people to recognize that monogamy may not be the only option.
"Secondly, expectations for our relationships have grown over time. People today want a partner who will be both their best friend and a passionate lover - someone who can meet any and all needs that might arise now and forever. However, people seem to be increasingly recognizing that it's difficult - if not impossible - to have such high expectations for just one partner. As a result, some are now considering whether the best solution is to have different partners who can meet different needs."
Expert advice for navigating commitment
We spoke to sexologist Shamyra Howard for some advice on how to navigate the ever-changing landscape of commitment.
Q: What advice would you give to someone who is unsure whether the person they're dating has the same views on commitment?
"Knowing that you and your partner share the same goals and values is crucial when deciding to commit to a partner. A quick values check will help identify whether you share the same views on commitment. If your beliefs are not similar on non-negotiable values, then it makes sense to end the relationship."
Q: Why should daters be upfront about their desire - or lack of desire - for a long-term commitment? What are the benefits?
"Transparency is the number one rule of dating, so discussing your dating goals with a potential partner is best. Being upfront about your feelings towards a long-term commitment allows each person to choose how they will participate in the relationship, and reduces the risk of misunderstandings and wasted time."
Q: How can people stay happy and healthy when rejecting the pressure to be in a committed long-term relationship?
"Relationships are not one-size-fits-all, and they don't have to be. One way to resist the pressure of being in a specific relationship type or long-term commitment is to remember that it's healthy to choose your own relationships. Many other relationship styles might suit your needs and desires, and you deserve to explore them as you wish."
Q: A lot of people lately are saying that monogamy is outdated, and that humans aren't designed to be monogamous. Do you think this is true?
"People choosing their own relationship style does not mean that monogamy is outdated. It's more about having the freedom to choose their relationships while highlighting that there isn't just one right way to exist. For example, partnering for love is a relatively new concept, and monogamy was historically created for financial reasons - which is why many people are now choosing partners who desire partnership for the sake of partnership, love, commitment, and mutual connections."
Methodology:
Using data from the sources below, we used a weighted index to create an overall score to rank from highest to lowest.
Population per region:
Population per country (figure taken on 17/01/2023)
Expert commentary:
Shamyra Howard - Sexologist
Dr. Justin Lehmiller - Social psychologist and research fellow at the Kinsey Institute