Top Picks: 8 Sexiest Role Play Costumes and Scenes
Could your sex life do with a bit of strange? It's natural in a relationship to fall into a routine, but luckily there are plenty of easy ways to change things up.
Holidays and special occasions aren't the only times for playing dress-up. Sexy role play is a wonderful way to get out of a rut in the bedroom too.
Step out of your comfort zone and into another character, with a new personality and new fantasies.
Our recent Forbidden Fantasies survey found that the majority (59%) of women said they were turned on by the idea of role play.
Are you wondering where to begin with an outfit for a sexy costume party or a bedroom scene? We've outlined the most popular costumes and scenarios below to inspire your next adventure, plus we've got the props you need to make your fantasy real.
Pictured here: Fever Sexy Nurse Uniform Costume Set
---
1. Naughty Nurse
Sexy nurse costumes are some of the most popular sexy costumes for couples, and it's easy to see why. Nurse/patient role play lends itself effortlessly to bedroom fun, and all you need is a bed.
The Scene: In this role play, the nurse performs a physical exam on the patient. Begin by taking your partner's pulse before listening to their heartbeat. Soon the exam turns from serious to sexy, as the nurse's voice takes on a seductive tone and they begin brushing against the patient.Slowly things becomes more sexual and now everyone is hot and bothered.
The Look: The Classified Sexy Nurse Outfit transforms you instantly into a naughty nurse. Pair with white stockings and watch your patient's temperature rise!
---
2. Sexy Secretary
Another extremely common fantasy that explores power play while blurring normal professional lines is the provocative secretary who works after hours.
The Scene: In this setup, one partner is the boss and the other is their sexy secretary who having some trouble at work. After the work day ends, the boss calls the secretary into their office and things get heated on the desk. The key to this scene is to take things out of the bedroom - make love on the desk, or use a swivel chair as a makeshift position enhancer. Want to incorporate bondage? Take inspiration from films including Secretary and Fifty Shades of Grey.
The Look: A simple suit and tie works well for him, while the Cottelli Sexy Secretary Costume Set is a scandalous interpretation of office-wear for her.
---
3. Naked Butler
The hottest trend for bachelorette parties is hiring a half naked waiter to pamper the guests, but there's no reason you can't replicate the experience at home.
The Scene:After receiving a phone call for a booking, the naked butler shows up at the door early and eager to please. Changing into their "uniform", they begin to serve drinks, food, and whatever else the host desires. As the attraction becomes obvious, the client can't help but get a little handsy with the hired help. There might be an extra big tip.
The Look: Pair a tray and smile with a bowtie and cuffs and Fantasy Excite Sexy Butler Tight Boxer Shorts for this easy to execute outfit with maximum effect.
---
4. Seductive Schoolgirl
Since most of us reached sexual maturity during our school years, many people have had fantasies revolving around this formative time. When played out between consenting adults the sexy schoolgirl role play is all fun and games.
The Scene: One classic angle is the 'naughty' schoolgirl seducing her teacher. Begin by sitting on a chair outside the bedroom, waiting to go into the teacher's office to explain your bad behavior. The teacher should initially resist the student's advances, but eventually they let instinct takes over and throw themselves into a passionate taboo encounter.
The Look: For those looking for a naughty take on a school uniform, the Hustler Sexy 3-Piece Schoolgirl Uniform features a tartan micro skirt, skimpy halter top and a playful necktie, who cares if you did your homework?
---
5. Bunny Girl
The Playboy Bunny is a modern icon that has inspired countless fantasies. Want to make (and make out) like Hugh Hefner? Try a role play inspired by the bunny girl waitresses at the original Playboy Club.
The Scene: One partner plays the bunny girl, while the other takes the role of customer. The bunny girl serves the customer drinks, and while there is an attraction between them, the Club's strict no touching policy means they have to fight their feelings. The customer begins secretly touching below the table and whispering in her ear. Finally she agrees to meet in a free bedroom. Keep the bunny ears on for extra thrills.
The Look: Unleash your playful and flirtatious side with the Exposed Sheer Bedtime Bunny 5- Piece Costume Set, includes adjustable ears and everything you need to transform into a real hot bunny.
---
6. Sex with a Stranger
Lots of people fantasize about the anonymity of sex with a stranger, and a wig can transform your appearance immediately.
The Scene:Have one partner slip on a wig and a new persona. The other partner is an attractive stranger enjoying a drink in a hotel lobby. They watch as the mysterious person enters, and sits near by. Gathering their courage, they strike up a conversation. Both parties should have a back-story prepared. Talking turns flirting, turns to gentle touches and strokes. Eventually someone gets up to leave, sliding their spare key across to the stranger without a word.
The Look: A dark and seductive new 'do can be yours with the Babe Black Short Bob Wig with Fringe. Wigs affix easily over your hair to change your look instantly.
---
7. French Maid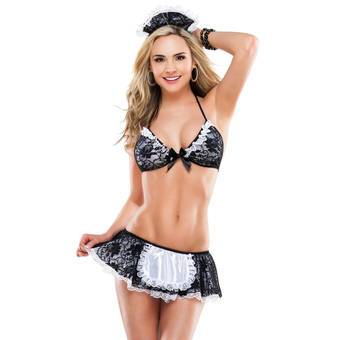 Power play, skimpy outfits and that gorgeous, purring French accent. This classic scenario makes cleaning the house satisfying for everyone.
The Scene:Pretend the maid is new to the country, and speaks little English. They're cleaning the bedroom alone when they discover the boss' dirty magazine collection. At first they're shocked, but gradually become more aroused as they flip the pages. Soon they begin masturbating. As their pleasure grows they glance over to the door and realize the boss has been there the whole time, watching them. The boss walks over and takes it from there.
The Look:Thrills and frills are one click away with this gorgeous black and white Coquette Kissable French Maid 3-Piece Costume Set, short skirt and lots of lace give the boss an eyeful as you lean over to dust the coffee table.
---
8. Sexy Cop
Someone's in trouble. It's no wonder police officers feature high on so many fantasy lists. The power, the hand cuffs.
The Scene:To act out your very own sexy arrest sequence, the cop pretends to recognize their play partner as a suspect and begins questioning them on their whereabouts. Next, the cop notices the bulge in the suspect's trousers (made by a vibrator in the pocket for female 'suspects'). The cop thinks it's a gun and demands a strip search, undressing the suspect and cuffing their hands before conducting a full investigation of their naked body.
The Look: Potential police officers about to uphold the law and willing prisoners almost ready to confess will both love this arresting look, Dreamgirl Book 'Em Baby Sexy Cop Outfit.
---
Still looking for a costume or sexy outfit for your next scene? Check out our entire range of costumes and feel free to get in touch with customer care for 24/7 live help.
---
You may also like: