Saucy Galentine's Gifts for Your Whole Crew
Show your bestie some love with these moan-worthy presents.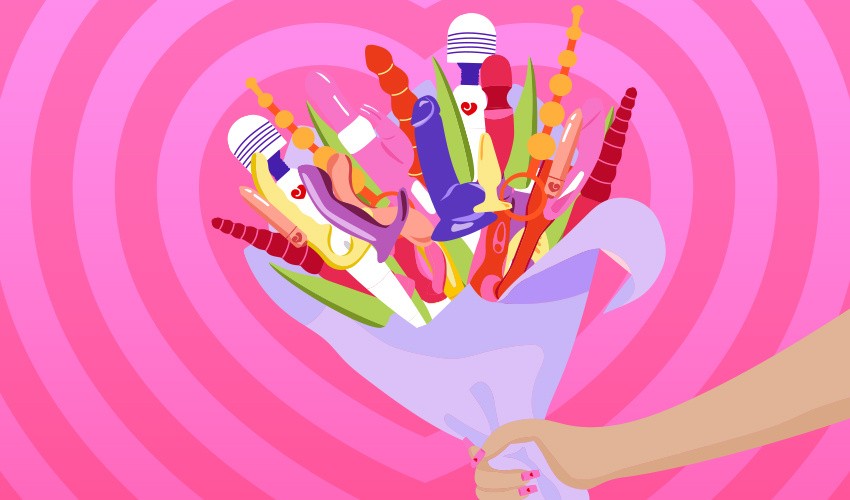 With Valentine's Day fast approaching, many are focused on wowing their sweetheart with the perfect present, but shouldn't your supportive squad get some appreciation, too? Love comes in many forms, not just romantic, each equally splendorous and meaningful. And that's precisely why Galentine's day is so amazing! Those who are boo'd up will likely spend the 14th spoiling and being spoiled by their partner. The 13th, however? That's for your squad!
Friendships enrich our lives, so why wouldn't we celebrate them just as enthusiastically as we do romantic relationships? Get ready to woo your whole crew with these fab gifts that display your love by helping your pals love themselves better.
For the busy bee
Whether it's another work trip, a friend date, a date date, or their weekly workout class, this pal ALWAYS seems to have something going on. Despite their hectic schedule, they somehow never drop the ball. Your birthday? They were the first one to text you. That job interview you were so nervous about? The busy bee helped you prep with their favorite career advice self-help book in tow. You know the type - they wear many hats, and they wear them well.
How do they do it?! Maybe it's their well-organized planner they carry wherever they go, or perhaps it's just the God-given gift of impeccable time management skills. Who knows! What we do know is that the busy bee will appreciate a toy that's ready for anything, just like them. Small-but-mighty sex toys your always-on-the-go buddy can take with them on their many adventures will fit their lifestyle well and fit nicely in their briefcase next to that planner of theirs.
Primo presents for busy bees
For the influencer
Sure, they made you late for the party because they hadn't gotten the perfect pregame Insta shot yet, but they also helped you look fire for the occasion using the skills they picked up on their fav YouTube makeup tutorial channel. They're the hippest person you know, and though you may poke fun at them for being glued to their phone too much, you always have a blast dancing to the new TikTok dance they just found.
Your trendy pal's new go-to toy
Lovehoney Rose Clitoral Suction Stimulator
We all have a friend who's obsessed with trying out the latest TikTok trends, and what better craze to investigate than an orgasmic one? The Rose clitoral stimulator is a viral sensation for a reason. The velvety silicone clit sucker mimics skillful cunnilingus sessions via patented Pleasure Air Technology. This feisty flower boasts 10 intensity modes ranging from soft and sensual to #GirlBoss strong, making it a match for clits of all sensitivity levels. Cute and compact, on-the-go influencers can easily bring the Lovehoney Rose Clitoral Suction Stimulator on their Instagram-worthy vacations. And thanks to its travel lock, nobody will be the wiser about the carnal contents of their luggage. Well, until your post-O pal does an inevitable vlog review cementing the vibrator's stellar reputation for bringing bliss, that is.
What customers say: "This little rose is small but mighty. It gave me the best orgasm I've ever had in my life. If you're to buy any toy, buy this one."
For the romance novel addict
Their nose is always stuck in a book, and that book tends to have at least two scantily clad bods gracing its cover. If your mate's crushes tend to be fictional and paperbound, what better gift could there be than an avenue to further fuel their fantasies? Help them step inside the story with pleasure products inspired by perhaps the most famed series of erotica out there - Fifty Shades of Grey, of course! With these Anastasia Steele-approved sex toys, your well-read friend can truly turn on the heat as they turn pages.
Gifts for the naughty bookworm
For the tech geek
They somehow got the latest iPhone before it was released to the public and your last few visits to their home have consisted of them proudly showing off their new stereo system, smart thermometer, voice-activated assistant, and robot cat, respectively. Fascinated by technology and all the ways it can improve our daily lives, this pal fully embraces anything and everything futuristic with open arms.
A techie's dream vibe
Lovense Lush 3 App Controlled Rechargeable Love Egg Vibrator
With killer app capabilities and even a wealth of games for cam performers to use in their shows, nobody does sextech quite like Lovense does. The fan-favored Lush 3 puts extreme customization right at users' fingertips, with an evergrowing library of user-submitted vibration patterns to download if you don't feel like DIYing. And, of course, this love egg can be controlled from worlds away for unparalleled long-distance sex sessions. If your friend drools over all the latest technology, gifting this advanced piece of sextech is a no-brainer for Galentine's Day.
What customers say: "Worth every penny. Toe curling, spine tingling [orgasms]. And the fact my partner can play with it while we're apart is incredibly neat."
For the ~glam~ pal
"Come casual" means something totally different to this fashion-forward friend who's always dressed to the nines. They take pride in their appearance, wear false lashes on the daily, and even on lazy Sundays, look like they could be a catalog model. Even their office supplies have special flair, their desk laden with cutesy stationary and matching pens even Elle Woods would be envious of.
Fab booty jewelry
Rear Assets Small Jewelled Rose Gold Metal Butt Plug 2 Inch
Every aspect of their life takes eye-catching aesthetics into account, so why should their sex toys be any different? This sparkly pink bejeweled anal plug will transform your pal's booty into a sight to behold - just how they like it. The petite plug's elegant rose gold body is more than just visually appealing, but aids in exciting stimulation opportunities, too, letting wearers spice things up (or cool things down) with temperature play. For those who know design matters, you can't go wrong with the Rear Assets Small Jewelled Rose Gold Metal Butt Plug 2 Inch.
What customers say: "The plug looks expensive, classy and not intimidating whilst being large enough for my needs. Insertion was simple enough and I was very aware of the plugs presence largely due to the nice weight it has. I was pleasantly surprised how good it felt, and it definitely improved all aspects of sex."