#SavetheSocks: Why Men Should Use Sex Toys (+ the best ones on the market)
Your feet deserve better than a crusty ~used~ sock, and your penis deserves better than a piece of cloth designed for your feet.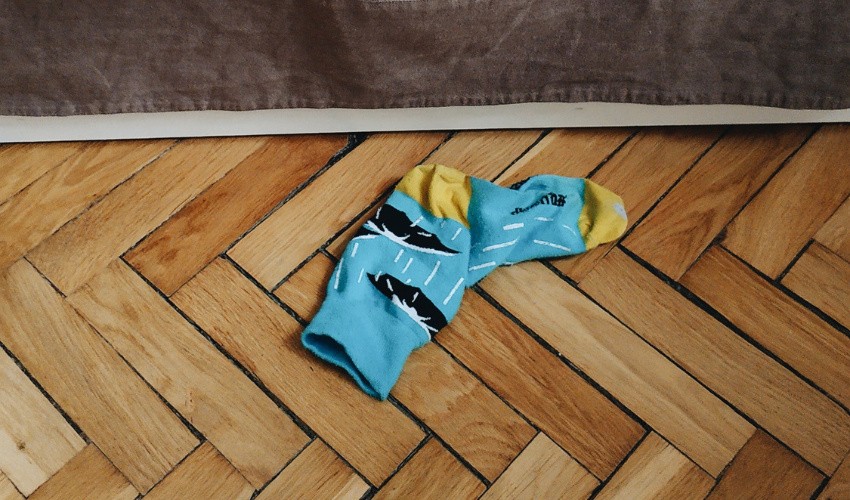 When it comes to mainstream media's on-screen depictions of solo masturbation, cishet women and cishet men [hereto simplified to "women" and "men" for brevity's sake] get very different treatments. For men, solo sessions are typically either shown for comedic value (think American Pie and Fast Times at Ridgemont High) or to illustrate a pathetic situation (think that oh-so-off-putting scene in American Horror Story, season 1, where Dylan McDermott cries as he jerks off). When fictional women masturbate on-screen, it can amp up the character's sex appeal (think Marnie in Girls) or render them independent and empowered (think the many references to and visuals of Georgia's vibrator in Ginny & Georgia.)
Sure, there are plenty of masturbation scenes involving women that are funny or sad, but not only or predominantly either funny or sad - depictions of women masturbating in film and TV are plentiful and well-rounded. Men, on the other hand, get the short end of the shaft, so to speak.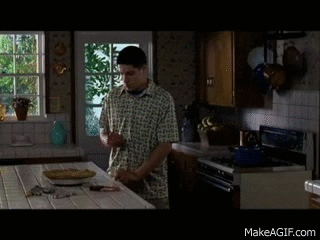 Though watching Jason Biggs stick it to a pastry may induce a few giggles, the lasting impacts of unfavorable male masturbation portrayals are far from humorous. Whether the chicken came first or the egg, I'm unsure, but my personal experiences tell me that men are far less likely to use sex toys than women. Derogatory media coverage (paired with the lack of a movement for men to reclaim pleasure as we've seen for women) very well may play a role in men's hesitation to enjoy sex toys. And that's a damn shame because sex toys can be a powerful tool for self-pleasure that nobody should miss out on due to shame, stigma, or lack of information!
So if you, like many other men, aren't already convinced of the benefits of sex toys for your solo sessions, allow me to present just a few reasons why male toys are much better than your hand (or a pie or a sock, or . . .)
Why sex toys > your hand
Hands can't vibrate or suck
Hands, though still valuable pleasure givers, can only achieve so much when it comes to sensation variation. For suction, vibration, exciting textures, superhuman speeds, and more, you'll simply need to outsource. Sex toys, whether motorized or manual, offer a diverse world of stimulation types to explore. Trust us when we say you don't know what you're missing out on until you're no longer missing out.
Better reach
Y'know those frustrating moments when you have an itch you can't scratch due to mobility or flexibility? Just as frustrating are the erotic itches we struggle to scratch. Think of sex toys as back scratchers for your naughty bits - an easy solution that allows for not only the reaching of your ~itch~ but enhanced satisfaction once you easily hit that spot.
You deserve to treat yourself
Do you need a sex toy to get off alone? Probably not. But did you need that surround sound speaker system to hear your TV? Also probably not. Little luxuries (or big ones, for that matter) can make a significant impact on your day-to-day happiness. Just because a purchase isn't absolutely necessary, that doesn't mean it's not a good decision. If something can enrich your life, you should go for it! Whether you have the funds to splurge on a crazy-cool blow job machine with more bells and whistles than you can count or want to make a budget-friendly pleasure investment, sex toys are a stellar pick-me-up to please both you and your peen (or whatever other erogenous zone suits your fancy)!
The coolest gear for penis owners
Arcwave Ghost
Arcwave Ghost Silicone Reusable Reversible Textured Male Stroker
Who said strokers can't be ultra travel-friendly? Not Arcwave! Petite when packed but stretchy enough to accommodate almost any size member, the Ghost lets you bring oodles of feel-good fun wherever you please. While this masturbator may be fully manual (buh-bye costly batteries and waiting for a full charge to play!), it's certainly not lacking in advanced features. Made from ultra-durable CleanTech Silicone, the Ghost is almost effortless to clean, and the storage case boasts ventilation holes for faster drying times without exposing your stroker to bacteria and dirt. How's that for low maintenance?! The reversible design offers two stimulating textures, one with grooves and the other with nodules, so you can switch up sensations on a whim. With the Arcwave Ghost, users can take pleasure by the reigns and on the go.
What customers say: "I'm really impressed with this toy. I bought it to use in the shower. Because it is a sealed unit, the lube lasts longer and it catches my cum so I don't make a mess.The sleeve is really stretchy so suitable for any size penis. It is also reversible, with two textures. Both feel really nice and made me cum in less than 2 minutes. It is also really quiet. My wife knows I masturbate regularly but I get self conscious about making noise. This is completely silent so would be ideal for someone in a shared house or flat. Cleaning is also quick and easy. What is really helpful is it comes in a discrete plastic box that has a mould inside and air holes so you just pat it down with a towel and then pop it in the box to air dry. The box is really innocuous as well, looks like a deoderant stick or something like that. Overall I'm very pleased and highly recommend it."
Blowmotion Warming Vibrating Male Masturbator
Blowmotion Warming Vibrating Male Masturbator
As the brand name implies, the Blowmotion Warming Vibrating Male Masturbator simulates skilled head by enveloping yours in a silky premium silicone canal with intensely stimulating functions. This incredibly sleek masturbator vibrates powerfully around the top of your johnson, offering 3 intensity levels and 6 pleasure patterns to explore. The unit's inner canal heats up to 104 degrees, mimicking the sensations of a nice, warm mouth. Rechargeable and compact for easy storage and travel, this high-tech BJ machine makes great head accessible at all times.
What customers say: "Snug fit but so much intense pleasure with the ability to stimulate the glans with varying pressure that you apply yourself. At times it almost mimics the sensation of deep throating. The warming function adds to the comfort and pleasure. Easy to clean."
Lovehoney Head Master Vibrating Blow Job Stroker
Lovehoney Head Master Vibrating Blow Job Stroker
Highly textured patterns decorate both sides of this stretchy, supple stroker, creating a dreamy experience for your shaft no matter which way the reversible toy is flipped. While the Lovehoney Head Master Vibrating Blow Job Stroker could easily please on its own (as proven by the nonvibrating version, a best-seller), the removable bullet adds an extra element that really kicks things up a notch. And when you're not in the mood to buzz as you stroke, you can take the bullet out and use it on other hot spots like the nipples! A thoughtfully designed penis pleaser, the toy's translucent hue is no accident - the color (or lack thereof) is perfect for watching the action and pairing thrilling sensations with thrilling visuals. And though this round-up's focus is on masturbation, we'd be remiss if we didn't mention the magic this stroker brings to partnered play. Use this delightful fella as a handy handjob helper or for next-level blowjobs when you're feeling generous enough to share the Head Master Vibrating Blow Job Stroker with a lover!
What customers say: "Bought this on a whim . I was super happy with this low budget toy . I am of average size and it is pretty tight , but in a good way . Use plenty of lube ! The fingers side felt great to me and the real surprise was the bullet vibrator worked pretty well and added some extra nice feelings ."
Arcwave Pow
Arcwave Pow Silicone Dual-Entrance Suction Control Male Masturbator
When it comes to motorless strokers, you'd be hard-pressed to find one as innovative and high-performance as the Arcwave Pow. The incredibly sleek full-length male masturbator offers customizable tightness with its dual entry points of differing grip sizes and pressure-changing and intuitive suction control valve. The silicone sleeve's cutting-edge helix texture delights both during and post-play with its special design that provides intense stimulation and aids in easy cleanability and fast drying times.
What customers say: "Great design, looks a non descript container when lid fitted. Very good quality materials, the silicone feels incredibly flesh like and the unit is easy to take apart and clean."
Lovense Max 2
Lovense Max 2 App Controlled Rechargeable Vibrating Male Masturbator
If Inspector Gadget went stroker shopping, there's no doubt he would settle on the Lovense Max 2, which utilizes advanced technology to offer unbelievably realistic sensations, immersive and interactive experiences, and robust customization options. The soft and textural inner sleeve provides 360 degrees of stimulation through an air pump that emulates muscular contractions around your member. Users can achieve extreme pattern customization through the app or download pre-made ones from the extensive library; they can also groove to tunes by syncing vibrations to music or putting the stroker on sound-activated mode! Perhaps one of the Max 2's most impressive features, though, is the ability to foster immersive masturbation by connecting to VR adult games and videos.
What customers say: "This toy has taken masturbating to a new level. Game changing. The suction and compression makes for a completely different experience. It is probably the only toy I have used where the different vibration/compression rhythms make a difference. Normally I would go straight to constant vibrate- but the way it moves in different patterns is really great. I found i did not have to hold it or thrust it so could just lie back- but thrusting gives another plain of pleasure on top!"
Arcwave Ion
Arcwave Ion Pleasure Air Smart Silence Male Masturbator
The Arcwave Ion is the first-ever toy to take Womanizer-famous Pleasure Air technology and translate it for penis-focused pleasure, resulting in pulsing airwaves of bliss that target the nerve-rich frenulum - with 8 thrilling intensity levels to explore. The groundbreaking Arcwave Ion is chock-full of other impressive features, too, like Smart Silence which automatically turns the toy off whenever skin contact halts, a sleek LED storage and charging case, CleanTech silicone, and a DryTech stick that makes maintaining the gadget's high quality a breeze.
What customers say: "Ok so it's expensive but it really is worth it. Pretty easy to use, feels good even as a sleeve tbh but when it hits the spot... I ended up getting proper full body light headed 20 second orgasms. May just replace sex tbh!"
We-Vibe Vector+ Prostate Massager
We-Vibe Vector+ App and Remote Controlled Rechargeable Prostate Massager
The decadently powerful and ergonomically designed We-Vibe Vector+ is an orgasmic work of art ready to give your P-spot and perineum the luxury treatment they deserve. Two strong, rumbly motors power this bad boy, one in the base for perineum stimulation and one in the body for prostate stimulation, for booty buzzin' that doesn't play favorites. And because no two bodies are the same, the Vector+ features a flexible form you can adjust for optimal comfort. Users can play around with the P-spot vibe's 10 functions via the convenient included remote or the robust We-Vibe app that offers more play options than you can count.
What customers say: "This is a rumbling vibrator and I love that the app allows you to fully customize both the inside and outside massager motors so that you get the exact vibrations to take you over the edge. This is great for both solo and partner play even when my wife is in another state we can have app sessions to stay connected. I also find that it helps me last longer and have stronger orgasms while having sex."
Author's Note: While we realize singling out cishet (cis-gendered and heterosexual) men may seem exclusionary, this particular demographic is one of the least likely to purchase solo sex toys for themselves, which may be in part due to societal backlash. So, while we fully believe that "male" sex toys are beneficial for anyone with a penis regardless of how they identify, we are focusing on cishet men in this article to address and challenge a specific societal view.