How to Spice Up Your Sex life
What is vanilla sex?
Vanilla sex is essentially "plain" or "boring" sex. It often involves the same, standard positions, doesn't try anything new, and doesn't involve any kink, BDSM, fantasy or fetish. If you feel like you've slipped into this category, it might be time to reignite the passion. From introducing sex toys to trying new positions, there are so many ways to spice up your sex life – and we've pulled together 5 kinky sex ideas to get you started.
---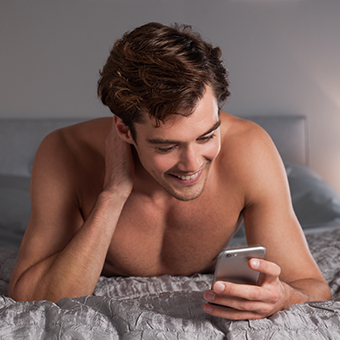 1. Texting (and sexting)
Never underestimate the seductive powers of a suggestive text, sent in the hours before you see each other.
The best sexts should be suggestive and playful, while still leaving a little to the imagination.
If being explicit over text isn't your (or your partner's) thing, simply telling your lover you can't wait to see them will make them feel desired and fill their head with thoughts of what's in store.
Speaking of phones, if you find yourself distracted by yours, switch it to flight mode or banish it from the bedroom when you're together, and ask your partner to do the same.
Email notifications, Instagram updates, and buzzing from the bedside table can be distracting and make your partner feel low on your list of priorities – especially if you pause mid-tryst to check the football score.
---
2. (Un)dress to impress
Wearing lingerie your partner hasn't seen before or a pair of boxer shorts they adore is a great way to show them you care about their enjoyment and is a sure-fire way to get their heart pumping.
Plus, wearing something you feel great in can boost your confidence and help you lose your inhibitions, too.
If you're not sure what to go for, take a look at our sexy lingerie and underwear for men and women.
---
3. Sense-sational
You're (probably) going to be touching each other, but what about involving your other senses?
Aromas can help spark arousal, and some are even said to have aphrodisiac powers. Light a scented candle, or warm up by rubbing delicious-smelling massage oil into each other's skin (if it's kissable, all the better).
A bright, overhead glare from the lights can be harsh and offputting, but a warm glow is both flattering and relaxing. Flick the dimmer switch or turn on a lamp or two.
Some people love a little background music when they're getting it on while others would rather hear their partner's moans and groans. If you're into an accompaniment, create a playlist that's long enough to last an hour or two, rather than setting your Spotify to shuffle – or you may be caught off guard by the Village People.
---
4. Introduce a sex toy (or two...)
One of the best ways to spice up your sex life: bring up the idea of using a couples sex toy. From a dildo to a remote control vibrator, these are designed to be enjoyed by both parties and keep sex interesting. If you're unsure where to start, a couples sex toy kit – which has a little bit of everything – is a great way to ease you both in.
Playing a game like Nookii and Kinky Confessions can help lighten the mood and make the transition into feeling sexy fun – perfect if you need to unwind slowly or you haven't been intimate for a little while. Take a look at our selection of sexy games for couples, and see if something catches your eye!
---
5. Try some new positions
Everyone's scale of 'crazy things to try in bed' is slightly different, but we're sure everyone has room to give some adventurous sex positions a go in the name of pepping things up.
Whether you fancy tying your partner to the bed or committing to a 30-day sex position challenge, you'll find the latest sex positions to try on our blog.
---
Giving these sexual things to try with your partner a whirl will no doubt rekindle the flame and bring your sex life, well, back to life!
And remember…
Have fun! Both laughing and sex spark biochemical reactions, which lower the levels of stress-causing hormones like cortisol, and cause your serotonin and endorphin levels to soar.
---
You may also like: