Lovehoney Sex Expert Interview: Dr Shannon Chavez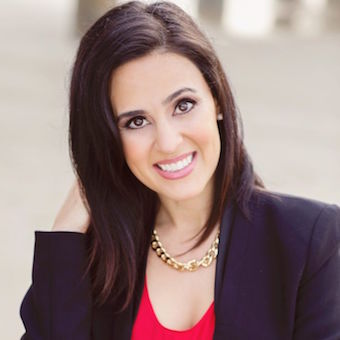 Dr. Shannon Chavez Qureshi, PsyD, CST is a nationally recognized expert, therapist, and educator specializing in "all things sexuality" including help for men, women, and couples, the treatment of sexual disorders, sex education for conservative religious and cultural groups, sexual trauma and abuse, and compulsive behaviors surrounding love, romance, and sex.
She is a Licensed Psychologist in California (PSY26924) and Arizona (4290) and has a private practice in Beverly Hills, California where she works with individuals and couples (of all genders and orientations) to address sexual concerns and build sexual awareness through therapy, coaching, and education.
Dr. Shannon is also a national speaker on women's sexual health and has been featured on major news, radio, and television programs as a sex and relationship expert. She has been featured in Cosmopolitan, Glamour, HuffPost, Refinery29, Prevention, Reader's Digest, Shape, Women's Health, Men's Health, Latino Perspectives, and Self Magazine, and is a frequent contributor to the websites SheKnows.com, Kinkly.com, and SimplySxy.com.
She wrote a guide for clinicians on the treatment of love addiction through the use of attachment-oriented psychodynamic therapy, proving she has actually "written the book on it"! She earned her Doctorate in Clinical Psychology and Master's degree in Psychology with an emphasis in Marriage and Family Therapy from The Chicago School of Professional Psychology.
She completed a two-year Postdoctoral Fellowship at The Institute for Sexual Health in Beverly Hills, California treating sex addiction-compulsivity and sexual dysfunction.
Dr. Shannon Chavez is an active member of the International Society for the Scientific Study of Women's Sexual Health (ISSWSH), the American Association of Sexuality Educators, Counselors, and Therapists (AASECT), the Society for the Scientific Study of Sexuality (SSSS), and the American Psychological Association (APA).
What are some of your very best practical tips to help couples fully express themselves to each other sexually?
My first tip is to be creative. Sexuality is a form of creative expression and we each have a unique way of using our creativity - so it looks different for everyone.
I also suggest to get out of routines around sex and explore and expand your definition of sex. Focus on connection and playfulness and less on performance and goals.
Sexuality is much more than what we do with our genitals. It is essential that couples learn new ways to give and receive pleasure.
Communication is required for any and all sexual experiences. The more you talk about it, the easier it is to express yourself without hesitation or judgment.
How can incorporating toys into the bedroom help strengthen and increase the level of play in a couple's sex life?
Sex toys are the best accessory in the bedroom. There is such a wide variety of devices and products that can enhance your sexual experience, I believe there is something for everyone. I recommend that couples find a toy that they can use together.
Talk about it and make sure you know how to use it (buttons, speeds, and all the bells and whistles) before bringing it into the bedroom. You don't want to interrupt the moment because of a mechanical problem.
Sex toys also activate our inner playfulness and desire for adventure. It can add new elements to your sex life and enhance arousal by providing intense stimulation.
Devices can help you stay present and in your body, which helps couples stay engaged and connected.
Tell us about your work around sex education for conservative religious and cultural groups. What key topics or concerns do you typically address with persons from these backgrounds?
I'm passionate about working with different cultural and religious backgrounds because of my personal experience and how powerful these early messages affect sexual values and beliefs.
I think it's important to validate the experience, and be open to exploring and understanding how it shaped sexuality without focusing on negativity.
Sex therapy involves an assessment of values and beliefs, exploration of identity and orientation, sexual anatomy and functioning, and skill-building around intimacy, self-pleasure, and sex.
Common concerns include sexual shame and trauma, difficulty with arousal, and lack of sex education. I also make it a point to be familiar with the culture or religion I am working with before I meet with the client so that I can understand where they are coming from and how to integrate these beliefs into the work.
What is love addiction and what does treatment through the use of attachment-oriented psychodynamic therapy look like? What's your best advice for someone who suspects they may be addicted to love?
Love is not an addiction, but for some people, it can cause compulsive behaviors around seeking love, sex, or relationships that can feel out of control or lead to negative consequences.
I believe this starts with early experiences in life where we develop attachment styles that inform how we get our needs met in relationships. Needs that are not met in childhood can set up a pattern of unhealthy relationships and behaviors that lead to problems in different areas of life. I recommend that these issues are addressed with a professional.
Attachment-oriented psychodynamic therapy is working with attachment styles and healing past trauma, identifying patterns, and working with underlying triggers to behavior. It is also about learning secure attachment and intimacy skills including vulnerability and communication.
What's your very favorite bedroom advice to give couples?
Take it out of the bedroom. Be adventurous and try something new in a new location. If you have the space in your home, designate a sex play space that is not your bedroom.
You can use furniture other than a bed and be creative with how you experience pleasure with a partner.
You can follow Shannon on Facebook and Twitter.
You may also like: