Lovehoney Sex Expert Interview: Elle Chase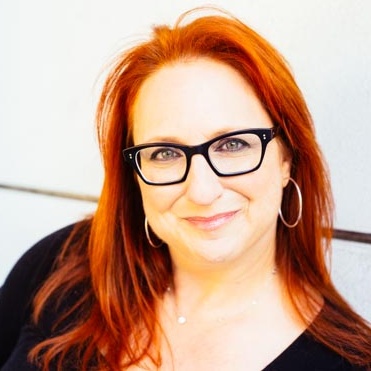 Elle Chase is a sex educator, activist, author of Curvy Girl Sex, speaker, and key influencer in the sexual health community, most notably for her respected voice in the body acceptance movement.
A member of the American College of Sexologists and the International Society for the Study of Women's Sexual Health, Chase has been featured as an expert on THE TODAY SHOW on NBC, TODAY Parents, Glamour, HuffPostLIVE, The Daily Beast, Cosmo.com, Playboy, The Huffington Post, Men's Health, Women's Health UK, Salon.com, Buzzfeed, Flare Magazine, Bustle, Prevention, and The Toronto Sun.
Also known by her now-famous alter-ego Lady Cheeky, Chase is the creator of the award-winning sex-positive sensual images blog LadyCheeky.com (NSFW) and SmutForSmarties.com, which remains LAWeekly's pick for Best Sex Blog since 2013.
She is a graduate of the comprehensive San Francisco Sex Information, Sex Educator Training Program (SFSI.org), and a member of the American College of Sexologists and the International Society for the Study of Women's Sexual Health.
Chase also serves as the Director of Education at the Los Angeles Academy of Sex Education, where she curates classes that cover the widest range of sexuality topics, including sexual health, intimacy, body image, BDSM and more.
Find out more about her work at ellechase.com.
---
1. How can incorporating toys into the bedroom help strengthen and increase the level of play in a couple's sex life?
For one, sex toys can add new sensations to pleasantly stimulate yourself and/or your partner. Also, a lot of people with vulvas don't orgasm by insertion alone. Adding a vibrator on, or in close proximity to the clit during sex increases the chance of a clitoral orgasm.
Finally, communication is key in any relationship. Studies show that couples who use sex toys together are usually better about communicating their needs and desires to their partner. Sex toys are communication enhancers!
2. What are some of your very best practical tips to help couples fully express themselves to each other sexually?
At the risk of sounding like a broken record... communication. Our partners aren't mind readers and can't really know what we like without letting them know.
Communication always includes consent. Whether you've been together for 30 years or 30 minutes, making sure that you're both on the same page and enjoying the experience continually through sex keeps that communication going and always open.
I always recommend slowing down and really taking in each moment as it happens. We tend to rush through life with our busy lives and sex is one area where slowing down enhances the experience and can make sex much more intimate and satisfying.
3. Tell us more about Curvy Girl Sex and the inspiration behind it! What can plus-sized lovers expect to take away?
Curvy Girl Sex was inspired by my own life. Being a bigger gal, I wanted to vary my positions with my partners and make it more comfortable for both of us. I hope the take-away from the book for all genders is not only some new positions to try, but also the knowledge that we are sexy and desirable regardless of what we think we look like.
4. How does body image impact sexuality for better or worse and how can people begin experiencing body empowerment in their sex lives?
For a lot of people, not accepting their body (the way it looks and/or the way it functions) as is and not recognizing their own inherent sexiness is the biggest obstacle to having a sexually satisfying relationship or encounter. There are a myriad of ways to begin to accept one's body, beauty, and sexiness.
The media promotes a "cult of desirability" that we all didn't agree to be part of, yet are indoctrinated from the first time we started to be exposed to it.
So, eliminating/limiting any media (including Instagram) from your life that makes you feel badly about yourself or that promotes only one kind of beauty or sexiness is a start. Also, exposing ourselves to media and resources that includes all body-types is very re-affirming - it's out there, you just have to look.
My book has a comprehensive list of resources, as does my website. Check them out!
5. What are your best tips for plus-sized lovers when it comes to sex toys and what toys do you love to recommend?
Sex toys are for everyone regardless of size! There are some that work better with a body that has more angles, curves and mobilities.
My top pick is the Liberator Wedge which is a wedge of industrial strength foam in a removable/washable cover. The Liberator Wedge helps make positioning any body into most positions much easier.
Tied for top pick is the rechargeable Magic Wand vibrator. The handle is long enough to navigate those curves and is strong enough for the most power-hungry vulva!
Also, I never do anything without lube, especially because I'm larger. I love Sliquid Silver silicone lube because not only is it great for sex (just don't use it with silicone toys), but I can also use it on the body of me and my partner to make our skin glide between our bodies instead of drag.
You can follow Elle on Facebook, Instagram and Twitter.
You may also like: