The Secret To Sexual Happiness - Wedding Edition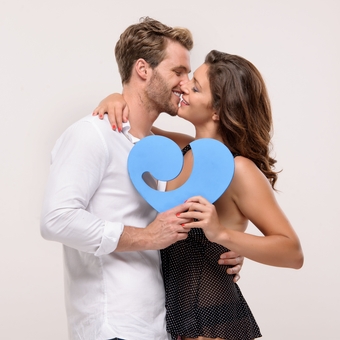 Wedding season is in full swing. I know because my sister just got married last week! My biggest wish for my sister and brother-in-law is a long and happy life together.
I read articles about happy relationships and happy marriages all the time, but happiness can mean something different for each couple.
On these momentous occasions we might wonder: "What can newly married couples do to ensure successful relationships?" "How can they keep Monogamy fun and exciting?" And for the couple's friends: "Is giving sexy wedding gifts a good idea or off limits?"
I bet you know someone who's getting married this summer too! More than a third of couples choose the summer as the time to tie the knot.
As we watch our happily coupled friends say "I do" we want all the best things for them; happy households, growing families, and long fulfilling lives together. Keep reading to learn more about what it takes to make it work and let's see what happens next…
---
I've found some interesting reads from around the web about having a sexually happy marriage. Plus, see sex blogger Kate McCombs' wedding gift picks!
"Marriage is pretty freakin' awesome. It means you've found that person that you want to spend forever with--and chances are you celebrated that in a big way. But aside from all the unsolicited advice that brides and grooms are bombarded with, there are a few marriage truths that you probably won't realize until you're actually hitched…" - [15 Things No One Ever Tells You About Marriage]
Sex Educator Kate McCombs is a proponent of sex toys as wedding gifts: "Sexuality is a key part of marital satisfaction, and I love choosing gifts that celebrate and scaffold this vital aspect of romantic partnership. Gifts of this nature also encourage playfulness and exploration, both of which are key to keeping one's sex life inspiring over time." - (Why I Give Sex Toys as Wedding Presents)
Kate's Wedding Gift Suggestions:
"Support their intimacy without being too suggestive about the application."

Jimmyjane Contour M Massager Stone

Combine a Jimmyjane Massage Candle with a Massage stone for a "non-genital specific" gift.

Jimmyjane Afterglow Massage Candle Dark Vanilla

Let the happy couple pick out their own gift with a gift voucher. Kate's friend chose an njoy Fun Wand.

njoy Fun Wand Stainless Steel Dildo
"It's often said that marriage is a lot of work -- so it's refreshing to hear from couples who not only figured out how to make their love last, but are having an awesome time doing it." How do they do it? Reddit asked and Huff Po compiled the most thoughtful answers. All you need is trust, respect, honesty, joy, love, luck, support, promise and a few more basic ideals to make it last. - [13 Secrets Of Happily Married Couples]
Married couples get more: "Contrary to conventional wisdom, married couples - and their cohabiting counterparts - have more sex than the non-married, a fact confirmed in a 2010 survey by the Kinsey Institute revealing who does not have sex. Three out of five singles had no sex in the previous year, versus one in five marrieds. In the prime years, ages 25 to 59, married individuals were five times more likely to have sex two to three times a week (25 percent) than singles (5 percent). Explains economist Heather Boushey, director of the Washington Center for Equitable Growth,who studies family patterns, "You don't have to go out and forage." - (Love & Lust Psychology Today)
Fun Fact! Our models pictured in the main image above (and all over our website too) are actually a real life couple. Plus, they just got married last month. We sent them a bunch of goodies to keep busy on their lovely honeymoon of course! - [Adele Rushton tweet (Photo) @adelerushton]
Just in case you haven't had a cute-couples-getting-married overload yet, here's a fun wedding video that went viral and got this talented couple, Us The Duo, a record deal!
Still looking for the perfect sexy wedding gift?
Lovehoney Customer Care can help you find the right gift for the happy new couple. Feel free to send an email any time, call, or live chat with an experienced advisor 24 hours a day and 7 days a week. How can we help you? Contact Lovehoney Customer Care
Wait! That's not all:
If you enjoyed this post, please feel free to share. Click on the buttons below and don't worry, you'll get a preview of what it will look like before it posts. Follow @lovehoney_com for updates, deals, news, special offers and more.
---
You may also like: