Guest Post: The Real Life Of An Unexpected Sex Blogger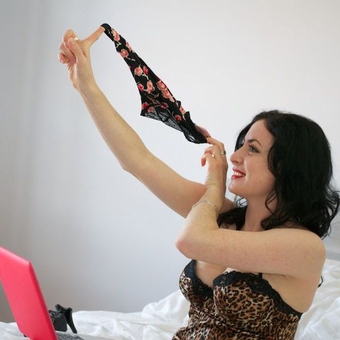 My name is Simone and I'm a 30-something sex and relationship writer, columnist and blogger who just happens to live with her 65-year old mother. Before I explain what that's like, we need to back up a bit.
Back in 2009 - on the cusp of my 30th birthday, I started writing Skinny Dip - my personal blog about love, dating and sex - so I would have a place to tell stories and sort through the romantic wreckage of my 20′s.
My goal was to use my blog as a portfolio of sorts, in hopes that I would be able to break into writing professionally. Thanks to a lot of hard work, a year after starting my blog I scored my first freelance writing job.
This was also around the time that I was approached by a online adult retailer to review sex toys and lingerie. A sex and relationship blogger was born!
Guest post by Simone Katerine
---
However, in 2011 life threw a curveball (as it often does.) After more than six years together, I split up with my long-time partner and moved across the country from Toronto to my sleepy, seaside hometown on the West Coast. Toronto is Canada's center for English media, so I always feared that if I left Toronto I'd miss out on work opportunities. However, the opposite has been true. Since moving cross-country, I've been able to make my dream of freelancing full-time a reality. Since then my blog and freelancing career has grown exponentially. What was once my side-gig blogging about sex, love and relationships, is now my full time job.
When I explain what I do for a living and my current living situation, most people will ask,
"So, you're a sex and relationship blogger….and you live with your mother? How does THAT work?!"
When I'm not working on my blog, reviewing adult products, writing on a relationship forum, or creating savvy content for a variety of different clients, I work as the social media manager for the sexy dating site No Strings. I spend most of my day writing, discussing and thinking about all things to do with sex, dating and relationships - and I love it. Although my family is supportive and happy that I seem to have found my calling, I know that they aren't fully comfortable with what I do. At the end of the day, I think they'd prefer I was writing about the geopolitical situation in Crimea over the benefits of silicone dildos. So, with that said, my current living situation has definitely changed the way I approach writing about and reviewing adult products.
Three keys to sex blogging from your mom's house:
1. Respect and discretion
Out of respect for my family, I try to keep my sex toys as discreet and out of sight as possible. Although I'd love to proudly display (or at least leave out on the dresser) some of the gorgeous toys I own, like my beloved Lelo Insignia Soraya, I keep everything neatly tucked away in a small dresser I've nicknamed the "tower of power" because of all the buzzing and vibrating things that inhabit it.
2. Quiet quality sex toys
I've really come to appreciate luxury sex toys that are small, unassuming and most of all, very quiet. This is why the Crave Duet is one of my favorite toys ever. Not only is it the quietest toy I've ever encountered, no one would blink an eye if they spotted me charging it by USB on my laptop.
3. Alone time
I never test out any products when anyone else is home. When I lived alone or with my ex, I could easily try out new sex toys whenever I wanted (or we could try them together!) However, now I have to plan ahead and wait until I have the house to myself before I whip out whatever goodies are waiting for review. This means that it sometimes takes me longer than I'd like to review a product, however there's absolutely no way I'd feel comfortable using any of the products I own while other people are home.
I read a quote recently that said "Entrepreneurship is living a few years of your life like most people won't so you can spend the rest of your life like most people can't." Although my situation is less than ideal and I spend a lot of time daydreaming about a time in the near future when I'll have my own apartment again and more privacy, I'm really grateful for everything I do have.
Whenever people ask me about how to break into freelancing I always tell them, "Don't quit your day job right away. Make sure you have a safety net." Being able to stay with my family for the past two years has been a generous gift that's allowed me to launch a full-time freelancing business - something that might have been much more difficult if I hadn't had a guaranteed roof over my head. Even if it means hiding my extensive collection of rabbit vibrators under my bed, it's an opportunity I'll never take for granted.
---
About Simone
Simone is a writer, blogger and nationally syndicated sex & relationship columnist. She's the author behind the cheeky and irreverent blog Skinny Dip and the editor & social media manager at the award winning blog No Strings Attached. When she's not writing about everything to do with sex, dating and relationships, she loves to wander around her town with a large cup of coffee in hand, in search of the next great story.
---
You may also like: