What We're Thankful For - Lovehoney Staff Picks
The season of giving is around the corner, and the time to give thanks for the things that make us (sexually) happy is upon us.
This year, I wanted to indulge in our great American tradition of sharing something we are thankful for with our family and friends - you guys - this time around with a Lovehoney twist.
At Lovehoney locations around the world we are all eternally thankful to our fearless leaders, Richard and Neal, for their thoughtful creation of our home base for sexual happiness, award-winning customer service and an unprecedented satisfaction guarantee. Without them none of us would be here doing the work that we love.
We are so very thankful for the fun products, sex toys and lingerie enjoyed by our customers, but, ultimately, we're most thankful for all of you.
Read on to see the products that make us say thank you, oh oH OH THANK YOUuuu, from Bath in the UK, to Brisbane in AU, to right here in the good old USA.
---
Paige: Customer Care Manager, Lovehoney Australia
"I am thankful for the Iroha Plus by Tenga Tori Lovebird USB Rechargeable Clitoral Vibrator, as it has never let me down, always makes me happy and provides me with an immense amount of happiness!"
Find out more about Paige and our friends down under at @Lovehoney_au
---
Rebecca: Graphic Designer
"I am thankful for Lovehoney's Happy Rabbit Ears as someone who isn't interested in the internal functions of a traditional rabbit vibrator but still wants to enjoy the best part - the ears!"
Read Rebecca's full review for the Happy Rabbit Ears right here
---
Sammi Cole, Lingerie Expert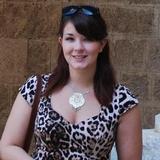 "'I love the shape that the Lovehoney Seduce Me Push-Up Chemise Set creates! With its push-up cups, contoured paneling, and cute pink bow trim, it's an absolute essential for every lover of vintage lingerie."
You can see Sammi on Undie Mondays talking lingerie at LovehoneyTV
---
Nadia: Head of German Content
"Rabbit vibrators are the bomb, they say, but something they don't tell you is that they may not fit everyone's anatomy. I used to hate rabbit vibes because they just didn't seem to do what they were meant to do. I mean, do women really have their clitoris there? Is mine in the wrong place? But then I found the Tracey Cox Supersex Rabbit Vibrator. All of a sudden I understood what all the fuss is about! So if a rabbit vibe doesn't do it for you, it may be simply because it isn't the right one for your body. Give this one a try: it's smaller and shaped in a way that may suit you better, stimulating your pleasure points just as you like it best."
Sprechen sie Deutsch? Follow Nadia at @Lovehoney_de
---
Carly: Customer Care Agent, Lovehoney Australia
"I am most thankful for the Fun Factory Cayona USB Rechargeable Mini G-Spot Vibrator. This mini vibrator is my new favourite toy. Fun Factory produce amazing toys and this one is no exception! The vibe is encased in beautiful sleek packaging, boasts a very easy to use magnetic USB charger and is made of the softest silicone. I love the pretty blue color as well. It really hits the spot in every way. It's easy to use and is perfect when you just want some stress-free play. Amen!"
---
Jess Wilde: Bondage Expert
"Why am I thankful for the Lovehoney Beaded Sensual Glass Dildo? Where do I begin? I love everything about this dildo. Of all the toys I own, this one has to be the most versatile and the best for experimenting with new things. Not to mention it's one of the only toys I find that works for me for direct, firm G-spot stimulation. I've been able to experiment with so many new things with this toy, including temperature play, couples exploration and testing different lubes, all made possible because it's made from glass. I am particularly thankful for its firm, curved shape and bulbous end that's amazing for internal massage, and its non-realistic design that's wonderful for couples play."
Find Jess every Friday on LovehoneyTV for Bondage Gone Wilde
---
Krista: Social Media Marketing Executive, Lovehoney USA
"It's hard to choose but I know for sure that I'm thankful for my We-Vibe Tango Lipstick USB Rechargeable Bullet Vibrator, it has stuck by me for years and I can take it anywhere. Tango is truly the strong silent type, I can use it with any kind of lube I want, even oil based or silicone since it's made of hard plastic. Plus, it's small and unassuming so it's perfect for adding to the mix during partner play."
Love to connect? Find me tweeting at @Lovehoney_com
---
Matt Curry, Head of Ecommerce
"I thought I'd choose a USA-Made toy for the product I'm most thankful for - the Doc Johnson American Bombshell B7 Tango. I have an expanding (!) collection of butt plugs, from the Doc Johnson Rumpy, The Dash, The Tantus Curve (which is more of a plug than a dildo if you ask me), all the way to the giant TitanMen Intimidator. I love the B7's material, it's got a little give in it, a little squishy, but firm enough to do what it needs to. It's also more forgiving than the B10!"
---
Now it's your turn! Tell us about your favorite products in the comments below.
Are you ready to kick start your Black Friday - Cyber Monday weekend shopping? Check out Lovehoney's Christmas shop, along with our best deals, and closeout sale to find the perfect gift to treat yourself or someone you love. Get in touch with customer care 24/7 via email or live chat with any questions.
---
You may also like: