The First Orgasm
Only 36% of adults achieve orgasm through sex by the age of 25, our survey reveals.
Before we have sex, most of us will already have heard about the mysterious 'orgasm' - though we may not be totally sure what it actually is, or how to achieve it. The majority of us are first exposed to sex through Hollywood and pornography, so it's unsurprising that a lot of people believe an orgasm is pretty much guaranteed every time we get intimate. In reality, the big O is not always so easy to reach.
Many factors can influence whether or not we orgasm during sex, including our gender. Research has shown men are generally much more likely than women to have an orgasm during sex, with 95% saying they usually or always reach climax compared to just 65% of women.
To further investigate this 'orgasm gap' - the issue of women reaching orgasm less often during sex than men - we surveyed over 2,000 adults to uncover the average age at which they have their first orgasm, through both masturbation and sex. We also asked people to share the most common ways they achieve orgasm, to help shed some light on what works well for most of us (and what isn't quite hitting the spot).
42% were under 18 when they had their first orgasm through masturbation
For many of us, our first foray into sexual pleasure is through exploring our own bodies. Masturbation can sometimes be seen as taboo or shameful, particularly for women, but the truth is it's an entirely normal and healthy habit - and a great way to figure out what gets you going. If anything, it should really be encouraged!
According to our survey, 42% had their first orgasm from masturbation when they were under 18. This figure rises to 56% for men but drops to 35% for women, and 37% for non-binary people, suggesting that men are typically younger on average than other genders when they first start experimenting with self-pleasure.
Women, on the other hand, are the most likely to be a little older when they first experience an orgasm through masturbation. Almost a quarter (24%) of women said they were between 18 and 25 when they first reached climax from masturbating, compared to 18% of men and 17% of non-binary people. This is potentially due to masturbation not being as normalized for women, making them less likely to feel comfortable experimenting at a younger age.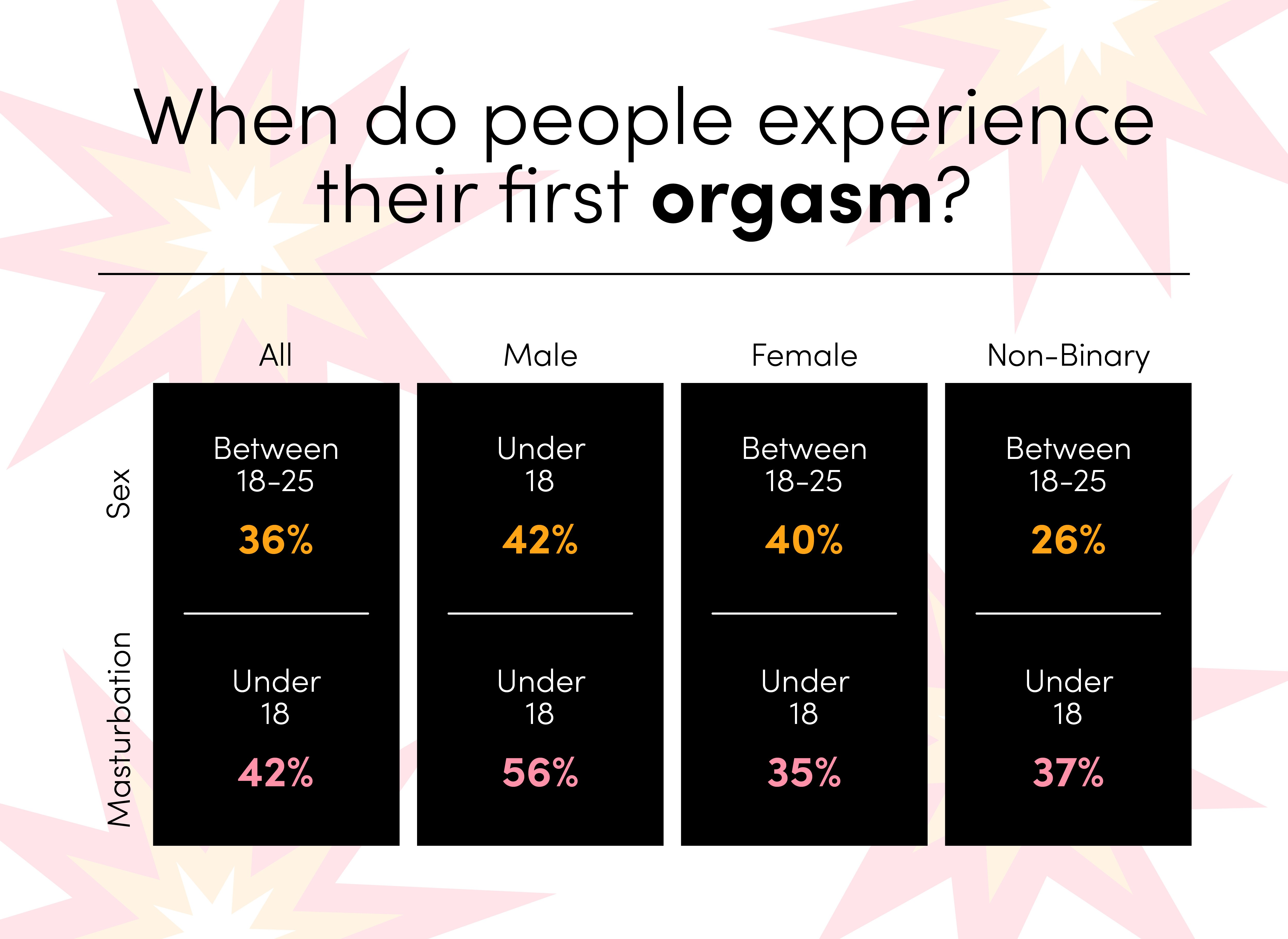 The average adult has their first orgasm during sex between the ages of 18 and 25
When it comes to partner play, the average age for achieving the first orgasm tends to be a bit of a different story. Our survey revealed that over a third (36%) experienced their first orgasm through sex between the ages of 18 and 25. This is followed by 21% saying they were under 18, and 9% saying they didn't achieve orgasm through sex until they were between 26 and 35. This is potentially due to it being more of a challenge for women to reach orgasm through penetration - or it could simply be that people are waiting until they're a bit older to have their first time!
We found that those identifying as female (41%) or non-binary (26%) are most likely to say they had their first orgasm from sex between the ages of 18 to 25. However, the majority of men (42%) claimed they were under 18 when they first reached climax from sex.
Lesbian and gay people are younger on average when they first orgasm during sex
When we take a further look at the average age we first orgasm, we found that those who identify as lesbian or gay were typically younger when they first reached orgasm with a partner. We discovered that 37% of lesbians and 44% of gay people said they were under 18.
Studies have shown that orgasm rates among men don't tend to vary according to sexual orientation, with heterosexual, bisexual and gay men all achieving orgasms around 85% of the time during sex. For women, however, sexuality has a much bigger impact on the likelihood of orgasming during sex, with lesbian women far more likely to achieve an orgasm than heterosexual or bisexual women.
This research, along with our survey results, suggests that the orgasm gap may not actually exist for women who only have sex with other women.
What can we do about the orgasm gap?
With our survey confirming that men are much more likely than women or non-binary people to reach orgasm during sex at a younger age, it seems the orgasm gap is still an issue for a lot of people. So what can we do to help combat this?
We spoke to certified Sex Educator Javay Frye-Nekrasova (MEd) to get her insight on what we can do to try and reduce the orgasm gap. She shared the following insights:
"The first step is making sure everyone has a comprehensive education about the human body (in all its different forms), and how best to stimulate its different parts."
As we know, a lot of adults aren't totally clued-up about their own – or others' – bodies due to a lack of good sex education, so making improvements here is a really great inital step.
"Another tool in combating the pleasure gap is normalizing talking about sex with partners, friends, and with family," Javay adds. "If you can comfortably talk about sex, then you can better talk about what you like with partners, express to them what you would want to be done differently, and how experiences can be improved."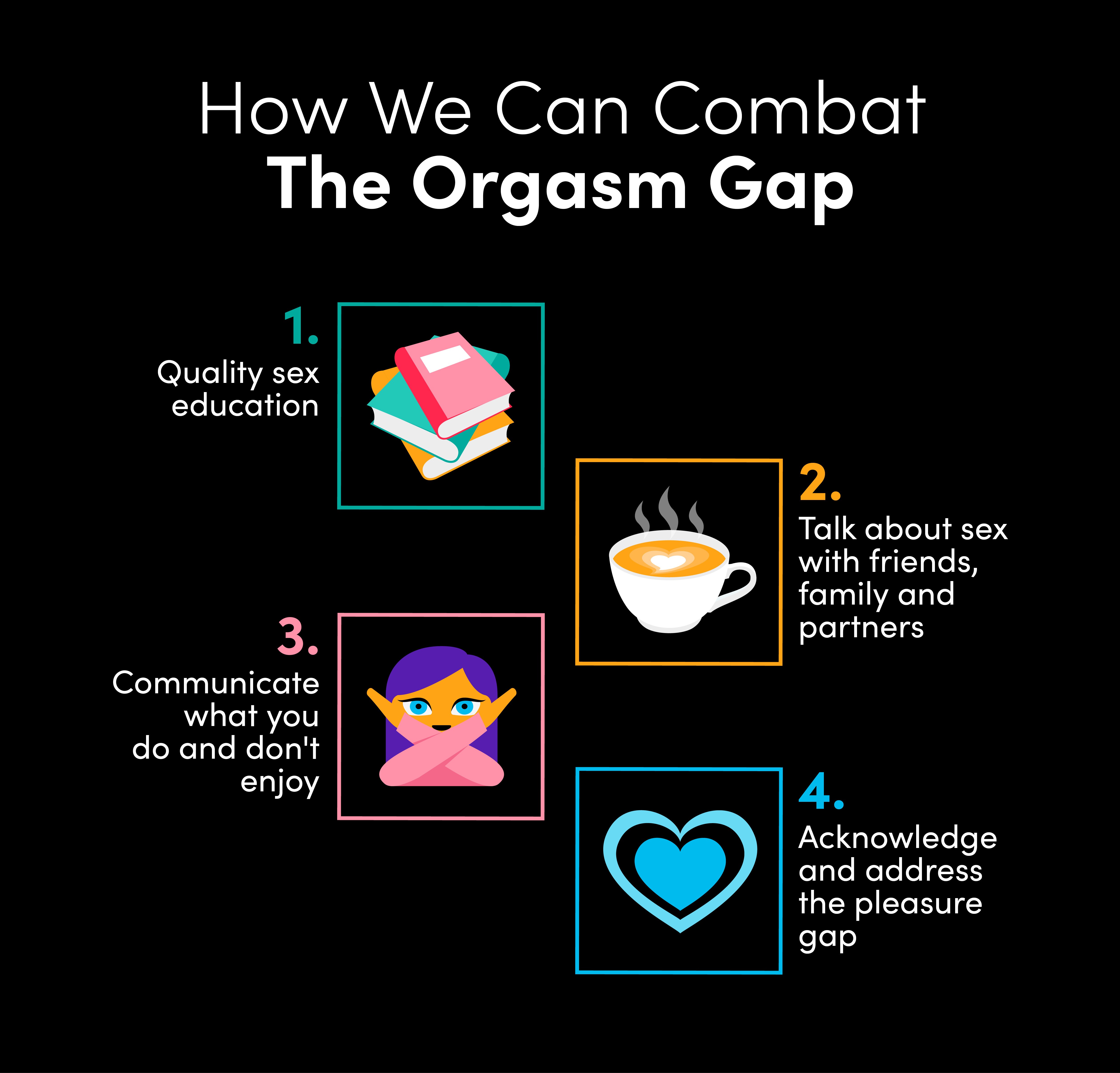 The bottom line? Better communication means better sex. Telling your partner what turns you on and what doesn't is the best way to improve your chances of having a great sex sesh - and hopefully, a really great orgasm.
Penetration, clitoral stimulation and masturbation: The most common ways to reach orgasm
Now that we've taken a closer look at when people are most likely to have their first orgasm, it's time to talk about how.
We asked participants how they most often achieve orgasm, revealing that while penetrative sex is the most common method overall (31%), it's actually only the winner among men. Nearly half (45%) of male participants said that penetration is the best way for them to orgasm, compared to just 24% of women and 10% of non-binary people.
So if not penetration, what does get women and non-binary people across the finish line?
We discovered that the number one way for women to achieve orgasm is through clitoral stimulation, with nearly 40% of women choosing this option. Given that previous research has shown only 18% of women are able to orgasm through penetration alone, it's not surprising that the majority voted for clitoral stimulation as the best way for them to reach their peak.
Masturbation was the third most popular method overall (21%), and the first among non-binary people specifically (33%). Non-binary people were also more likely to select sex toys as the best method for them, with 17% saying toys are how they most often achieve orgasm.
How to boost your chances of orgasming
It's all well and good revealing the most common ways people do orgasm to give a little inspiration, but if you're struggling to orgasm it can be hard to find the confidence to try new things. Thankfully, Javay is also able to provide some advice on how we can increase our chances of reaching the big O.
1. Take some of the pressure off
Firstly, it's so important to know that it's okay to not orgasm every time you have sex - or even at all. "One of the biggest misconceptions is that you have to orgasm every time you engage in sexual activity," says Javay. "When you have the goal of orgasm during sex, you're adding a layer of pressure that inherently takes away from the pleasure of sexual activity."
So… the best way to boost your chances of having an orgasm during sex? Don't overthink it! Let yourself enjoy the moment, and don't pile on the pressure by having an end goal in mind.
It's also important to understand that not all orgasms are made equal. Javay adds: "Depending on a multitude of factors, orgasms are often going to feel very different. Some will be more powerful, some will be longer, and some will be strong enough to put you to sleep after. No two orgasms feel the same."
2. Spend time exploring
It's hard to have an orgasm if you don't understand what gives you the most pleasure to start with. Dedicating some time to exploring your own body and figuring out what makes you feel good is a great way to bring that elusive orgasm within your reach.
"The body can experience orgasms from a wide variety of stimulation, so if one way does not lead to an orgasm it doesn't necessarily mean there's a problem," Javay says. "It often takes some exploration of your own body to figure out what actually leads to pleasure that results in an orgasm."
Don't be afraid to experiment with some new methods either. Whether it be adding some lube or trying out a clit vibrator, you might find that extra bit of help makes a world of difference.
3. Don't forget aftercare
In our rush to chase pleasure and have the most earth-shattering orgasm of our lives, we often forget about what should come after sex.
"Aftercare is important because your body experiences a lot during sexual activity - on the physical side as well as the physiological," Javay explains. "Aftercare can help you better come down after a rush of happy hormones, help you and your partner further connect and reflect on the experience to make it better, and also add a layer of care that enhances the emotional aspect of your relationship."
Sex is about more than just orgasms, and good aftercare can actually make the whole experience more enjoyable for everyone involved. And it shouldn't be reserved for those among us that prefer their sex on the rough side either: "It's important to note that aftercare is not just for kink/BDSM activity but should be a part of all sexual activity – from vanilla, to group, to kinky sex."
Methodology and sources
Data used is from a survey of 2,016 people over the age of 16, conducted in September 2022.
Expert commentary was provided by Javay Frye-Nekrasova, Certified Sex Educator