Dr. Justin Lehmiller Gives Us the 411 On Threesomes
Discover the best sex toys for simulating a threesome plus expert tips from Dr. Justin Lehmiller!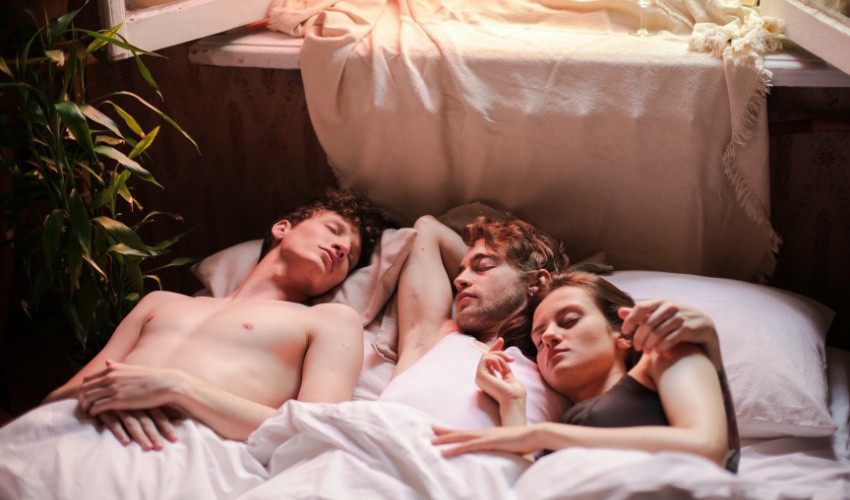 Threesomes are a sex act so commonly fantasized about, if not acted upon, that they have their own holiday – March 3rd (3/3!). So just how popular are threesomes these days? The "Summer of Love" survey conducted by the Kinsey Institute and Lovehoney in the summer of 2021 found that 23% of Americans reported an increasing interest in having a threesome since the pandemic began.
In honor of the tri-riffic activity, we spoke with Dr. Justin Lehmiller, Lovehoney Scientific Advisor and Researcher at the Kinsey Institue, to find out a bit more about threesomes.
Threesome Q&A
Like many others, Lovehoney had a few burning questions about threesomes. Dr. Lehmiller was kind enough to share his intel on the act:
What are some common misconceptions about threesomes?
There are several! One is that it's mostly a male fantasy. In my own research on sexual fantasies, while I find that men are more likely to have had the fantasy and to have it often, most women have fantasized about it before too. Another is that threesomes are necessarily going to be amazing—and that it's going to look exactly like your fantasy. I find that while having a threesome is perhaps the most popular fantasy, it's also the fantasy that's least likely to turn out well when people try it IRL because there's often little communication or planning that goes into it. This isn't to say that threesomes can't work out well—it's just that the outcomes are more mixed compared to other fantasies. Yet another common misconception is that just because you're bisexual or pansexual that you're into threesomes. Being attracted to more than one sex/gender doesn't necessarily mean that you're into group sex.
If someone is in a relationship and wants to have a threesome, how should they bring it up with their partner? How does this conversation change based on gender identity and sexual orientation? Ex. Hetero couple wanting to bring in a woman, two bisexual women wanting to bring in a man, etc.
The starting point is to step back and look at broader sexual communication patterns in the relationship. Have you ever even shared sexual fantasies before? For monogamous couples that want to open up and play together, it's important to start with solid sexual communication. Start by sharing and acting on some fantasies that only involve you and your partner and use that as an opportunity to build trust, communication, and intimacy. When you eventually bring up the idea of a threesome, take care in how you frame it. It's easy for fantasies like this to evoke feelings of insecurity or jealousy (e.g., "Why do you want to be with someone else?"). Start from a place of validation, and discuss what's in it for you AND your partner. Also, don't pressure your partner into it! Start with a general conversation about the idea of a threesome. What do each of you like about the idea? What concerns do you have? Talk through everything first and, if you're on the same page, then you can talk about how you might actually go about making this fantasy a reality.
How can a single person go about finding people to have a threesome with? Does it always need to be with a couple?
If you're single and into the idea of a threesome, you might consider some dating apps that cater to this, like Feeld. You can leverage technology to help identify people who share this interest. You might decide to join a couple, or you might get a group of individuals together. There are no rules for this. It ultimately depends on your comfort level and what you're looking for.
What advice do you have about setting boundaries during threesomes?
To whatever extent possible, communicate in advance! Ideally, everyone involved will establish their wants and boundaries before the action begins. Some boundaries to consider include which sexual activities are and aren't permissible, what safer-sex practices will be utilized, and establishing a safeword in the event that something moves past someone's comfort zone. And if you're going into this with a romantic partner, there are also relationship boundaries to consider, such as what comes after a threesome.
Do you have any data about threesomes?
For my book, Tell Me What You Want, I surveyed 4,175 Americans about their sexual fantasies. I found that 87% of women and 95% of men had fantasized about some form of group sex before, with threesomes being the most popular form. However, while the idea of having a threesome is a popular fantasy, relatively few people have ever actually tried one. Around 1 in 5 men and 1 in 10 women say they've done it before. The people most likely to say they've had a threesome are: men (compared to women), LGBTQ+ folks (compared to cis/het folks), and mid-life adults (compared to young adults).
The Best Sex Toys for Threesome Simulation
Not yet ready to take the threeway plunge? Sex toys can help you explore this fantasy as a twosome. "Toys can be a great entry point for couples who want to explore threesomes but aren't ready to bring someone else into bed yet." said Dr. Lehmiller.
Below are his top threesome sex toy recommendations: